Early November is always a special time of year for automotive enthusiasts. It's when car manufacturers and aftermarket equipment suppliers descend on Las Vegas to show off their wares.
The Specialty Equipment Market Association (SEMA) Show is a place for carmakers and tuners alike to show what they can do with vehicles when pushed down more focused paths. Rather than regular road cars, which commonly require some compromise, these vehicles are made for a purpose.
2019's SEMA Show opens today, and we're looking at some of the cool stuff that's on display at the trade event this year.
Toyota
Unsurprisingly, Toyota's offerings at SEMA are Supra, Supra, and more Supra. The new, nameplate-resurrecting Supra takes center stage, with a variety of different Supra models.
Toyota's own stand will feature the NASCAR Xfinity Series race car, and the GT3 GR Supra Racing Concept. There's a GR Supra pace car, and even the newest 2020 model road car.
Tweaked examples will include the Toyota Racing Development (TRD) 3000GT. That's a callback to the car it produced on the Mk4/A80 platform, probably made most famous by its appearance in the first Gran Turismo game. Toyota will also show off a 1,000hp version of the Supra's B58 engine, further enhancing its credentials as a worthy successor to the previous model.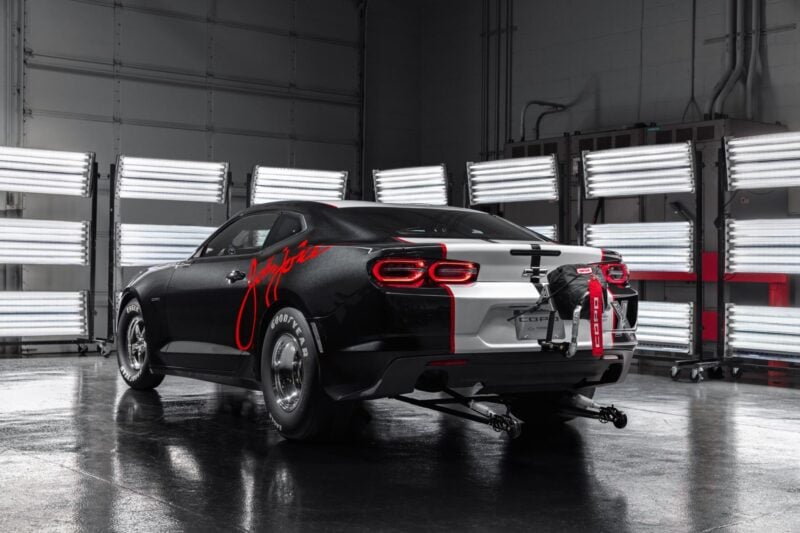 Chevrolet
Chevrolet may be pivoting on the new mid-engined C8 Corvette as hard as Toyota is on the Supra, but it's not the brand's centerpiece at SEMA. That honor goes to the COPO Camaro John Force Edition.
It's a supercharged drag special, named for 16-time National Hot Rod Association (NHRA) champion John Force. The car is a one-off that both shows what's possible for COPO Camaro buyers and will cross the auction block in January for the DonorsChoose.org charity.
Of course the Chevrolet stand will also feature the Corvette, along with the new Camaro LT1 and specialist versions of the Colorado and Silverado trucks.
Acura
The American-Japanese brand will be celebrating its racing heritage this year, displaying two generations of champion NSXs. That includes the first-generation NSX of RealTime Racing which managed 26 podium finishes — winning 14 — across 50 races in an incredible 11 year span at the World Challenge GT, and the currend NSX GT3 EVO which claimed the GTD title at this year's WeatherTech SportsCar Championship.
Acura will also show off the newest 2020 NSX. Along with the nice new Indy Yellow Pearl paintwork, the new NSX features suspension tweaks and new tires developed for the car. The brand says the enhancements make the NSX some two seconds quicker around the Suzuka Circuit.
In addition, there an RDX sporting some of the brand's "Concept A-Spec" accessories. There's also a chance to see the Acura Type S Concept which debuted at Monterey Car Week back in August.
Ford
Think SEMA, think Ford. If there wasn't an insane array of tweaked Ford pickups and Mustangs, you might think you've entered a parallel universe, and 2019 won't disappoint.
There's a seemingly endless stream of F-150s on display, from the official Ford F-150 Lariat Sport to the "Drag Racing Against Gangs & Graffiti" (DRAGG) F-150 SuperCrew. PaxPower will also display its interpretation of the Ford Ranger Raptor — a car available in Europe but strangely not the USA yet.
As with pickups, so with Mustang. Goodguys Rod & Custom will bring a tuned version of the 2.3-liter EcoBoost Mustang, with California Pony Cars displaying a V8. Shelby plans something a little more ferocious than the regular Mustang too, with the 800hp "Dragon Snake" — and, predictably, a 750hp "Super Snake" F-150.
Volkswagen
It's not just US domestic brands that head to SEMA. There's a huge Volkswagen modding scene, and SEMA offers the brand — and its partners — the chance to show what it can offer from its official catalogs.
VW's own offerings this year focus heavily on the Atlas SUV. There's the Basecamp and Adventure concepts, which offer overland versions of the family mover. Each features different approaches to the offroad idea, centering on lighting, lifting, and big, fat tires. The Adventure model comes with its own drone too.
In addition, there's a 2019 Jetta GLI model tweaked by H&R to fit perfectly into the dubbing scene.
Of course the SEMA Show isn't just about what the big manufacturers and their tuning partners can offer. There's a thriving aftermarket modified scene too, and there'll be plenty of tweaked motors across the taste spectrum.
See more articles on SEMA.