After last week's limited premature announcement, Polyphony Digital and Japan Race Promotion have confirmed that the Dallara SF23, as used in Super Formula, will be coming to Gran Turismo 7 in an update later this month.
Thanks to the accidental early release we already knew the broad strokes of the announcement, with PD and JRP revealing a further partnership between the two brands which already saw the 2019 car added to Gran Turismo Sport.
The SF23 is a development of that car, but there are some significant changes that mainly center on sustainability and some enhancements that should promote closer racing.
Restyled bodywork reduces the overall downforce slightly, in turn reducing "dirty air" to allow the cars to follow one another more closely. That should create more overtaking opportunities, especially given the formula's "Overtake" boost feature that increases engine power for a limited time — with a limited amount of use.
The body itself, produced by BComp, is now a flax-based composite rather than fully carbon-fiber. This will allow for greater reusability of components, with more recycling and less landfill. In fact the spec Yokohama tires also use recycled rubber, and there's a new carbon-neutral fuel being developed for the series as it pursues its "Next50" environmental targets.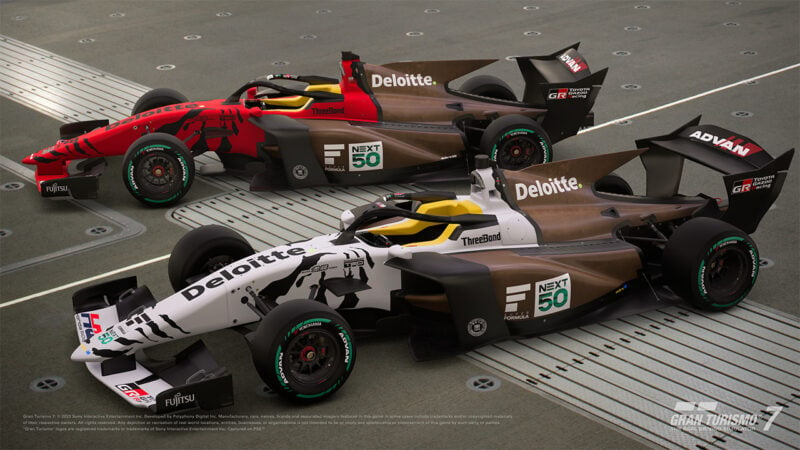 Once again there's two specifications of the car, with Honda- and Toyota-engined machines — in the "hakutora" (White Tiger) and "akatora" (Red Tiger) liveries respectively — both heading to the game.
That's just the start of the planned partnership though, with a livery editor competition confirmed for the cars once they've arrived allowing players to create designs based on each official SF team's colors.
JRP comments that the partnership's aim is to "introduce Super Formula to players around the globe", and that could see more of the championship's official circuits being added to the game — though this hasn't been specifically referenced at this time.
At present, three of the five circuits on the 2023 calendar are already included in Gran Turismo 7, with only Motegi — which was a part of Gran Turismo previously — and Sugo absent.
While no specific date has been confirmed for the update that will add the SF23 cars, the Super Formula press release indicates that it will be "at the end of April" — suggesting a date around Thursday April 27 if PD follows its pattern thus far for Gran Turismo 7 content updates.
In the meantime, the 2023 Super Formula season gets underway on April 8 with a double-header at Fuji International Speedway, which you'll be able to watch live on the official Super Formula YouTube channel.
See more articles on Gran Turismo 7 Game Update and Super Formula.