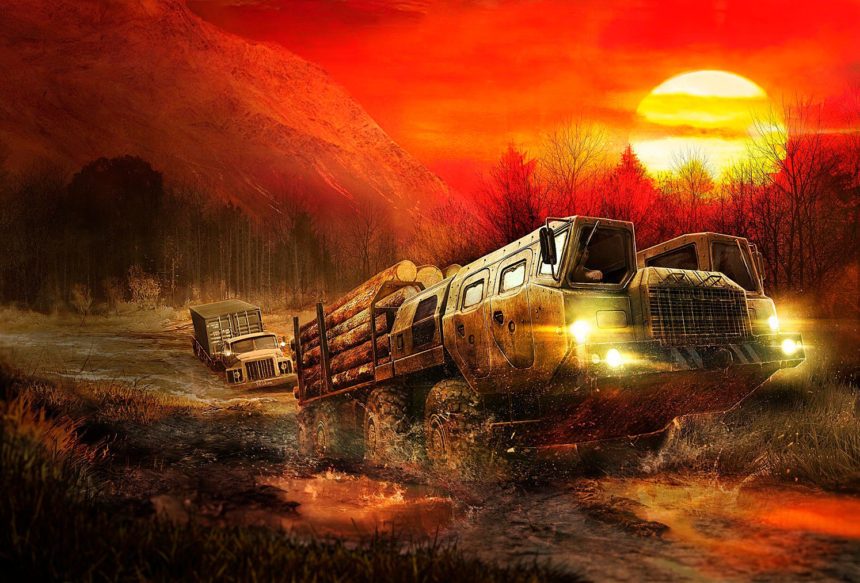 Focus Home Interactive has announced a follow-up to the 2014 off-road sim SpinTires. SpinTires: Mudrunner looks to improve upon its predecessor in a whole host of ways.
The road SpinTires traveled was as rocky as the terrain you drive over in the game. After the initial release, a major breakdown between the developer and publisher brought future development to a halt. Rumors of sabotage and abandonment circulated across the 'net. As a result, gamers abandoned SpinTires and it was left to rust in the junkyard of sim games.
Thankfully mods kept the game afloat for its diehard fans. However, between bugs and poor optimization, the game never felt finished.
This is where new publisher Focus Home Interactive and developer Saber Interactive come in. Together, they look to breathe new life into the franchise. Hopefully, this will give sim off-roaders the complete game they've hoped for. Also, the original creator, Pavel Zagrebelny, is involved in the development process. This means the game should contain many of the things that made it great in the first place.
SpinTires: Mudrunner puts you back in Siberia during the late Soviet-era. This means the game will feel utilitarian with its vehicle choices. Don't let this dissuade you though. These Soviet machines will feel right at home in the muddy terrain. Gamers get 19 vehicles out of the box with thousands more available through community downloads.
For licensing reasons, all the trucks will be similar to their real-life counterparts. However, since most of us in the West don't know a thing about Soviet-era trucks, we doubt most will even notice.
The main objective appears to be similar to the first SpinTires. You will still need to explore the map, unlock garages, find disabled vehicles, and ultimately haul logs across the map. However, Focus Home Interactive indicates that missions are now part of the game. Hopefully, this means some greater depth in gameplay instead of just exploring.
Up to four people can connect via multiplayer as well. This will come in handy, especially when you're out exploring in the game. Getting stuck and burying your rig up to its headlights is common. Having a buddy or two around, just like in real off-roading, will make your life easier while trying to free yourself.
Also, another bit of good news for gamers. SpinTires: Mudrunner will end up on the PS4, Xbox One, along with the PC. Bear in mind that mods may or may not be part of the console release.
We look forward to playing SpinTires: Mudrunner this coming October!
More Posts On...