If we have one suggestion for a New Year's resolution, it's to buy a race car. Why? Because race car of course! If you share the same sentiment as us, then this Wednesday Want is for you. In it, we will take a look at a few vehicles currently for sale to help get you behind the wheel of a racing machine.
Take on Classic Rallying With This Volvo Amazon
The first vehicle on the list is this 1965 Volvo 122 Amazon. It's up for sale through Grips Garage in Vantaa, Finland for a reasonable €14,900 ($17,000).
Besides being beautifully restored, the Amazon is also fully FIA compliant. Unfortunately, its documentation is overdue, but it will pass inspection for recertification.
It's also very much race ready too. Under the hood sits a 1.8-liter Volvo B18 four-cylinder engine. In stock form, it's good for around 95hp, but there are a few upgrades helping to boost its power. These include Wiseco pistons and a Timos Motor camshaft. There's also a pair of 48mm SU carbs too.
On the inside, the Amazon has the usual assortment of racing safety gear. To help out with rally racing, it also includes a Halda Twinmaster odometer.
Altogether, it's a pretty complete package and will get you race ready in no time. The price also won't break the bank either, which will definitely help.
Channel Your Inner GT Racer With This Honda NSX
Our next entry channels its inner Gran Turismo, a 1992 Honda NSX touring car. It's for sale through Springbok Sportwagen of Isernhagen, Germany for the sum of €225,000 ($257,000).
The NSX was originally built by Seikel Motorsport for the 1993 ADAC-GT-Cup in Germany. During that season, this NSX was also pretty competitive. Driven by Armin Hahne, it ultimately ended up taking third overall in 1993.
The livery currently on the car is one that holds a bit of history too. It was part of an event to mark the 25th anniversary of the NSX running in the Spa 24 Hour race in 1993. Unfortunately, during that race, the NSX and Seikel Motorsport came up a bit short. It ultimately ended up retiring from the race due to a fire.
Overall the car is in immaculate condition and appears race ready too. Chance are though, it'll end up in the hands of a collector instead of someone hoping to race it. While a bit of shame, we do understand. Still, we wouldn't argue if we saw it on a track in the near future.
Go for Broke With This Mclaren P1 GTR
For our third entry, we're ignoring price completely. This 2016 McLaren P1 GTR is for sale through Iconiccars in Tienen, Belgium. At a list price of €3,253,690 ($3,725,475), it's by no means cheap, but it is worth it for the power alone.
Just how much power? 986 ponies from the 3.8-liter twin-turbo V8 and the electric motor. This pushes the P1 GTR to 60mph in just 2.8 seconds and flat out, all the way to 217mph.
This makes for an absolute beast of a car and one that's not for beginners. However, for those who can tame it, it will provide them with the ultimate track experience.
This particular GTR is number 34 out of the 58 built. In its current form, it's made for the track only. However, for a cool €250,000 ($287,000) and three months of your time, it can be converted to a road going car. It's unclear if Iconiccars performs the modifications though.
Chances are, it enlists the help of Lanzante to make that possible. After all, it did it with the McLaren F1 GTR we featured on a previous Want.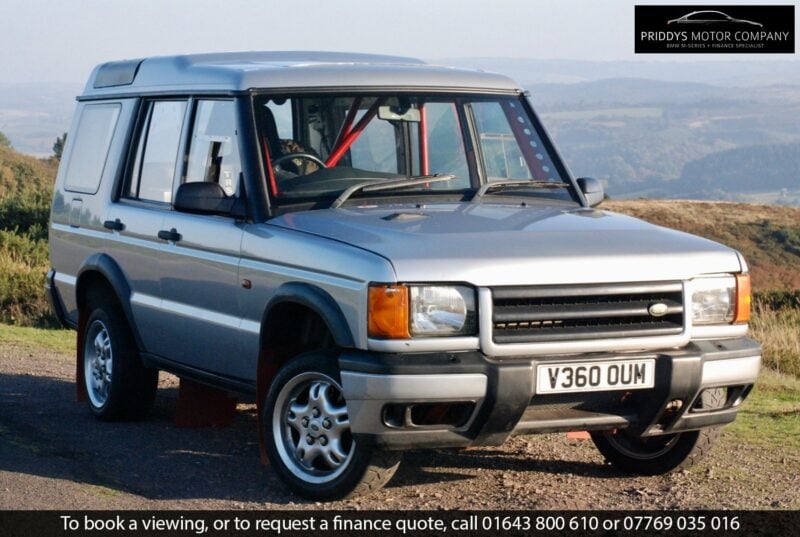 Embrace the Strange With This Land Rover Discovery Rally Car
If you think the other three entries are a bit tame or run of the mill our final entry is anything but. It also happens to be one of the oddest race vehicles we've ever seen too, a Land Rover Discovery.
While that's not exactly groundbreaking, its powerplant is. Instead of the lumpy Rover V8 under the bonnet, this Disco instead gets the engine out of a BMW E36-era M3. It's not a stock BMW I6 either, with an ECU tune and some other odds and ends, it turns out 350 ponies.
That's not all. The transfer case has been modified and the low range removed to allow for speeds upwards of 105mph. It also uses Porsche 911 parts in the front axle and brakes from the BMW 750. The suspension is full rally spec as well, allowing for 14 inches of travel.
It's more than just a Frankenstein project too. It's fully compliant for racing and meets Comp Safari specifications. It also has an MSA log book to back up all it's racing history as well.
If you're interested in this crazy contraption, it's currently for sale through Priddy Motor Company of Somerset, UK. The price is pretty reasonable too at just £13,990 ($17,800).
To see the Land Rover in action, you can check out the video below:
See more articles on Wednesday Want.