Hot on the heels of the unveiling of the Fittipaldi EF7 — destined for the upcoming Gran Turismo Sport — another company has unveiled its new model not only on the floor in Geneva, but in a video game. Say hello to the Tamo Racemo, the small mid-engined sports car from Tata's new sub-brand.
Billed as the world's first "phygital" car (Tamo's words, not ours), the Racemo is a two-seat sports car powered by a turbocharged 187 hp 1.2L three-cylinder engine. The powerplant is backed up by a six-speed automatic with paddle shifters. Thanks to a relatively light curb weight, the 0-60 mph dash takes less than six seconds.
At just 12.5 feet long, the Racemo is shorter than an ND MX-5. The car is built on a patented "MoFlex Multi-Material Sandwich" (MMS) structure, promising faster time to market and increased freedom in design.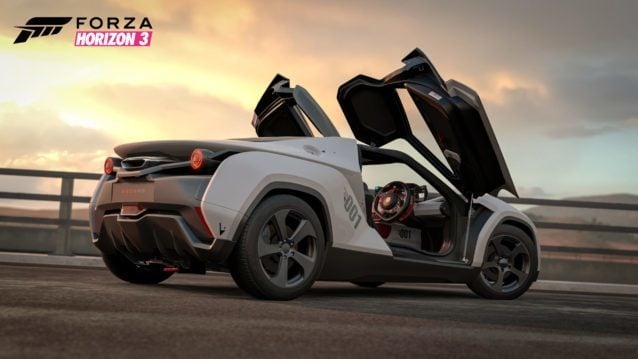 Speaking of the design, the car certainly strikes a unique profile. The stance is quite high, while the body has hints of KTM X-Bow and BMW i8. Up front, there's an air of modern Citroëns in the Racemo's squinty visage.
Alongside the road-going Racemo, there will be a track-ready Racemo+. Details on that car are scant, but the wild-looking model can be viewed in the gallery below.
While potential drivers will have to wait until 2018 to get behind the wheel, gamers will have to wait only a few more hours: due to a long-term partnership between Tamo and Microsoft, the Racemo will be arriving in Forza Horizon 3 later on today, free for all players. The first Indian car in the franchise is expected to arrive alongside the title update that will bring the new Duracell car pack into the Land Down Under.
Stay tuned for more news from Geneva — there are yet more surprises to be had.
Forza Horizon 3 is currently available on Xbox One and PC platforms.
See more articles on Forza Horizon 3 Game Updates and Geneva Motor Show 2017.