Following a leak yesterday, we've now got official word on the contents of this month's car pack for Forza Horizon 3. Say hello to the Duracell Car Pack — the last of the DLC packs covered by the FH3 Car Pass.
Arriving tomorrow, the sixth car pack brings with it a lone surprise for those that may have seen the FH3 leaks in January: the 650 hp 2017 Camaro ZL1. Ironically given this month's sponsor, not a single car is powered by batteries, or is even a hybrid. The full lineup is listed below:
2017 Camaro ZL1
2015 Jaguar XE-S
1959 BMW 507
1992 Ford Falcon GT
1972 Land Rover Series III
1995 Nissan Skyline GT-R R33 NISMO LM Road Going Version
1983 Volvo 242 Turbo Evolution
The BMW and Volvo are both returning to the franchise for the first time since Forza Motorsport 4 on the Xbox 360. Every pack since November has counted an Australian car amongst its ranks, so the Falcon's inclusion keeps that tradition alive.
The British pair cover two ends of the spectrum: a modern compact sports sedan and a classic off-roader. Those looking for a supercharged current Jag that doesn't have a V8, nor comes in the shape of a crossover like the F-Pace found in December's Logitech G Car Pack, should enjoy the XE-S. The Land Rover should provide a tough British alternative to the contemporary Jeeps and Toyotas already found in the game.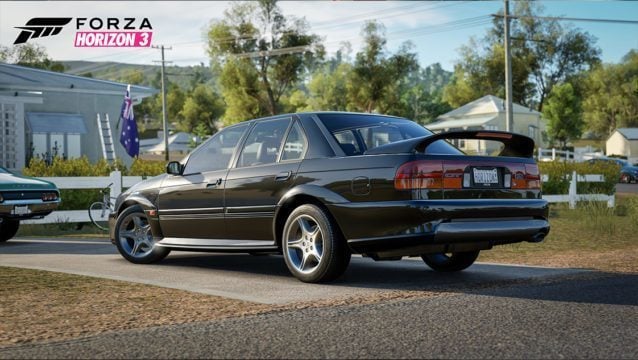 The lone Japanese addition should be a very familiar sight to Gran Turismo players: this actually marks the first time this particular model has been included in any franchise outside of the long-standing Polyphony Digital series.
In addition to the seven cars in the pack, all FH3 players have access to a free car: a Duracell-liveried GTA Spano (which was included in normal form in the first car pack back in October). Simply head to the Xbox Store and search for "GTA Spano" to download it at no cost.
We'll have the usual breakdown of the pack contents (as well as any updates to the game itself) tomorrow when the Duracell Car Pack goes live.
Forza Horizon 3 is currently available for Xbox One and PC platforms.
More Posts On...