Earlier this month Audi debuted its R8 LMS GT3 at the Paris Motor Show. It gave us our first taste of what the redesigned street version could look like. Now Audi has pulled off the sheet to give us our first look at its updated supercar.
As expected, the new R8 is more powerful, quicker, and slices through the air better than before. It still features the mid-mounted, 5.2-liter V10, driving all four wheels through a seven-speed DSG auto.
Audi's new R8 comes in two performance levels. The first is the standard spec, bearing the designation R8 V10, just as before. New for 2019 is a second trim replacing the outgoing V10 Plus model, renamed to V10 Performance.
The basic R8 gets 562hp, a bump of 30hp from the outgoing model. That shaves 0.3 seconds off the run to 60mph, at 3.4 seconds (3.5 for the drop top). Top speed is up just a tad as well, with the R8 breaking into the 200mph club.
If you want to go quicker, the V10 Performance also gets a boost over the old V10 Plus model. It's now up to 611hp from the previous 602. That shaves 0.1 seconds off the 0-60 time and now rings in at 3.1 seconds, although top speed remains unchanged at 205mph.
To keep everything in check, the new R8 comes with several new driving modes. This includes settings for dry, wet, and even snow. There are also performance modes along with the ability to individualize your settings in greater detail.
The exterior is where we see most of the changes. Most obvious is the new grill that continues with Audi's new design language seen across the brand. Audi's also redesigned the hood with slits near the grill that pay homage to the Ur-quattro.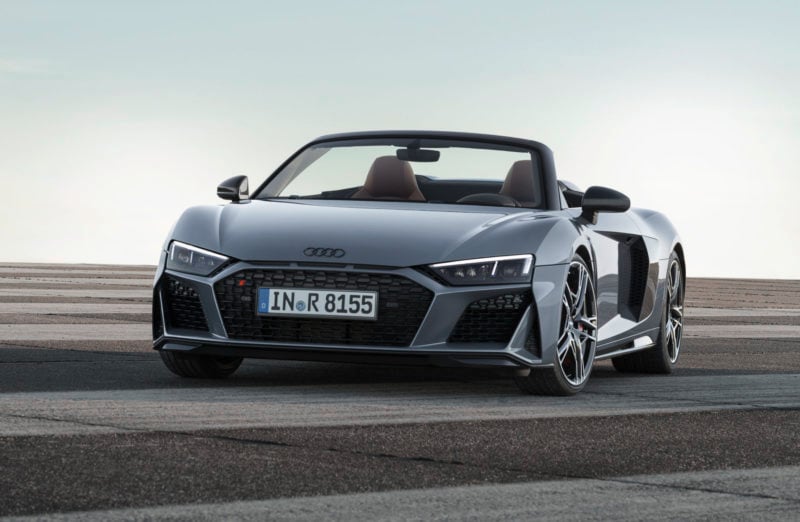 There's also two wide intakes in the bumper that complement a new front splitter. Around the back, Audi has revised the rear diffuser and spoiler.
Adding to the new look of the R8 is a series of styling packages. Depending on the engine choice, owners can opt for gloss black or matte titanium trim. There's also a carbon fiber trim option for either engine choice.
There's two new colors to the R8's range too. These are Kemora Gray and Ascari Blue, both featuring metallic flake throughout.
Audi did not reveal a price, but we expect it to start around the same $140,000 mark as the current model. The 2019 R8 will go on sale in Europe sometime early next year and in the US sometime during the summer.