The Mini brand is celebrating its 60th anniversary this year. To honor this accomplishment, this week's Want will focus in on the famous Cooper, albeit with a bit of a twist. Instead of the base car, we're going to take a look at the unusual Broadspeed GTS Works.
At first glance, it only sort of looks like the classic Cooper — at least from the front. The side profile is another story though. Rather than the distinctive hatchback, the Broadspeed uses a sloping fastback design.
Due to this, it's of little surprise that the Broadspeed gets compared to the Aston Martin DB6 – only on a smaller scale.
So what's the point of the oddly shaped body? To find out, a little back story is needed.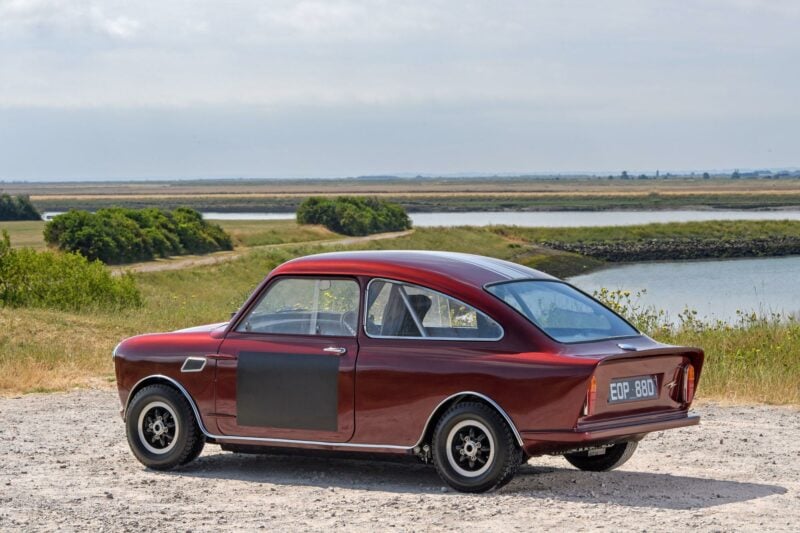 It starts with racing driver Ralph Broad, who in 1959 started racing a BMC Mini. He quickly found success with the little car. This led Broad to start selling racing conversion kits for the Mini to aspiring hopefuls for a mere £340.
As Broad's business grew, he eventually founded Team Broadspeed in 1962. Joining up with driver John Fitzpatrick, the duo continued to succeed in a variety of cars. BMC, the main competition to Broadspeed, took notice of this as well.
In 1964 BMC started offering factory support to Team Broadspeed. Then in 1965, it was a full works team for the BMC Mini Cooper S in the European Saloon Car Championship.
As a works team, Broadspeed found itself winning fairly frequently. In 1965 it took a class win at the Monza 4 Hours, Spa, and Zandvoort events.
In 1966, Broad and his partner, John Fitzpatrick, ultimately left BMC to race a Ford Anglia.
Despite this, Broad still had a passion for the Mini Cooper. As a result, in 1966 he also started to produce his own car, the Broadspeed GT 2+2.
Based on a BMC Mini Cooper S, it was two inches shorter in stature and four inches longer than the original. It also came with a choice of three different engines, all from the Cooper or Cooper S.
Unfortunately, the car was rather expensive. For the base car sporting the 848cc engine, it ran £799. If you wanted the 1275cc variant though, then you needed to pony up £1,500 or about £28,000 ($36,000) today.
As a result, only 28 of the Broadspeed GT 2+2s rolled out of the factory. Of those 28, there's one that's even rarer and the subject of this week's Want, the GTS Works.
Unlike the higher-end nature of the 2+2, this GTS was an all-out race car. This meant a stripped out interior, lightweight panels, and a stiff chassis. It also had fully adjustable suspension and a fully tuned 1366cc engine.
Unfortunately, there's a lack of any reliable horsepower figure for the car. Estimates put it around 120-130 ponies though, which doesn't seem like much. But considering the weight was right around 1,000 lb it didn't need a lot. As a result, the top speed was in the neighborhood of 140mph.
The GTS Works' race record is a bit unclear too. However, the listing notes it had victories at Brands Hatch, Oulton Park, Zandvoort, and Welschap at the hands of Fitzpatrick.
If you're interested in the car, it's currently for sale through Woodham Mortimer in Essex, UK. The price is rather lofty at £90,000 ($116,000), but for one of the rarest Mini Coopers around, it might be worth it.
See more articles on MINI and Wednesday Want.