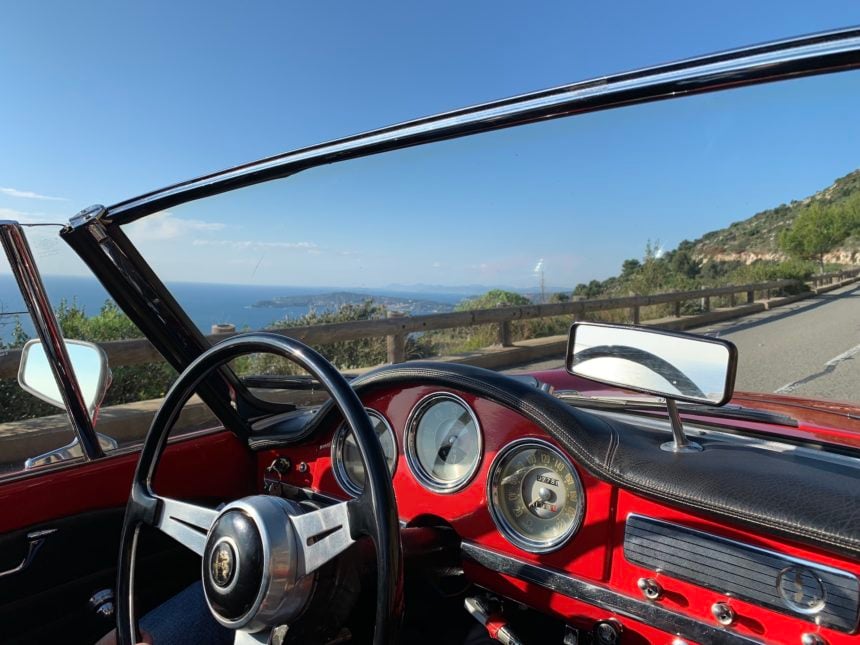 GTPlanet's editorial team recently spent a week in Monaco and, although most of our time was taken up by the FIA-Certified GT Sport World Finals, there was a little downtime too. After all, who wants to work on a Sunday morning, with all that Mediterranean sunshine beaming down?
And so, bright and early, we three turned up to the Monte Carlo Sporting Club with our challenge for the day. Pick from a range of classic cars and drive up into the hills above Monaco.
The Cars
For our little breakfast trip, Sony had sourced a handful of vehicles from a local specialist, Rent A Classic Car. It was quite an eclectic little mix, ranging from the relatively recent Porsche 911 Turbo to a classic Citroen DS Cabriolet d'Usine. And, for some reason, a Nissan Figaro.
With such a wide and weird array of cars on offer, what did we pick? Well, the DS was off the menu straight away — the rental company was only allowing passenger rides thanks to the bizarre, column-mounted semi-auto shifter. It was advising against using the C2 Corvette either, with its excessively heavy clutch. That only left us with eight candidate cars, or rather seven because of that Figaro.
Site owner Jordan made a beeline straight for the Alfa Romeo Giulia Spider 1600. Our editor Kyle went for the more statesmanlike Mercedes-Benz 250 SEL. Andrew, befitting his age, went for the bright red Lamborghini Jalpa. Peak 80s.
The Route
The first stage of the trip took us from our hotel — the Monte Carlo Bay, right on the north-eastern border with France — through the Principality itself. Driving through Monaco is quite disorienting at first. It's a maze of tunnels and junctions, with sudden narrow road spurs jutting off and climbing to a different level, like a Grand Theft Auto map. One tunnel, Tunnel Aureglia, even includes a roundabout, and has a glittering road surface thanks, it turns out, to a material called "glassphalt".
Thankfully the cars' chauffeurs took care of this section of the drive. Before long we were in the Tunnel Rainier III and into France on the Corniche road. That took us onto the infamous road to La Turbie. Here, on the first hairpin, was where Monaco's Princess Grace — American actress Grace Kelly — died in 1982 after suffering a stroke while driving.
In La Turbie we then turned back on ourselves and headed up to the fort and observatory at the Tete de Chien. This rock formation, nearly 2,000 feet up, looks down over the whole of Monaco, where we'd been just a few minutes before. After a little break to watch a madman walking a tightrope between the rocks, it was our turn to drive the cars the long way back via Carpre, La Colle and Les Pissarelles.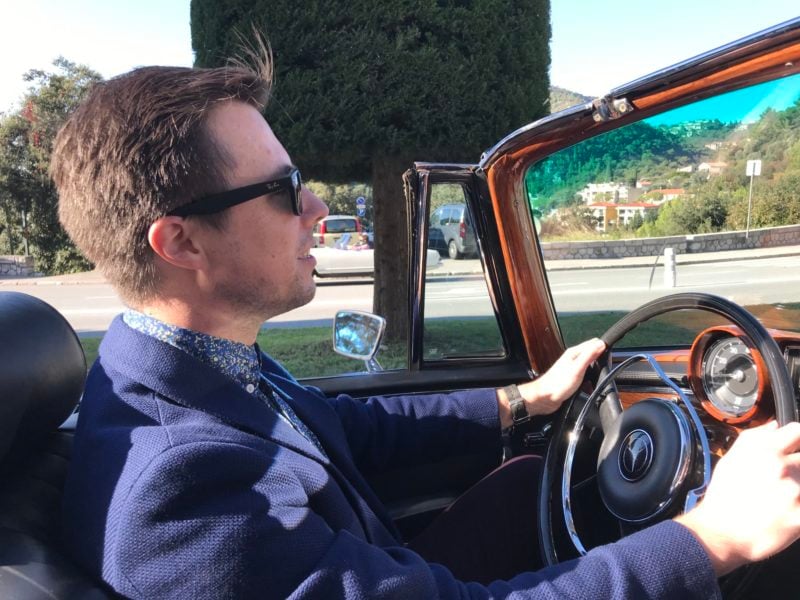 Kyle's Mercedes-Benz 250SE
Knowing my personal limits — and watching our tour bus driver navigate the serpentine roads in Monaco the day before — I don't dare take my first choice, the DS Cabriolet. It just seems so quintessentially French for the route though, so what else could fill its shoes?
The Merc is a far different proposition. The big boy of the group, the 250SE lacks the passion of Jordan's petite Alfa or Andrew's cocaine-and-shoulder-pads Lambo. The 2.5-liter straight six under the acres of hood was undoubtedly a smooth operator when new, which was before man had set foot on the moon. On this picturesque Sunday morning, it's a little groggy on start-up before settling into a stately thrum.
This is not a car for being thrusty in. Not least because the interior is full lounge spec: low-rise front seats look like they've been plucked from Don Draper's Upper East Side apartment. Oh yeah, and this is a time before seatbelts. You don't realize how much you lean on them — literally — during downhill braking until you're sliding ever so slightly forward on the descent.
The brake pedal is surprisingly, and reassuringly, firm. The four-speed auto does its best to ape a manual, too: as my co-driver informs me, it has a bit of an attitude. It gets disagreeable if you're heavy-footed, preferring slight lifts and a touch of finesse to go about its business.
Sitting behind the huge, thin-rimmed steering wheel, peering out over acres of hood, does little to quell the inevitable boat comparisons. That wooden tiller isn't the sharpest wheel I've been behind either. But you know what? I wouldn't want it any other way right now.
The 250SE gels with autumn in Monaco. It's stately and languid all at once, sailing clean over bumps that would upset the other cars and happily pouring itself into tight corners at its own pace. It may have a huge turning circle, but the wheel provides pleasant feedback, reminding you there's still a good old-fashioned physical connection between you and the tires.
It's a sensory overload compared to modern cars. Sights, smells, noises — the 250SE has 'em all. It also has that old Merc feel, as if the crew back in Germany didn't so much build it, as craft it from a solid piece of granite. If we didn't have to return to the Sporting, I'm quite sure the 250SE and I could've continued on out of Monaco, across the French then Italian border, and do the 500 mile trip right to its home in Stuttgart.
In fact, I wonder if Mercedes would be interested…
Andrew's Lamborghini Jalpa
Light up the Jan Hammer laser disc and fire up the Lambo — we're going to Monaco. Yes, as befitting any overweight, underhaired middle-aged man, I'd chosen a bright red, convertible (well, targa), Italian sports car with pop-up headlights and a white leather interior. What mid-life crisis?
But what else here fitted that Monaco playboy lifestyle? This is what all the cool billionaires were driving to what our tour guide termed "the rich-rich harbor" (as opposed to the "poor-rich" one) to get to their mega-yachts in 1983. Of course I only had it on loan for an hour, but that didn't mean I wasn't going to enjoy it.
Once I could get it going, of course. It turned out that the Jalpa's e-brake wasn't all that effective and we were parked on a downward slope, so I had to start the car with my left foot on the brake and in first gear. Not that even getting it into first gear was easy, as the Lamborghini's gearbox is upside-down — first is left and back, with reverse gear where you'd normally find first. Hey, it's not like I had a Porsche 930 behind me to hit if I found the wrong direction…
Surprisingly, the clutch pedal was quite light, but also close enough to the brake to cause a couple of early issues; I ended up covering the clutch with my left foot, just to keep from hitting two with my right. Also on the light side are the brakes and steering, or at least for the first few inches of both. The 80s was the era we experimented with digital technology, and Lamborghini seems to have taken this to heart with the car's controls.
The right-hand pedal is anything but digital. That's linked to the Jalpa's 255hp, 3.5-liter V8 and, despite the best efforts from the Corvette up the road and the 911 behind me, that makes the Lamborghini the loudest car here. A tunnel you say? That's second gear (middle-fore, obviously) and foot on the floor. Down the hairpinned road of Avenue de Lattre de Tassigny, I definitely picked the right car. A little heel-toe as I head down the mirrored gearbox, wrench the steering wheel in to convince the car to turn, and a bootful of power on the way out; my chaperone yells "Yes!"
As we amble towards our finish line, an old guy on a bench (we're still in France) gives a thumbs up and a wave. Heading up the Rue Grimaldi over the grand prix start line, a brand new Porsche 911 joins our convoy, but slinks off outclassed as the women are photographing me. Or my Lamborghini. I wonder what the used prices are like…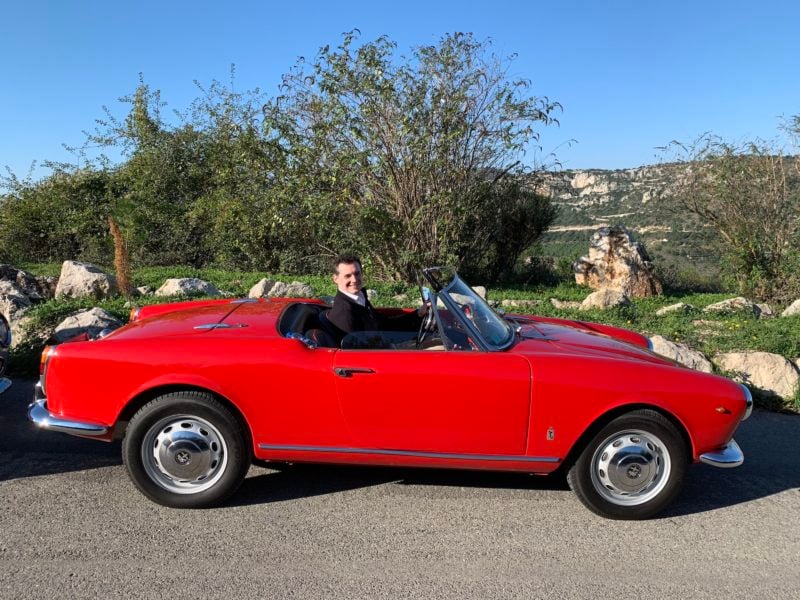 Jordan's Alfa Romeo Giulia Spider
My choice for the day was a charming little Alfa Romeo Giulia Spider. Although not as stately as Kyle's Benz or as flashy as Andrew's Lamborghini, it was, to me, the best way to experience la dolce vita cruising around the French Riviera.
I must admit, I wasn't quite sure what I was getting myself into when I slid into the surprisingly comfortable interior and began fumbling around for the seatbelt that did not exist. One of the attendants also informed me they had just been working on the car, implying it was going to run either very well or not at all!
Fortunately, there were no problems, and I quickly fell in love with the spunky roadster. Of course, it wasn't too spunky: the 1570cc twin-cam engine only puts out around 100hp, but when you are driving next to the edge of rocky cliffs in a tiny, 50-year-old car without seat belts, that really is all you need.
To be fair, I was surprised when I put my foot down. The car's size really did make it feel faster than it was (it actually felt quicker than a two-year-old Fiat 500 I drove last year…), and it offered more than enough to bring a smile to your face.
The Giulia was easy to drive. The five-speed gearbox had a surprisingly solid and modern feel, and the clutch was light and intuitive. The only part of the car that didn't inspire confidence was the brakes: not much happened when you pressed the middle pedal. The gauges also did not work, but none of that mattered: the car's quirks only added to its charm.
Combined with the scenery and picture-perfect weather, it was one of the best driving experiences I have ever had. Guiding the little Alfa through the twists and turns of the mountains overlooking the Mediterranean felt like a dream come to life, and indeed, it was.