It's back! The Grand Tour is returning to Amazon's streaming service Prime Video on January 18, 2019.
To mark the occasion, Clarkson, May and Hammond have release a trailer of the shenanigans that viewers can look forward to in the New Year.
As usual, the trio have a number of challenges between them. In the clip we get to see a pony car group test, a triplet of Italian cars from the 1980s and an unusual off-roader challenge — with an electrifying angle.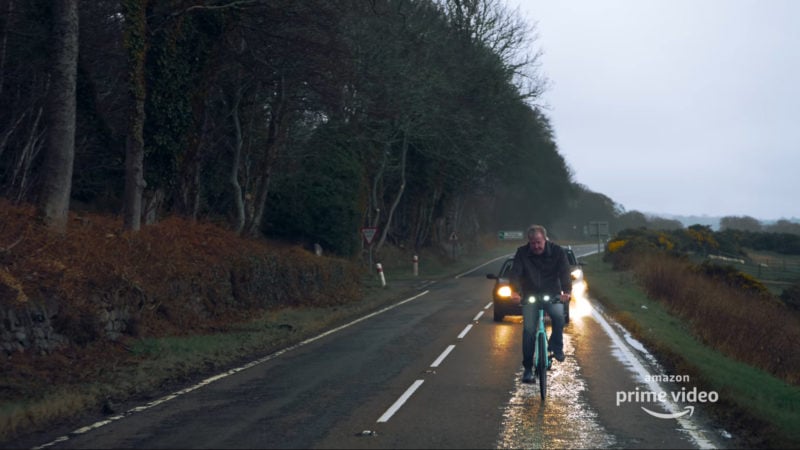 In a rare moment, Clarkson is forced to take to two wheels, we assume as a consequence of choosing an Alfa Romeo GTV in the Italian car challenge. Hammond, who doesn't seem to have learned from his rapid descent in season two, breaks down in a Chevy pickup halfway across a narrow bridge in Colombia. Meanwhile James May plays the bagpipes.
Along with the three-way challenges, we get to see what the team makes of the pair of posh pickups from Mercedes and Volkswagen, courtesy of a gratuitous helicopter explosion. Clarkson also takes on Abbie Eaton in a Lamborghini vs. Porsche challenge on a… distinctively shaped snowy circuit in Sweden. The show has also got its hands on a McLaren Senna, which will surely smash the Eboladrome's lap record.
Eagle-eyed viewers will also spot that they've turned their hands to building things again. One brief shot sees three RVs streaking across the Nevada desert, with Clarkson driving his from a yacht-like position on the roof…
Although the studio will once again be based in the tent at Chipping Norton, coincidentally near Clarkson's (rebuilt) home, the team have been living up to the show's name. Along with Colombia and drifting the abandoned streets of Detroit, The Grand Tour has visited China and Mongolia for the third season. And London Stansted Airport.
On that terrible disappointment, here's the trailer in full:
More Posts On...