The first trailer for James Bond's 25th outing, No Time To Die, is now live. If you haven't seen it already, we only have one question: what are you waiting for?
If you're a car enthusiast, Christmas has come a little early this year. As is Bond tradition, Aston Martin will feature prominently in the forthcoming entry in the franchise. This is where things get interesting, so let's take a closer look at the cars featured in the trailer.
Immediately, the trailer kicks off with Bond behind the wheel of the 1964 Aston Martin DB5 — voted GTPlanet's best car in movie history. The Aston lets loose with a mighty powerslide, showing off battle scars along its right side — at least some of which comes from a collision with a classic Range Rover. In more Brit-on-Brit action, the DB5 is also chased through the streets of southern Italy by a pair of menacing Jaguar XJs. Did we forget to mention the Aston's incredibly cool headlight-concealed miniguns? We wonder if that's coming to the roadgoing DB5 Continuation models…
We get a quick glimpse of James pulling the cover off a black V8 Vantage, and driving it into London's city streets. That's a nod back to the car Timothy Dalton's Bond drove in The Living Daylights, one of very few things beloved of that era of Bond. It's also possibly the least realistic bit of the trailer, as Bond parks it up right outside the Ministry of Defense in London's Whitehall without any difficulty finding a space.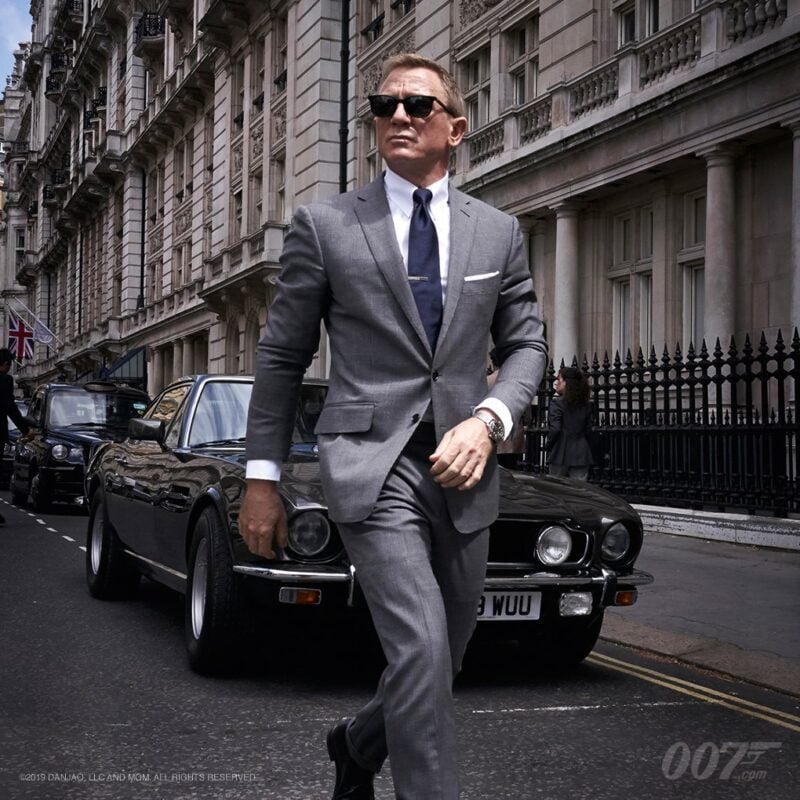 Without question, our favorite spot in the trailer is the gorgeous DBS Superleggera. Powered by a 5.2-liter twin-turbo V12, the DBS kicks out 712hp, translating to a top speed of 211mph. A fellow 00-agent — Bond's replacement after he retired following the events of Spectre — is behind the wheel in the trailer, so there's no way of knowing whether it's merely a cameo or not. We certainly hope that won't be the case.
The action doesn't just stay on the road either. In a light departure from the usual sponsored fare, we can see Bond hustling a Toyota Land Cruiser down a river bed, and casually blowing up a Range Rover Sport — clearly Jaguar Land Rover is back in and supplying the bad guys again.
Here's a list of all the star cars we spotted in the trailer:
The Good Guys

1965 Aston Martin DB5
1977 Aston Martin V8 Vantage
2019 Aston Martin DBS Superleggera
2001 Toyota Land Cruiser

The Bad Guys

2019 Jaguar XJ
2001 Lancia Thesis
1995 Maserati Quattroporte
1986 Range Rover "Classic"
2019 Range Rover Sport
In addition there's some oddball background cars. That scene in Whitehall features an Abarth 500, an X300-generation Jaguar XJ, a Vauxhall Astra, and a Peugeot 307 — the usual London street-fare. FIAT features in plenty of scenes too, with a classic 500 in Italy, and the FIAT 124 police cars in Jamaica. It's fair to say that there's some proper car nerds working on No Time To Die.
One car conspicuously absent from the trailer is the Aston Martin Valhalla. The mid-engined supercar is part of a fleet that the British carmaker confirmed it's supplied to the film. We'll have to wait to see how the Valhalla makes its global debut. Land Rover was also reportedly looking to include the new 2020 Defender.
No Time To Die releases April 2, 2020 in the United Kingdom, and April 8, 2020 in the United States.
See more articles on James Bond and No Time To Die.