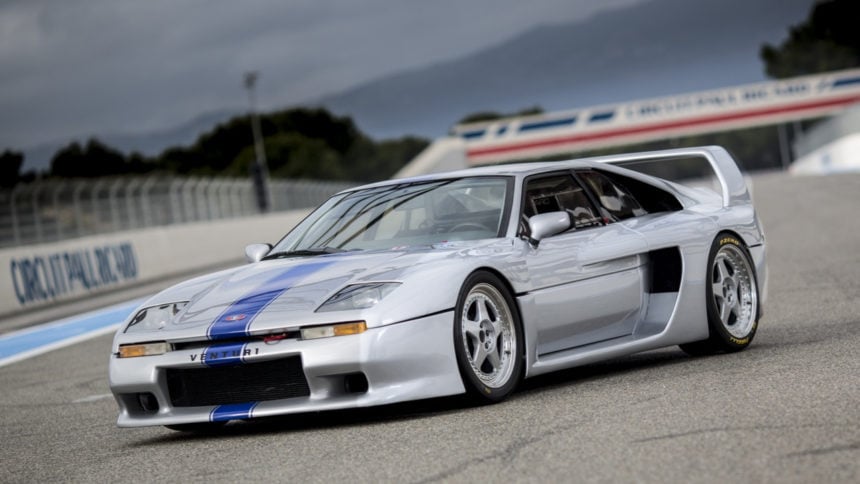 The French have their fair share of unusual cars. But for the most part, it's the standard affair of Peugeots and Renaults. One little-known maker stands out though, and if you're a fan of Gran Turismo 2, you might recognize it. That maker is Venturi.
Venturi started life in the early 1980s when founders Claude Poiraud and Gérard Godfroy left their jobs at Heuliez. Their goal was to build a French GT car capable of running with the likes of Aston, Ferrari, and Porsche.
The company's first car hit the streets in 1986 and sported the generic name MVS Venturi 200. If you're wondering what MVS means, it's pretty generic too. In French, it stands for Manufacture de Voitures de Sport, which when translated to English gives us "sports car maker".
It followed the success of the MVS Venturi with another generic sounding car in 1989. Called the MVS Venturi 260, it was an evolution of the previous car with 260hp on tap.
Both the 200 and 260 were good cars. However, they weren't exactly supercars. This changed in 1992 though with the introduction of the 400 GT.
Upon first glance, the 400 GT looks like a greatest hits album of all the classic 70s and 80s supercars. The overall shape is reminiscent of the Ferrari F40. It also sprinkled in a touch of Lotus Esprit, a handful of BMW M1, and a dash of Ferrari 328 for good measure.
Obviously, the design drew some criticism. But Venturi somehow made all the pieces work together and the final product looks like a quintessential 90s supercar.
Unlike other supercars, the engine wasn't a twin-turbo V8 or screaming V12. Instead, it used a PRV V6 engine that came from a joint venture between Peugeot, Renault, and Volvo. In particular, the 400 GT used the variant from the Renault Safrane Biturbo.
While not exactly the stuff of supercar legends, Venturi did work some magic on the engine. It did this by fitting larger turbos and bigger intercoolers. The end result saw the 400 GT turning out a respectable 408hp and 383 lbft of torque. This was a far cry better than the 258hp from the Renault.
It didn't need a ton of power either. With a weight of just 2,500lb, it was nearly 500lb lighter than its closest rival, the Ferrari 355.
Its real claim to fame, however, was its brakes. The 400 GT holds the unique distinction of being the first road car to offer carbon brakes as standard equipment.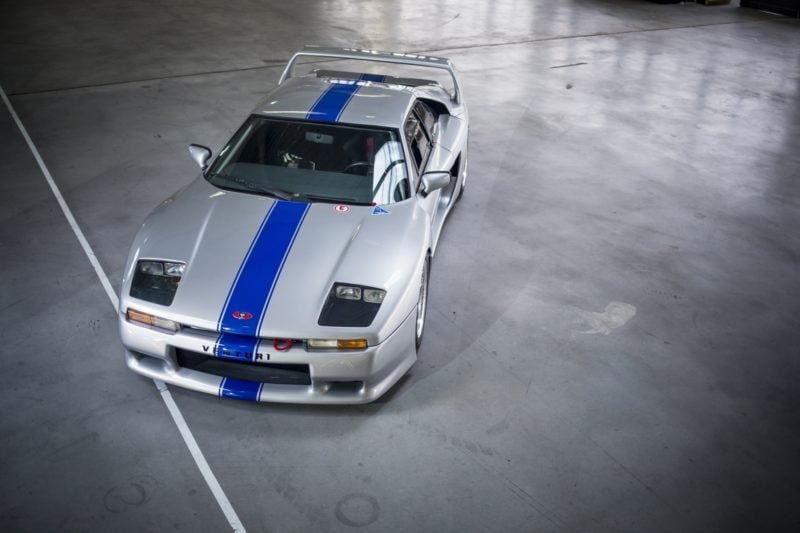 However, the road variant of the 400 GT really isn't the car's crowning achievement. Instead, it was fully meant as a race car. In particular, a racecar in an FIA one make series featuring the 400 GT exclusively.
This is where we find the subject of this week's Want too. Offered up for sale by Mécaniques Modernes & Classiques of Paris, this 400 GT is one of the 73 Trophy variants produced.
This example is chassis number 51 and competed from 1992 through 1994 in the Gentlemen Drivers Trophy. Following that in 1995, it took to the track for the Philippe Charriol Supersports Trophy. Finally, from 1996 through 2000 it saw even more racing and track action at private events.
In 2016, this 400 GT underwent a full restoration to bring it back to its former glory. After years of racing, it was probably needed and very much deserved. Virtually every part of the car was touched and the engine was also given a full overhaul.
It now sits in its original condition sporting silver paint with a single blue racing stripe.
It's rare that one of these cars comes up for sale. Due to this, the price for them is often fairly high. This example clocks in with a price tag of €165,000 ($190,000). But, considering its rich racing history and low production numbers, we're sure it's more than worth it.
More Posts On...