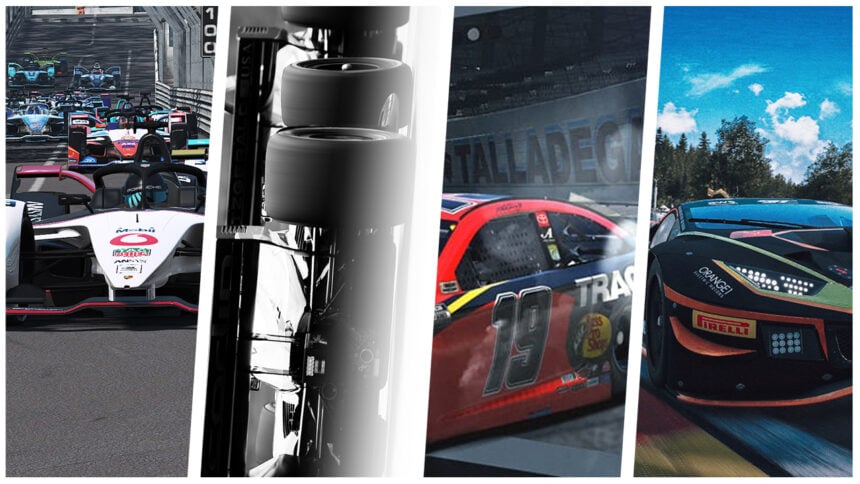 The virtual world continues to fill in for the real world this week, as the motorsport action returns to small screens and static driving rigs to provide the racing entertainment that would otherwise be absent.
Continuing countermeasures to control the contagion mean that racetracks sit unused, grandstands remain empty, and a lot of professional racing drivers are sitting on their hands. Fortunately more and more of them are turning to the digital alternative to pass the time and give the motorsport community something to watch.
It's another packed program this week. Here's our guide to what's going on and when — and how to watch it.
ABB Formula E Race At Home Challenge
This weekend's racing actually starts with a new series, from Formula E. Running for the next nine Saturdays, Formula E's Race at Home Challenge will feature two separate grids, with real pro drivers taking part in one race and a field of qualifying gamers and celebrities in the other.
Using rFactor 2, each race will feature Formula E circuits and cars, and a very unusual format. Called "Race Royale", the race will eliminate the last driver at the end of each lap until ten drivers remain. They then have a single lap to settle the order, which should lead to some chaos in the celebrity events. The top three gamers will automatically qualify for the next race.
The first race starts Saturday at 1420 UTC, and you can watch it on Youtube below:
The Race Legends Trophy & All-Star Esports Battle
The All-Star Esports battle reaches its climax this weekend, with the final round of a three-event championship. There's still plenty to play for, despite Erhan Jajovski's lead at the top of the table, with the overall title and the crowns as best pro driver and best sim racer all up for grabs.
Meanwhile the Legends Trophy once again features a whole raft of famous names from across motorsport, racing more for entertainment than glory. Nevertheless, with three F1 world champions, a WRC champion, a host of Indy 500 winners, and renowned sports car racers, there's more than a dose of pride on the line too. The action starts at 1600 UTC on Saturday, and you can watch it all below:
IndyCar iRacing Challenge
After two ovals in a row — both won by Simon Pagenaud — IndyCar returns to road circuits this weekend with a race at Circuit of the Americas. The 32-lap race will again see the usual list of IndyCar greats, including seven series champions, seven Indy 500 winners, and more than 200 race wins between the 33-driver field.
However there's still room for a debut, and this week it's Lando Norris. The McLaren driver will be making his first IndyCar event, though fans will recognize the Papaya Orange McLaren from Fernando Alonso's attempts in 2017 and 2019. As with previous events, NBCSN will broadcast the race and pre-race activities, so it's unclear if the COTA race will be available elsewhere. In the meantime you can watch last week's race from Motegi below:
NASCAR Pro Invitational
NASCAR returns again this weekend, with a race at Alabama's Talladega Superspeedway. The venue has prompted one big name to come out of retirement to hit the virtual race track as Jeff Gordon — a six-time winner at Talladega — will be racing again. He'll join Dale Earnhardt Jr, who also has six wins at the track, in a field that features 14 drivers who've seen the checkered flag first here.
As usual there's a "Saturday Night Thunder" event, for drivers not competing in Sunday's main event. These will use the Xfinity Series cars at the same venue, with 50 entries so far. The Saturday race starts at 0000 UTC on Sunday April 26, and you can watch it below. Sunday's main event follows at 1700 UTC, though you'll only be able to catch it on Fox.
SRO E-Sport GT Series
Another series makes its debut this weekend, with the SRO's official E-Sport GT Series. This event is actually three championships running at once, with a Pro Series for professional drivers and a Silver Series for top-level sim racers, and an Am Series to follow for qualifying gamers. Pro and Silver drivers will race together initially, and the three will unite on track for a grand final later in the summer.
The entry list includes Jenson Button racing his own McLaren 720S, and GTPlanet readers will need no introduction to Bentley driver Alex Buncombe or the sole Nissan Pro Bryan Heitkotter. All the action from the first race, at Silverstone, starts at 1145 UTC on Sunday.