Leaves are blossoming in the trees once more, which means Spring has returned to Forza Horizon 4. Series 13 comes to an end this week, so there will be one more batch of content available before the next update.
The latest Playlist update brings in the last set of prizes for this month at 50% and 80% completion. This week sees more returning cars, as well as the debut of the newest Porsche Cayman.
Check out what's in store down below.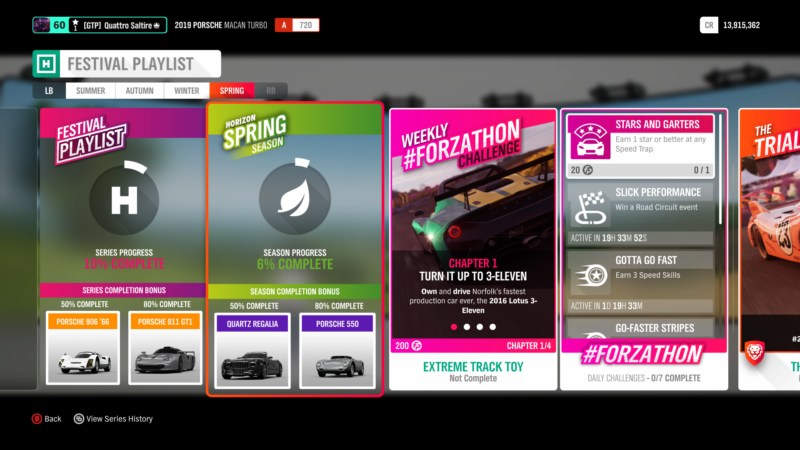 Hardcore Superstars Dominate Prizes
The majority of prizes this week are returnees, with the Quartz Regalia leading the way.
This huge convertible is a car fit for royalty. With a huge 7.2-liter supercharged V12, its 433 horsepower is perfect for cruising in style. Although it weighs more than 5,600lb, the Regalia isn't designed for ultimate speed or handling.
Joining it is the 1955 Porsche 550 Spyder. Stuttgart's small race-bred sports car was more than capable of taking on more powerful cars in 1950s sports car racing.
Despite having just 109 horsepower from a 1.5-liter flat-four, a curbweight of just over 1,500lb ensures nimble handling for the British roads.
Seasonal championship prizes feature a racy theme, with the Porsche 917/20 "Pink Pig" and Lotus 2-Eleven having a starring role.
This week's debut comes in the form of the 2018 Porsche 718 Cayman GTS. Porsche's smallest sports car is often considered the sweet spot of the range in GTS trim. Under the hood is a very different story. Out goes the flat-six in favor of a 2.5-liter turbocharged flat-four producing 360 horsepower.
Players can win the Cayman from the "See Ya Later Alligator" championship.
There's also a new Spring Showcase Remix event, where players will get behind the wheel of the 2015 Porsche Macan Turbo. The challenge? Beat the legendary Flying Scotsman in a race to Edinburgh.
The rest of the prizes for this week are below.
Lotus Flower
Series: Road Racing Series
Cars: Lotus
Restrictions: S1 Class, 900 PI
Prizes: 15,000 CR, 25,000 CR, Lotus 2-Eleven
Spring Community Championship
Series: Dirt Racing Series
Cars: Retro Rally
Restrictions: B Class, 700 PI
Prizes: 15,000 CR, 25,000 CR, Honda Prelude Si
See Ya Later Alligator
Series: Street Scene
Cars: Porsche Cayman
Restrictions: S1 Class, 900 PI
Prizes: 15,000 CR, 25,000 CR, Porsche 718 Cayman GTS
The Trial: The Pink Pig (Co-Op Championship)
Series: Road Racing Series
Cars: Classic Racers
Restrictions: S1 Class, 900 PI
Prizes: Porsche 917/20
Spring Games – Series 13
Series: Playground Games
Cars: Track Toys
Restrictions: S1 Class, 900 PI
Prizes: Renault Clio Forza Edition
High Street Speed Trap
Season Objective: 228 mph
Whitewater Falls Danger Sign
Season Objective: 557.7 ft
Rolling Fields Speed Zone
Season Objective: 106 mph
Forzathon Events
This week, Forzathon looks at Lotus. Specifically, the spotlight shines on the 2016 3-Eleven, the most hardcore model in the range. Kick things off by owning and driving this pared-back track weapon.
Next up, take advantage of the 3-Eleven's ultimate performance by earning a total of 9 stars from Speed Zones. Take some brave pills for the third objective, as you'll need to earn a total of 15 Ultimate Near Miss skills.
Finally, you'll need to perform a Slingshot skill during an event to finish this week off.
Forzathon Shop
A mixed bag of cars make up the shop lineup this week. The headline act is the 1965 Alfa Romeo Giulia TZ2.
Designed for classic sports car racing, the TZ2 utilized lightweight materials to counter its relatively low power. The 1.6-liter engine makes just 170 horsepower, but the TZ2 weighs under 1,400lb, allowing for race winning agility.
The TZ2 will cost you 575 Forzathon Points, meaning it might save you from spending millions in the Autoshow.
Also in the shop is the 1970 Buick GSX. One of the less talked about muscle cars, but it makes its own powerful statement.
Powered by a huge 7.4-liter V8, the GSX puts 360 horsepower on to the road. At 500 FP, fans of drag racing should definitely consider this machine.
Clothing available this week includes the Patrol Hat and the Monster Energy Cap.
More Posts On...