The sun is out again, which can only mean one thing. Summer is back on Forza Horizon 4. A new selection of content is also available alongside new events.
Tuesday's Series 9 preview gave us a glimpse of what to expect over the coming weeks. We have a more detailed breakdown below.
A Busy Playlist Gets Busier
The new summer season means a fresh playlist. It's a busy one this week, with a new Horizon Story business alongside the standard seasonal championships.
A new quartet of prize cars is also available for completing the playlist and season to 50% and 80%.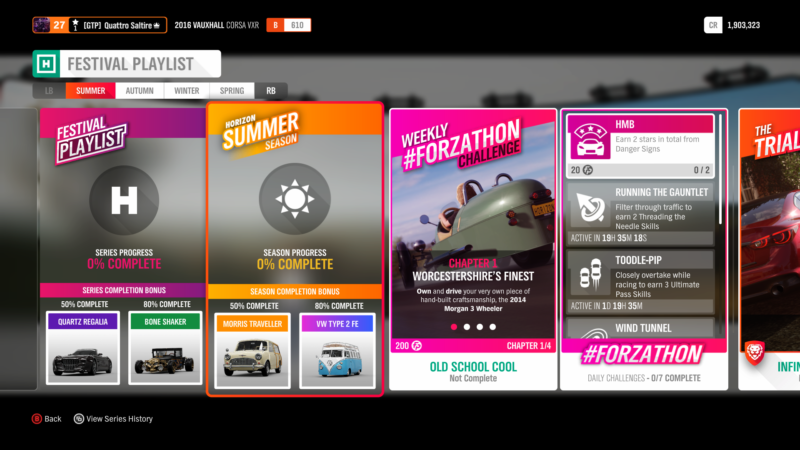 New Events & Cars
Several prize cars are up for grabs this week. Two headline grabbers are an old and new Mini.
First up is the 1965 Morris Mini Traveller. This more practical wagon variant of the original Mini is distinguished by the wooden trim paneling towards the back of the car.
Expect quite leisurely performance from the Traveller, but it will be a unique British cult classic to add to your garage.
The Volkswagen Type 2 Forza Edition is up for grabs as well. This special tuned version of the iconic bus features a Speed Skills boost for players after a bonus for driving fast.
The other playlist prizes are the Quartz Regalia and the Hot Wheels Bone Shaker. The Regalia is a car fit for royalty. This beast comes with a huge 7.2-liter supercharged V12, which is necessary to get this 5,600lb convertible up to speed.
The Bone Shaker is a full sized version of the popular toy car, with its most distinct feature being its unusual gear shifter. Weighing a scant 2,200lb and powered by a 5.7-liter V8, the Boner Shaker will make light work of the twisting roads of Britain.
Another Mini prize car is the 2018 Mini Cooper S John Cooper Works Convertible. One of the hottest Minis available, the 228 horsepower JCW has enough firepower to keep up with most hot hatches. You can acquire the Mini by winning the "Summer Specials" championship.
The Dodge Charger Daytona makes a return to the seasonals this week. This bewinged muscle car is available to those who win the "Locked Horns" championship.
A new Showcase Remix and Horizon Story are also available. This Summer remix puts you in the drivers seat of the Lamborghini Countach in a night time battle against a delta-wing aircraft.
The newest Horizon Story will see you look to prove, or disprove, some very interesting car insurance claims.
Details on the rest of this week's events are below:
Cavallino Rampante
Series: Road Racing Series
Cars: Ferrari
Restrictions: S2 Class, 998 PI
Prizes: 15,000 CR, 25,000 CR, Modern Race Suit Red
Summer Specials
Series: Road Racing Series
Cars: Open-top roadsters
Restrictions: A CLass, 800 PI
Prizes: 15,000 CR, 25,000 CR, Mini Convertible
Summer Games – Series 9
Series: Playground Games
Cars: Cult Cars
Restrictions: C Class, 600 PI
Prizes: Wheelspin
Locked Horns
Series: Street Scene
Cars: Chevrolet, Dodge
Restrictions: S1 Class, 900 PI
Prizes: 15,000 CR, 25,000 CR, Dodge Charger Daytona
The Trial: Infiniti & Beyond (Co-Op Championship)
Series: Road Racing Series
Cars: Infiniti
Restrictions: A Class, 800 PI
Prizes: Trial T-Shirt
Forest Green Speed Zone
Season Objective: 115.0 mph
Arthur's Seat Danger Sign
Season Objective: 649.6 ft
Coombe Speed Trap
Season Objective: 185 mph
Forzathon Events
It's an all-English affair in this week's Forzathon. The spotlight shines on the novel Morgan 3-Wheeler. This week starts off really simple; Own and drive the 3-Wheeler.
Next you'll need to get a bit creative, as you'll need to earn a total of 6 stars in Drift Zones. Once you've gotten your Morgan to slide around, you'll need to earn a Showoff skill for the third objective.
Finally, earn 5 Threading the Needle skills to finish off the weekly challenges.
Forzathon Shop
The shop lineup for this week continues the British theme. The Aston Martin Vulcan Forza Edition returns as the spotlight shop car.
This track-focused monster features a screaming 7.0-liter V12 and over 800 horsepower. It also comes with a Clean Skills boost as an extra incentive. At 650 Forzathon Points, if you haven't bought one already in its previous appearances, then we suggest buying Wheelspins instead.
The other car this week is the Lotus Elise 111S. This lightweight Norfolk roadster should prove a fun choice for those looking to demolish country roads. With a 1.8-liter engine and 160 horsepower, the Elise favors tight handling over outright power.
At 625 FP, we suggest either searching the Auction House for a deal or attempt to win one as in a Wheelspin, where it is currently an exclusive reward
Novelty items available for purchase this week include the Steam Boat car horn and the Timeless Radio sweater.
More Posts On...