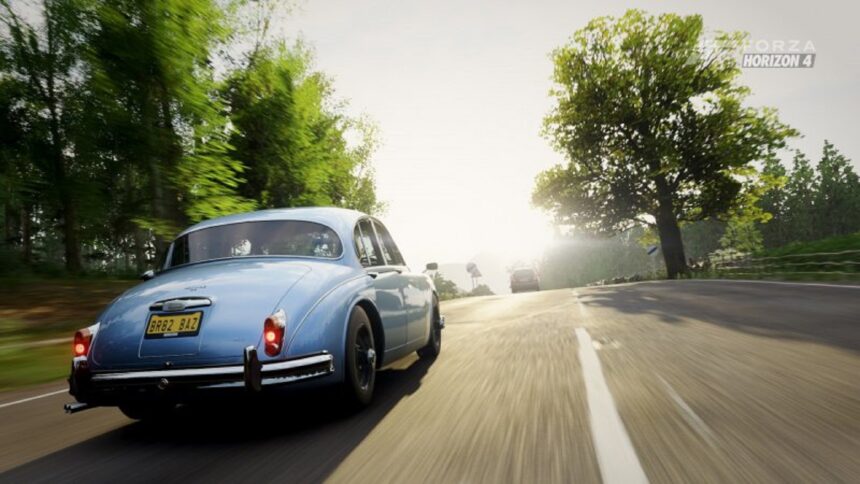 The latest seasonal switch is now live on Forza Horizon 4. Autumn makes a grand return along with a bevy of fresh events and content.
We've got the full details down below.
Italian and German Prizes Up For Grabs
A fresh Playlist accompanies the new season switcheroo. That also means a new set of prizes for completing the season to 50% and 80%.
This week has an extreme Italian stallion and a stylish classic Mercedes roadster awaiting players.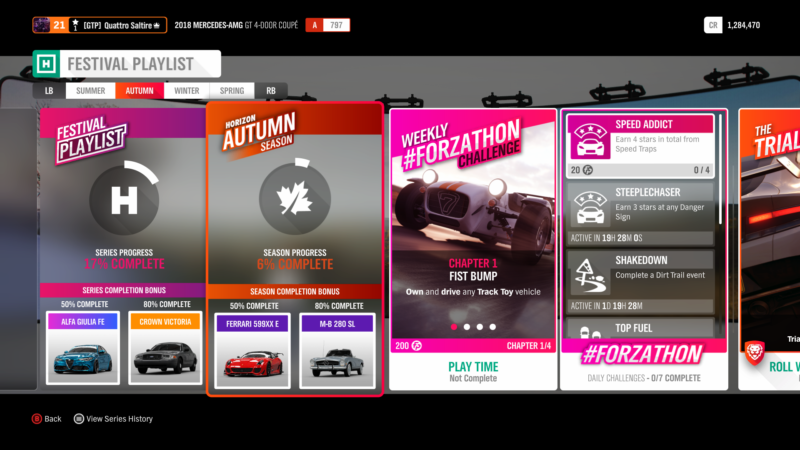 New Events
Italy and Germany headline the prizes this week. The powerhouses from Ferrari and Mercedes bring returnees to the series from different ends of the spectrum.
The Ferrari 599XX Evoluzione is Maranello's extreme track monster, born from the 599 road car. It returns to Horizon for the first time since Forza Horizon 1.
Almost every aspect of the 599XX has been tuned for the track. The V12 engine now kicks out 740 horsepower and includes an active DRS system for the fixed rear wing.
Players after something less manic will enjoy the Mercedes 280 SL. This classic roadster is up for grabs after being a seasonal championship prize back in January.
Performance will make the SL a perfect cruiser on the roads of Britain. The 2.8-liter inline-six makes a modest 180 horsepower. For those after stylish open-top motoring, you won't need any more power.
Another prize is the 1958 Plymouth Fury. Most famously known for its role in the movie Christine, this big American land yacht thankfully isn't under demonic possession in FH4. Players can acquire the Fury by winning the "Bad to the Bone" championship.
There's also a new Showcase Remix event, where players race the Austin-Healey Sprite against a group of motocross bikes.
You can find the rest of this week's events below:
Autumn Community Championship
Series: Dirt Racing Series
Cars: Extreme Offroad
Restrictions: A Class, 800 PI
Prizes: 15,000 CR, 25,000 CR, Silver Waistcoat
Bad to the Bone
Series: Road Racing Series
Cars: Rods and Customs
Restrictions: 501-900 PI
Prizes: 15,000 CR, 25,000 CR, Plymouth Fury
Glen Rannoch Retro Rally Championship
Series: Dirt Racing Series
Cars: Retro Rally
Restrictions: B Class, 700 PI
Prizes: 20,000 CR, 30,000 CR, 50,000 CR
Autumn Games – Series 8
Series: Playground Games
Cars: Modern Rally
Restrictions: B Class, 700 PI
Prizes: Wheelspin
The Trial: Roll With a Vantage (Co-Op Championship)
Series: Road Racing Series
Cars: Aston Martin Vantage GT12
Restrictions: S1 Class, 900 PI
Prizes: Trial Leather Jacket
Mam Tor Danger Sign
Season Objective: 1,010.5 ft
Lakeshore Speed Zone
Season Objective: 100 mph
Peak Moor Speed Trap
Season Objective: 175 mph
Forzathon Events
Forzathon turns to Track Toys for this week. A large number of these finely-tuned machines are available to run. The first objective is an easy one; Own and drive any Track Toy.
Next, you'll need to earn 12 stars from Speed Zones. With precise handling, you Track Toy should make light work of them. Show off your skills for the third objective as you'll need to rack up a total skill score of 1 million points.
To finish things off, prove the track-honed potential of your Track Toy and win 3 Road Circuit events.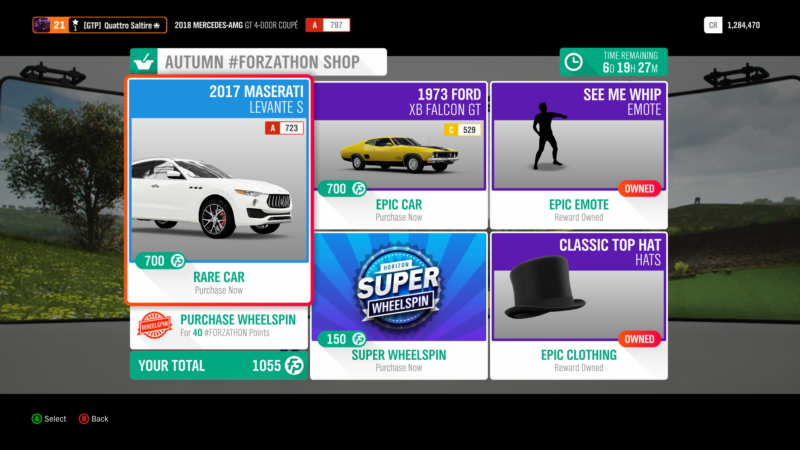 Forzathon Shop
The Forzathon Shop gets really expensive this week. The 2017 Maserati Levante S is one of the standouts for this week.
The first SUV from Maserati isn't short on performance, with a 430 horsepower 3.0-liter twin-turbocharged V6. It'll make a fine machine for mowing down stone walls and leaping across fields. At 700 Forzathon Points, unless you're desperate to bag one, we suggest looking at the Auction House instead.
Joining it is the 1973 Ford XB Falcon GT. This Aussie brute comes with a big 5.8-liter V8 that's good for 300 horsepower. If you're looking to channel your inner Mad Max, you'll have to pony up 700 FP. We suggest looking in the Auction House or try to win one from Wheelspins instead.
Novelty items this include the "See Me Whip" avatar emote and the Classic Top Hat.
Feature image courtesy of SVPSkins
More Posts On...