The leaves, they are a-changin'. Autumn has returned in Forza Horizon 4, and with it is another batch of events and cars for players across Britain to earn.
Returning Classics Abound (But No New Car Pass Metal)
Has it really already been 21 weeks?
Yes, the Car Pass has concluded already for FH4. That means there's no new rides on that front.
However, this week's set of seasonal events brings with it a variety of cars that have been a part of Horizon before. So let's hop to that then!
New Events
There are no less than three cars up for grabs this week.
Up first is the Quartz Regalia. Coming to us from Final Fantasy XV, this 21-foot-long behemoth comes with a 7.2-liter V12. Surely more of a cruiser than a corner carver, it also hides a ridiculous monster-truck version within its Skill Perks set.
The next returning face is a Forza and JDM classic. The Z32-generation Nissan Fairlady may be a regular in the Motorsport series, but its had spotty appearances within Horizon. It sat out Australia in FH3, but did get to tour Southern Europe in FH2. It returns as a suitable prize for this week's Street Scene series.
Lastly, those brave enough to venture into the seasonal Playground Games can win a Hot Wheels Bone Shaker. This showed up first in FM6, complete with its… unusual shifter. Good luck.
Full details are below:
Classic Muddy Special
Series: Dirt Racing Series
Cars: Classic Rally
Restrictions: 100-600 PI
Prizes: 15,000 CR, Wheelspin, Quartz Regalia
Showdown at Sundown
Series: Street Scene
Cars: Retro Hot Hatch
Restrictions: 100-700 PI
Prizes: 15,000 CR, Wheelspin, 1994 Nissan Fairlady Z
Still on the Run
Series: Road Racing Series
Cars: Any
Restrictions: None
Prizes: 15,000 CR, Wheelspin, Super Wheelspin
The Trial: The Dirt Locker (Co-Op Championship)
Series: Dirt Racing
Cars: Rally Monsters
Restrictions: 100-900 PI
Prizes: Lancia Delta
Autumn Games
Series: Playground Games
Cars: Retro Muscle
Restrictions: 100-800 PI
Prizes: Hot Wheels Bone Shaker
Aerodrome Speed Trap
Bamburgh Castle Danger Sign
Season Objective: 810.4 ft
Forzathon Events
An often overshadowed modern classic gets its time in the spotlight for this week's Forzathon events. The Jaguar XJ220 is a great fit for the streets of Britain, and its four challenges aren't very difficult either.
Firstly, as usual, you'll need to own the car itself. The next challenge is arguably the hardest one: win three Dirt Trial events. At least you can take comfort in knowing the engine in the middle of the big cat has roots in Group B. During that stage you should be able to get close to the next goal, which is to drive 20 miles total. Finally, find a long stretch of road and punch it up to the XJ220's target top speed of — you guessed it — 220mph. You'll probably want a bit of extra grunt for this one.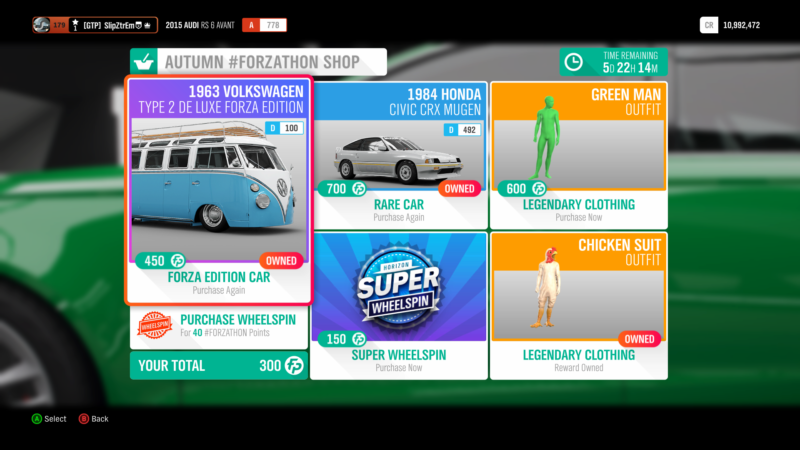 Forzathon Shop
It's a bit of a silly season in the Forzathon Shop this week. The Forza Edition car is VW's iconic bus, thankfully missing the absurd engine swap that it normally comes with via wheelspins. It's joined by two body suits of equal yet different levels of silliness. So yeah, there's that.
The other car available
More Posts On...