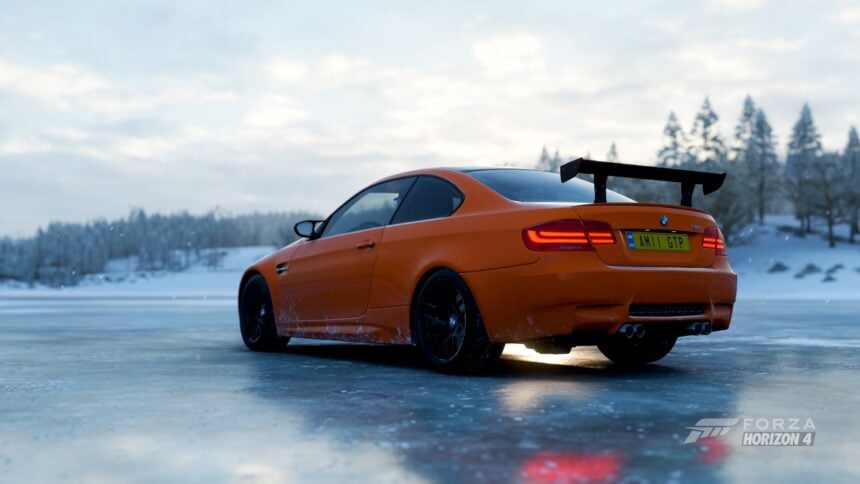 The nights are getting longer, which means Winter has returned to Forza Horizon 4. A new season switcheroo brings a new batch of fresh and returning content to the UK.
There's an updated selection of prizes on the latest Playlist update, awarded for 50% and 80% completion, and a very orange BMW takes center stage for this week.
Read on further to check out what's in store.
BMW Brings a Splash of Color
Playlist completion prizes this week feature a crazy sports car and an even crazier hypercar.
The 2001 TVR Tuscan S is one of the most insane British sports cars around. Combining big power with light weight and a lack of driver assistance means the Tuscan will be an animal to handle. The 4.0-liter straight-six makes almost 400hp, giving Tuscan drivers plenty of power to use on the slippery winter roads.
Joining it is the  2006 Koenigsegg CCX. This Swedish monster is one of the fastest road cars on the planet, with enough power to scare anyone in these snowy conditions. The CCX uses a 4.7-liter twin-supercharged V8 making a titanic 806hp, with only a small rear wing to press on the rear wheels to keep that power down.
Prizes for the seasonal championships include the Mini JCW Buggy and the return of the VW Type 3 1600L.
The big prize this week is the 2010 BMW M3 GTS. One of the most hardcore M3 models ever created, the E92 GTS continues where the old E46 CSL left off. The 4.0-liter V8 has been increased to 4.4 liters, resulting in 450hp. Weight has also been cut by 165lb, along with significant handling upgrades.
You can acquire the GTS by winning the "Power Struggle" championship.
This week's prizes are down below.
Magic Number
Series: Road Racing Series
Cars: Peel P50, Peel Trident, Reliant Supervan, Morgan 3-Wheeler
Restrictions: D Class, 500 PI
Prizes: 15,000 CR, 25,000 CR, VW Type 3 1600L
Power Struggle
Series: Road Racing Series
Cars: AMG vs M Sport
Restrictions: S1 Class, 900 PI
Prizes: 15,000 CR, 25,000 CR, BMW E92 M3 GTS
Winter Community Championship
Series: Dirt Racing Series
Cars: Evo vs Impreza
Restrictions: B Class, 700 PI
Prizes: 15,000 CR, 25,000 CR, 2004 Subaru WRX STI
The Trial: The Triumvirate (Co-Op Championship)
Series: Dirt Racing Series
Cars: Peugeot 205 T16, Audi Sport Quattro, Lancia 037
Restrictions: B Class, 700 PI
Prizes: Peugeot 205 FE
Winter Games – Series 15
Series: Playground Games
Cars: Offroad Buggies
Restrictions: A Class, 800 PI
Prizes: Mini JCW Buggy
Calton Hill Speed Trap
Season Objective: 170 mph
Mudkickers' Showjump Danger Sign
Season Objective: 705.4 ft
Oldweir Speed Zone
Season Objective: 154 mph
Forzathon Events
Forzathon looks at a very heated rivalry this week, with the 2005 BMW M3 and 2006 Audi RS4 in the spotlight. Pick your favorite of these two to get things started.
Next, prove the speed of your German sedan by earning a total of 12 stars from Speed Traps. Afterwards, show off your car's performance by winning 3 Road Racing Series events.
Finally, use your creative driving and earn 3 Showoff Skills during races to wrap up the challenges for this week.
Forzathon Shop
Classic rally is the main theme this week in the shop. The headline act is the 1992 Lancia Delta Integrale Evo.
One of the most iconic rally cars of all time, this road homologation version of the Delta carries the spirit of the race car with it. The Delta's 2.0-liter turbocharged engine makes a healthy 210hp. Combined with all-wheel-drive, the Delta will easily tackle the UK's winter roads.
The Delta will set you back a reasonably cheap 400 Forzathon Points. If you're after a classic hot hatchback, this is one to go for.
On the other end of the rally scale is the 1986 Audi Sport Quattro S1. This Group B monster is also considered one of the all-time greats.
The Quattro is powered by a turbocharged 2.1-liter, five-cylinder engine and makes 469 horsepower. A short wheelbase and explosive power mean this car will flatten any of the offroad trails it comes across. It's even cheaper than its Italian cousin at just 350 FP, meaning it's a good time to pick one up.
Clothing items available this week are the Red and Blue Modern Race Suits.
More Posts On...