Spring has arrived in the UK for another week in Forza Horizon 4. Series 15 is heading into the final stretch this week, with a new batch of content up for grabs.
The latest Playlist update has a new set of prizes available for 50% and 80% completion. A rare Koenigsegg racing car makes its debut this week.
Our latest content breakdown is below:
The Forgotten Koenigsegg Returns
The big talking point this week is the return of a forgotten Koenigsegg racer. The CCGT was set to compete in GT1 racing, but rule changes meant it never saw any racing action.
Powering the CCGT is a 5.0-liter V8, a modified variant of the engine used in the CCR. Complying with GT1 regulations, power sits at 600hp. An enhanced aero package ensures the CCGT has plenty of downforce for tackling the winding roads of Britain.
Joining the CCGT is the legendary Porsche 917LH. This longtail variant also features the very distinctive psychedelic livery it sported in 1970.
Weighing in at just over 2,000lb, the 917's flat-12 engine churns out 600hp which will propel it to almost 240mph. With rudimentary downforce, cornering is best done with a side of caution.
Seasonal championship prizes this week are populated by the Ford Mustang RTR Spec 5 and Mini Countryman JCW.
One of the stand-outs is the 1966 Porsche 906 Carrera 6. This racer was one of the unknown stars of the 1966 Le Mans 24 Hours, a race that was dominated by the historic battle between Ford and Ferrari. The 906 may have just 210hp from its 2.0 liter flat-six, but a stout 1,360lb curb weight means nimble handling.
You can acquire the 906 by winning this week's Trial, "The Triple Threat".
The rest of this week's events are below.
Spring Community Championship
Series: Road Racing Series
Cars: Mustang vs Camaro
Restrictions: S1 Class, 900 PI
Prizes: 15,000 CR, 25,000 CR, Ford Mustang RTR Spec 5
Muscle vs Import
Series: Street Scene
Cars: Muscle vs Tuner
Restrictions: A Class, 800 PI
Prizes: 15,000 CR, 25,000 CR, 1967 Chevrolet Chevelle
Touring Masters
Series: Dirt Racing Series
Cars: BMW M3 E30, Mercedes 190E
Restrictions: C Class, 600 PI
Prizes: 15,000 CR, 25,000 CR, BMW M5 FE
The Trial: The Triple Threat (Co-Op Championship)
Series: Road Racing Series
Cars: Ferrari 330 P4, Ford GT40 Mk II, Porsche 906
Restrictions: A Class, 800 PI
Prizes: Porsche 906
Spring Games – Series 15
Series: Playground Games
Cars: Offroad
Restrictions: A Class, 800 PI
Prizes: Mini Countryman JCW
Coombe Speed Trap
Season Objective: 206 mph
Ambleside Edge Danger Sign
Season Objective: 1,049.9 ft
Crescent Speed Zone
Season Objective: 106 mph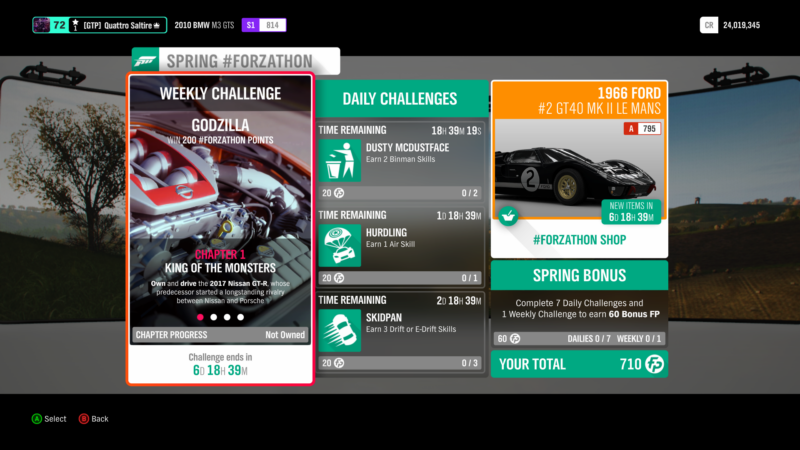 Forzathon Events
Forzathon looks at one of the most iconic names in motoring this week: the Nissan GT-R. Get things started by owning and driving the 2017 version of the car nicknamed "Godzilla".
Next, prove the GT-R is a true monster by winning a Road Racing Series event at The Goliath circuit. The third objective will require more skill, as you'll need to earn 3 Drift Tap Skills.
Finally, take some brave pills and earn 3 Daredevil Skills to finish things off this week.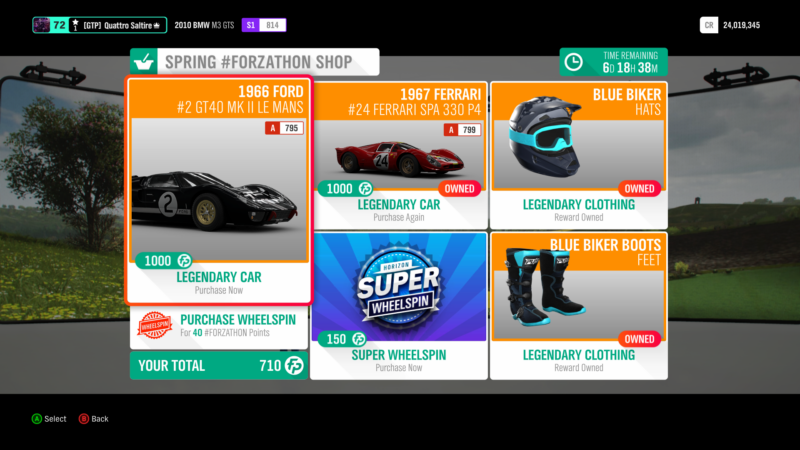 Forzathon Shop
It's Ford versus Ferrari this week in the Forzathon Shop, and its the most expensive lineup yet.
The 1966 GT40 Mk II became one of the most iconic racers of all time, after famously beating Ferrari at Le Mans to snap Maranello's dominance. The GT40 sports a massive 7.0-liter V8 with almost 500hp. With that much power and era-appropriate handling, the GT40 will be a handful.
If that's to your liking, the GT40 will set you back an eye-watering 1,000 Forzathon Points. If you choose to pick this for the Trial event, you'll need plenty of points saved up.
Alongside it is the Ferrari 330 P4. The GT40's legendary rival received numerous upgrades over the previous P3. The 4.0-liter V12 produces 450hp, combined with a weight of just over 2,200lb. Among other claims to fame, the P4 is noted for its own photo-finish at the 1967 Daytona 24 Hours.
The P4 will also set you back 1,000 FP. Unless you've bagged your choice from the Auction House or in a Wheelspin, be prepared for a very large dent in your wallet.
Clothing items this week are the Blue Biker helmet and the Blue Biker Boots.
More Posts On...