It's a busy time for players in Forza Horizon 4. Along with the arrival of the Fortune Island expansion and a new content update, Spring has returned to the UK as well. The new season brings more new content and more new challenges for players to try.
This week, off-roading, rally and muscle cars take the spotlight.
We've got everything this week has down below:
New Car Pass Cars
The latest pair of cars arriving in FH4 this week are a pair of Japanese icons from Honda. Despite being from different eras, the 2003 Honda S2000 and 1974 Honda Civic RS will please a lot of fans.
The 2003 Honda S2000 is one of the most beloved Honda sports cars alongside the NSX. Billed as a rival to cars like the BMW Z4 and Audi TT, this small roadster is dominated by its 2.0 liter VTEC engine.
Revving all the way to 9,000 rpm is the best way to drive the S2000. Players will have a lot of fun throwing this around the back roads of the UK.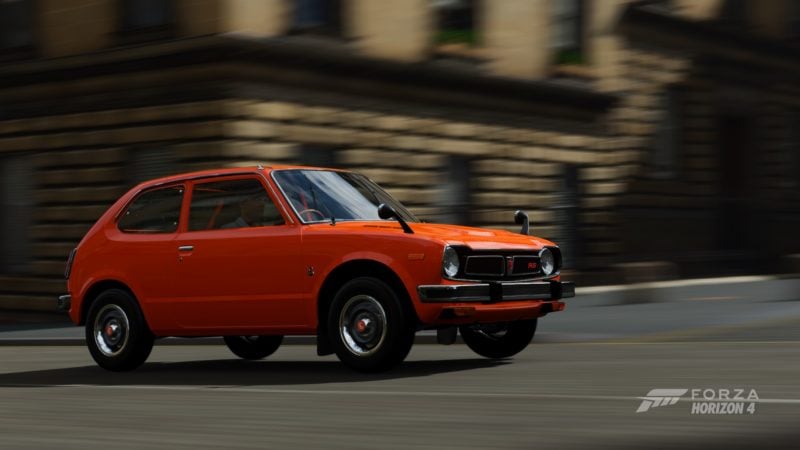 The second car of the pairing, the 1974 Civic RS makes its debut in FH4. This first generation Civic was only sold for the Japanese market as a sportier alternative to the standard car.
Despite it's 1.2 liter engine making just 75 horsepower, the Civic RS weighs under 750kg. This nippy little racer should be a riot for players doing tight urban races.
Both cars are now available on the Xbox Store and as part of the Car Pass. Next week will see the arrival of a two hardcore Chevrolets.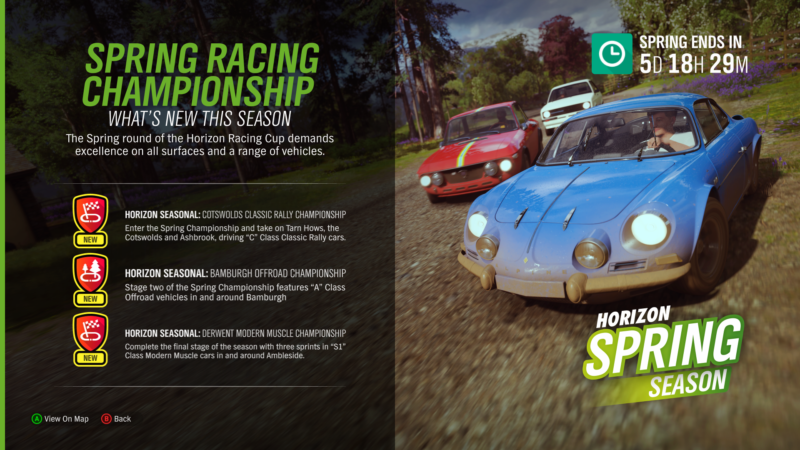 New Events
Racing challenges this week will see players taking on a wide variety of machines. Cash prizes are on the table for players looking to go a step further against "Average", "Highly Skilled" and "Expert" Drivatars.
From Classic Rally in the Cotswolds, to high powered Muscle around Derwent, the latest challenges will continue to keep players busy.
Here's the lowdown on this week's race challenges:
Cotswolds Classic Rally Championship
Series: Dirt Racing Series
Cars: Classic Rally
Restrictions: C Class, 600 PI
Prizes: 20,000 CR, 30,000 CR, 50,000 CR
Derwent Modern Muscle Road Championship
Series: Road Racing Series
Cars: Modern Muscle
Restrictions: S1 Class, 900 PI
Prizes: 20,000 CR, 30,000 CR, 50,000 CR
Bamburgh Offroad Championship
Series: Cross Country Series
Cars: Offroad
Restrictions: A Class, 800 PI
Prizes: 20,000 CR, 30,000 CR, 50,000 CR
Forzathon Events
Forzathon will see players taking off-road racing to the extreme. The first objective is to own and drive RJ Anderson's Polaris RZR Pro 2 offroad racing truck.
For the second objective, you'll need to win two Cross Country Circuit events, before hitting the Danger Signs to gain 15 total stars for the third objective.
Finally, you'll have to make sure that you've completed up to Level 10 in the Cross Country Series, as you'll need to win the monster event "The Titan" in the Pro 2 truck to complete this week's challenges.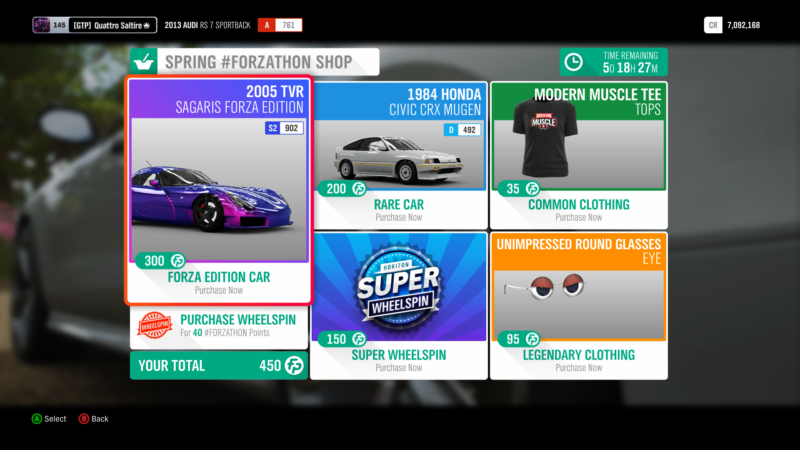 Forzathon Shop
The Forzathon Shop this week brings a classic 1984 Honda CR-X Mugen for you to buy. A cult classic among fans of Japanese cars, the CR-X's light weight and high revving engine are bound to provide plenty of fun. Costing 200 Forzathon Points, running some Forzathon daily challenges and Live events should make up the costs.
The Forza Edition car this week is the 2005 TVR Sagaris. Running in the top S2 class, this British monster comes with a Speed Skills boost. If you're looking for a new car for your Forza Edition collection, this one is a must have. At 300 FP, you'll need a really healthy balance to buy it.
Clothing apparel comes courtesy of a Modern Muscle T-shirt at 35 FP, and novelty glasses for 95 FP.
Barn Find
No new rumors for this week, but Spring's seasonal barn find is once again available for those who may have missed it. No spoilers, but this British-American alliance is remembered throughout history
Feature image courtesy of Moglet.
More Posts On...