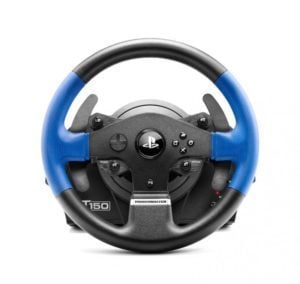 Sim racers looking for a new-generation-compatible wheel, but don't necessarily want to break the bank, have a new option coming next month – Thrustmaster's T150 Force Feedback. While not announced on its US site, Thrustmaster is getting UK players in on the eternal Red vs. Blue battle by offering an alternate Ferrari-branded version alongside the regular wheel dubbed, appropriately enough, the T150 Ferrari Wheel Force Feedback. The wheel will work on both of Sony's most recent home consoles as well as PCs, supporting all Windows OSs from XP through to Windows 10.
Coming in under the affordable $200 mark (or £170 East of the Atlantic), both setups feature a rubber-coated 11-inch rim with full-metal, wheel-mounted paddle shifters. Like its big brother the T300RS (read Jordan's in-depth review here) the T150 comes with complete PlayStation support, with a similar switch allowing players to use the wheel for either PS3 or PS4. Naturally, it also comes with the full complement of 13 PlayStation buttons, meaning players won't need to fumble with a nearby controller. The included two-pedal setup's angle of inclination can be adjusted for both throttle and brake, while the latter features progressive resistance.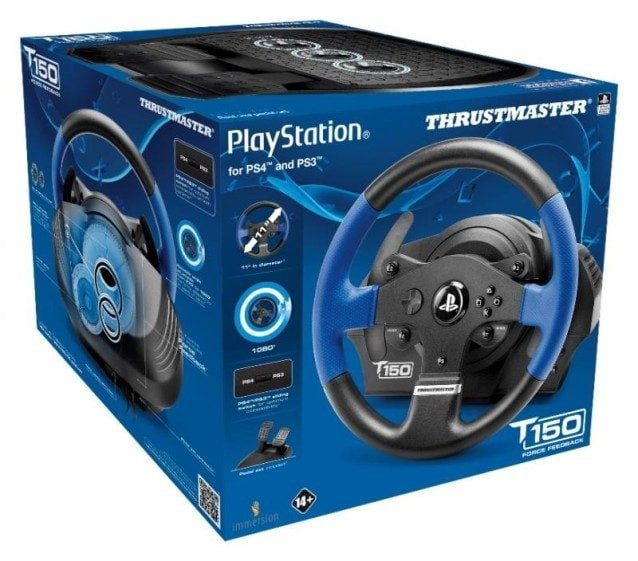 A few more numbers to digest are 12, 4096, 270, and 1080: 12-bit resolution results in 4096 positions along the steering axis; 270 is the minimum amount of degrees of rotation; 1080, the maximum. In other words, the wheel offers precision as well as a wide range of lock adjustability to better cater to both road and race cars.
Like most of Thrustmaster's current offerings, mixing and matching peripherals is encouraged with both T150's supporting the T3PA and T3PA-PRO three-pedal sets and the TH8A shifter. Both wheels will be available through Thrustmaster's website and other retailers in October.
Head on over to our Sim Racing Hardware forum for more in-depth discussion of this, as well as other accessories.
More Posts On...
The original comments for this post are no longer available.