The Thrustmaster T300RS wheel is a great piece of hardware, but as I noted in my review last week, the pedals it comes with can leave you wanting a bit more – and they don't include a clutch. That's where the T3PA pedal set comes in, providing a plug-and-play upgrade that's compatible with the rest of the company's ecosystem of wheels.
When Thrustmaster offered to send over a T3PA set to test with the T300RS (Thrustmaster has also purchased advertising on GTPlanet in the past), I was eager to get my hands feet on them to see just how different they felt from the stock set provided with the wheel.
As you can see in this side-by-side photo, the T3PA set (right) looks a bit different from its clutch-less brethren. Although the housing is also plastic, the internal mechanisms and pedal plates are polished metal; they sit a bit higher above their hinge, and provide a more professional appearance overall.
I'm a fan of adjustability, and Thrustmaster's plates make it easy to reconfigure the pedal positions to your liking. The most common modification is to move the brake and throttle closer to one another. This is more similar to what you'll find in actual racing cars and makes it easier to execute heel-toe downshifting, which is a personal favorite technique of mine.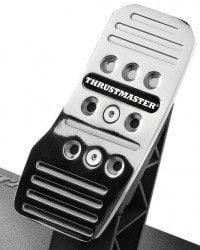 A less obvious configuration option is the incline of the pedals. The small pedal supports behind each plate can be rotated to adjust their slant. Of course, you don't have to use the provided plates at all – there are some third-party aftermarket plates available, or you can swap out plates from other Thrustmaster pedal sets you may have around.
When you're using them, you'll notice each pedal spring has a different feel in terms of resistance. The clutch is slightly stiffer than the throttle, and the brake is the strongest of all.
If you want even more resistance, you can install the optional "Conical Brake Mod" which comes packaged with the T3PA. It's a small rubber cone which can be mounted behind the brake pedal; it provides a much stiffer feel by increasing resistance at the end of the pedal's travel.
Once installed, you can adjust its position by simply turning the cone with your finger, effectively giving you full control over the brake's range of motion. I like a lot of range to modulate the brake, so I preferred the cone in its most distant position; where it provided a nice feeling under maximum braking, much different from the stock pedals.
This brake mod is really what sets these pedals apart from those included with the T500RS, which look and otherwise feel the same. Of course, the T500's set includes a frame which allows the pedals to be inverted in a top-hinged configuration, but they don't support Thrustmaster's brake mod – you'll have to find bushings from a third party if you want to adjust them.
The T3PAs, however, are really designed for owners of Thrustmaster's other wheels, including the T300RS, T300 Ferrari GTE, TX Racing Wheel Ferrari 458 Italia Edition, and Ferrari 458 Spider Racing Wheel. All of those wheels include basic two-pedal sets, and the T3PA offers an easy upgrade which, in my opinion, will significantly improve the overall sim-racing experience.
Currently priced at $99 USD on Amazon, you can buy the T3PAs with the T300RS ($399.99) for a total of $498, which still comes in at $100 less than the T500RS ($599). Because I prefer the T300RS due to its force feedback and PS4 compatibility, I would recommend the T300RS/T3PA combination to new wheel buyers over the T500RS set. If you already own the T500RS, though, the T3PAs are not different enough from your existing pedals to warrant a new purchase.
Check out my T300RS review for more information, and stay tuned for my review of the TH8A shifter coming up next week. If you found this review helpful, you can purchase the T3PA from any of the Amazon affiliate links above to support GTPlanet. As always, leave any questions in the comments below, and visit our Sim Racing Hardware forum for lots more discussion.
See more articles on Hardware and Thrustmaster.