As the autumn racing game season begins to heat up, Thrustmaster has revealed more info on its latest PC/XB1 wheel, the TS-XW Racer.
We got our first look at the TS-XW at E3 2017 earlier this year. While it didn't have a name yet, the TS-XW represented the first product of Thrustmaster's partnership with Sparco. The automotive parts giant supplies the inspiration for the rim found on the TS-XW. At 12.2″, its a perfect suede-wrapped scale replica of Sparco's P310 steering wheel.
The wheel comes with 14 face buttons plus a directional pad, providing all the necessary functions for Xbox users. The paddle shifters are all-metal, and because Thrustmaster has mounted them to the wheel, they're adjustable too.
In terms of the base itself, it's largely the same as the PC-only TS-PC racer from last year. That means a 40-watt brushless FFB motor augmented by Thrustmaster's Motor Cooling Embedded system. The power supply is the same cool turbo-shaped item, but it's not just for show: according to the company, it massively reduces heat.
The TS-XW features a rotation range from 270–1080 degrees. New to the package is an internal memory system, allowing players to save individual setups. It sounds similar to the system employed by the Fanatec CSL Elite — a feature we rate highly.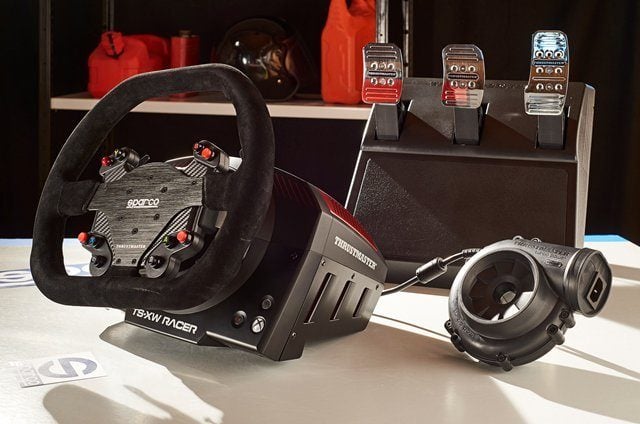 Thrustmaster will include a set of pedals with the TS-XW. From the images in the press release, they look the same as the standard T3PA set. The box will include the conical rubber brake mod as well. Of course, the TS-XW will reside in the Thrustmaster ecosystem, so compatibility with all the current rims and add-ons is a sure thing.
The TS-XW launches exactly one month from today on September 22, priced at $650. If that sounds familiar, it's because it's also the launch day for Project CARS 2.
See more articles on Steering Wheels and Thrustmaster.