Every year thousands of VW fans descend on an Austrian town for Wörtherseetreffen. This is the largest VW and Audi car show of its kind across Europe. As a result, Volkswagen typically brings a concept car along for its fans. This year, it came with a hot Golf GTI sporting the moniker GTI TCR.
Upon first glance, it's hard to tell the TCR apart from the standard GTI. But one look at the spec sheet and you'll quickly see there's more to the concept — especially since it draws heavily from the IMSA race car.
The standard GTI uses a fairly standard-for-the-class 220hp 2.0-liter engine. However, the TCR turns the dial up to 286hp and 273lbft of torque. This all occurs at just 1,600rpm too, meaning the power is there almost as soon as you put your foot down.
The downside to this is that it's sent to the front wheels. Anyone who's driven a high-powered front wheel drive car knows the enemy is torque steer. Presumably, even with the race car underpinnings, it's still a handful.
To help reduce the torque steer, the TCR does use a limited slip differential. Also, the suspension setup employs DCC active dampers which are electronically controlled.
It's still a lofty order to ask the front wheels to contain the power and steer the car though.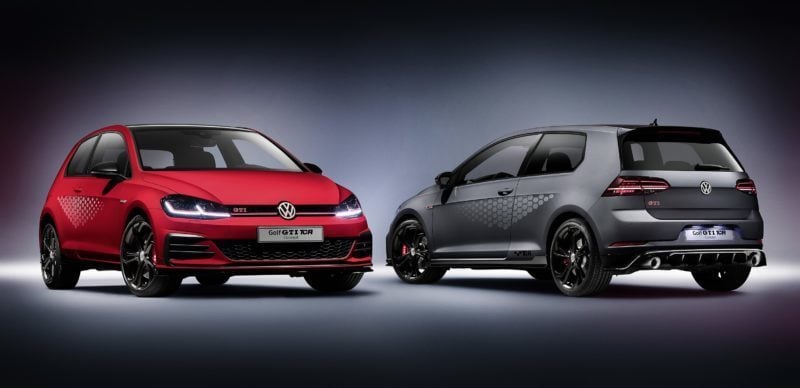 Further drawing from its race car roots, the TCR uses a new front bumper. With two ducts leading to a pair of additional radiators, it helps with cooling. Also, the front and rear splitters provide some additional downforce.
The 19-inch wheels are bespoke to the concept. While these are fairly big, they do house some huge perforated brakes. When combined with race quality pads, VW says the TCR will stop as quick as its racing counterpart.
The most touted feature of the TCR though is the speed. While the GTI is only able to hit 130mph, the TCR will hit the limiter at 155mph. However, unlimited the car will climb all the way to 164mph.
Inside the TCR is comparable to the GTI, but with a few extras. To help set it apart it gets unique microfiber seats with custom stitching.
If the TCR sounds appealing, you're in luck. VW does plan on producing it, hopefully by the end of the year.
If it does hit the dealer lots, it'll slot nicely between the GTI and the Golf R in both price and performance. As a spiritual successor to the limited-edition Clubsport S, we wouldn't be surprised if VW takes it 'Ring record hunting to unseat the Civic Type R.
See more articles on Volkswagen.