The Christmas/New Year period isn't just a holiday for most ordinary folk, it's a breather for car manufacturers too. The press offices go silent and a calm settles on the automotive landscape.
Thank goodness that's over with then. With motor shows coming up at speed— including the Consumer Electronics Show in Las Vegas—and racing starting up in earnest, January is a busy time of year.
We've been casting our eye over the last week to catch up with the news stories that might otherwise slip the net.
Ford's Rally Return
There's few brands with quite the long-term rally heritage as Ford. Escort, Focus and RS200 take the company back four decades, to the very start of WRC itself in 1973.
Indeed it was a Ford that wrapped up both titles last season but, crucially, it wasn't a factory outfit. Malcolm Wilson's M-Sport outfit went alone (albeit as a motorsport partner of Ford), with Seb Ogier making it five driver titles in a row.
Ford has stepped up its participation this year, and the team becomes the M-Sport Ford World Rally Team.
The World's Newest Car Brand: Byton
New car companies are coming thick and fast these days. Some, like Polestar, are standalone offshoots of existing brands. Byton is an entirely new entity.
Based in Nanjing in China, Byton is part of the Future Mobility Group, set up by former BMW and Nissan executives. It showed its first car off at CES this week.
You can probably predict what it is, given the name of the parent company. Yes, it's an electric SUV with level three autonomy (it can drive itself, sometimes, and you need to keep an eye on it), built to take on—who else—Tesla.
It has all the gizmos you'd expect, including on-board Alexa and front seats that turn to face each other in autonomous modes. Add in 450hp of electricity, a range of 300 miles and a starting price penciled in at $45,000 and you've got a Tesla Model 3 rival. Well, if Byton can build it quickly enough.
More MINI Modernization
MINI is updating its smallest models—yes, again—for 2018, with a host of new options, toys and gadgets. The focus is on modern, connected life, with updates to the touchscreen, navigation and phone connectivity. Updates also include Apple CarPlay and wireless phone-charging.
Of course it wouldn't be a MINI without a barrage of new personalization schemes and, as you can tell from the image above, it's gone a bit overboard. Along with 3D-printed parts for the interior which can include your own text if you wish (but… why?), there's a range of new trims and backlighting.
It doesn't take a keen eye to spot the Union Flag tail lights. These are part of a new, standard fit LED lighting package. That includes adaptive matrix LED lights at the front and "horizontal turn signals and vertical brake lamps within a distinctive new light cluster" at the back.
McLaren Adds More "S" to the GT
Elsewhere in Britain, McLaren has unveiled a package for the 570GT intended to make it more like the 570S that it's already derived from. The 570GT is McLaren's most relaxed car; it's not exactly slow, but it's the car most suited to every day road use. The clue is in the "GT" name; it's as much a grand tourer as any 562hp, mid-engined, carbon-fiber coupe can possibly be.
In McLaren terms, that means the GT has a 2% lower steering ratio, for better high-speed stability, along with lower spring-rates (15% at the front, 10% at the rear) for comfort and relaxation. However, customers who are fans of the 570S's driving manners and 570GT's body style, with its 220-liter boot, have been missing out.
Until now. McLaren is introducing a Sport Pack for the 570GT to cater to these customers. The Sport Pack features calibration and component changes to the steering, suspension and stability control, along with Pirelli P-Zero Corsa tires, to bring it closer in feel to the 570S—at a cost of £4,900, on a car already £8,000 pricier…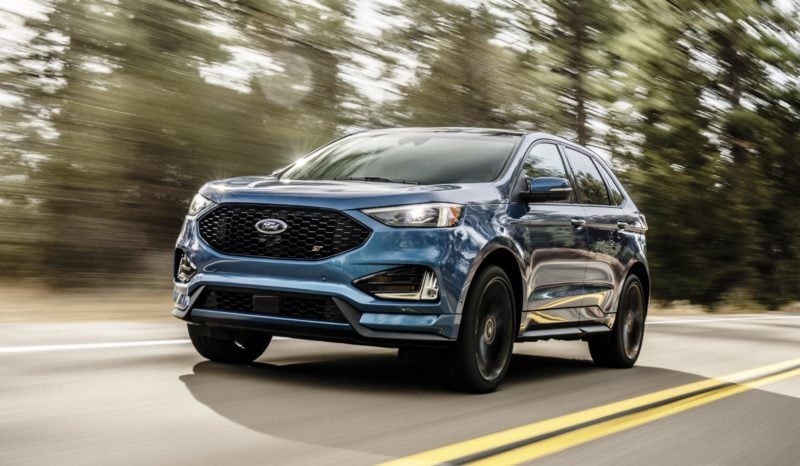 The Edge of Reason
Performance Fords are the stuff of legend. There's nothing quite like the everyman badge with the racecar feel. The names are just as epic too: Focus RS, Fiesta XR2, Escort Cosworth… Edge ST?
It might be one of the most inexplicable cars of the year, but Ford has indeed decided to go all hot-hatch with the giant Edge SUV. The Edge ST gains a 335hp, 2.7-liter, twin-turbo V6, driving all four wheels through an 8-speed automatic. This makes it almost as powerful as the Focus RS, but as it's a smidge heavier we're reckoning a 0-60mph time around the six second mark.
The ST also features special sports suspension and an optional extra performance brake package to hide behind the model's unique 21-inch wheels. Ford describes it as "a performance SUV with a track mentality".
Births and Deaths
The Edge isn't the only Ford getting a makeover this week as, for the first time, the F-150 pickup is available with a diesel engine. The three-liter Power Stroke is actually European in origin—made at Dagenham in the UK—and produces 250hp with 440lbft of torque. It's good for an 11,400lb towing capacity and 30mpg (US).
Bentley is also looking at a new engine, but at the other end of the scale somewhat. It's a four-liter, twin-turbo V8 for its Bentayga SUV. At 542hp it sits between the diesel and W12 models of the Bentayga, conveniently splitting the performance difference with a 4.4 second 0-60mph time. It improves on the W12's fuel economy at 25mpg (Imperial). If it sounds familiar, it should; it's the engine from the Lamborghini Urus.