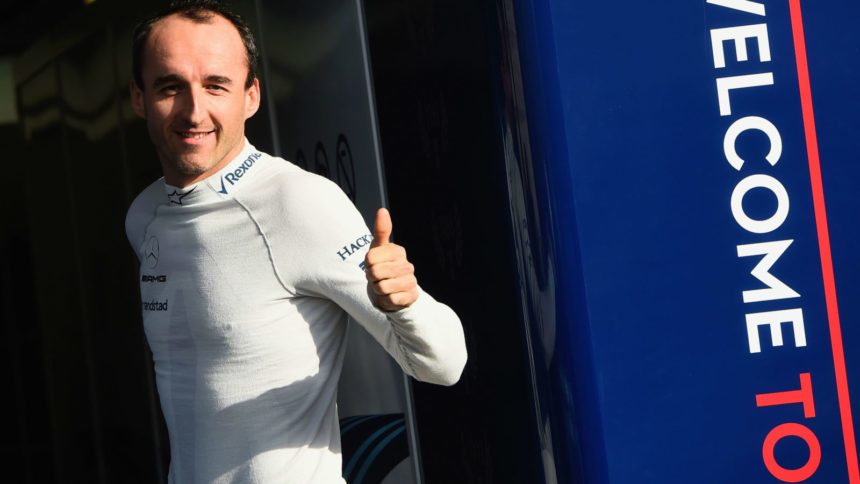 Robert Kubica moves one step closer to a full-time return to F1 with his role as reserve driver at Williams. His 2018 role includes taking part in testing sessions and GP weekend practice runs.
While not the return many fans hoped for, this is the next best thing. At 33 years, Kubica hasn't raced in F1 for seven years following his serious rally accident in 2011. The accident left him with a badly injured arm with reduced strength and movement.
The Pole misses out on the second seat alongside Lance Stroll, who's instead joined by Sergey Sirotkin. Sirotkin tested alongside Kubica at Abu Dhabi and proved to be quicker. There's also the factor of Sirotkin's finances. Backed by Russian construction billionaire Boris Rotenberg, Sergey brings €15m ($18.3m USD) to the table, twice that of Kubica.
Sirotkin makes his F1 debut in March, and he's no stranger to open-wheel racing. In 2013, at only 17 years old, he joined Sauber as a test driver. He remained with the team in 2014, making his race weekend debut during free practice for the Russian Grand Prix.
Failing to re-sign for 2015, Sirotkin ventured to GP2 for the 2015 and 2016 seasons. Returning to F1 in 2016, he acted as development driver for Renault, again taking part in free practice for the Russian GP. In 2017, the Russian saw a promotion to reserve driver with the team.
With a full-time seat on his hands, Sergey replaces the recently retired Felipe Massa.
While its 2018 pairing looks like a safe bet, there's little denying Williams decision is likely to draw some criticism. Sirotkin has yet to prove himself on race day, whereas Stroll's best finish is third at last year's chaotic Azerbaijan Grand Prix. Viewed by some as "pay drivers", both men will look to prove naysayers wrong.
Still, the team recognizes Kubica's talent and didn't want to risk losing him. Given its driver lineup is the most inexperienced on the grid, Kubica levels the playing field. As mentioned, his role is a significant one, much more so than Kvyat's Ferrari position.
Chief technical officer Paddy Lowe shared his feelings on the partnership:
"First and foremost, we'd like to congratulate Robert on what he has achieved so far. To overcome his injuries, return to fitness, and drive an F1 car again is a remarkable achievement, and one that few considered possible."
There's the added benefit that should either driver be unable to compete, Kubica will stand in. This opportunity allows the F1 veteran to prove he's able to return to the sport without issue.
It also helps relations with Williams' main title sponsor Martini. The alcohol brand requests one driver be over the age of 25, to help with marketing activities in countries with higher legal drinking ages. For reference, Stroll is 19 and Sirotkin is 22.
The 2018 F1 season is shaping up to be an interesting one. Kubica will no doubt want to prove himself throughout the season as he eyes a full-time return.
The season-opening race kicks off March 25 for the Australian Grand Prix in Melbourne.
More Posts On...