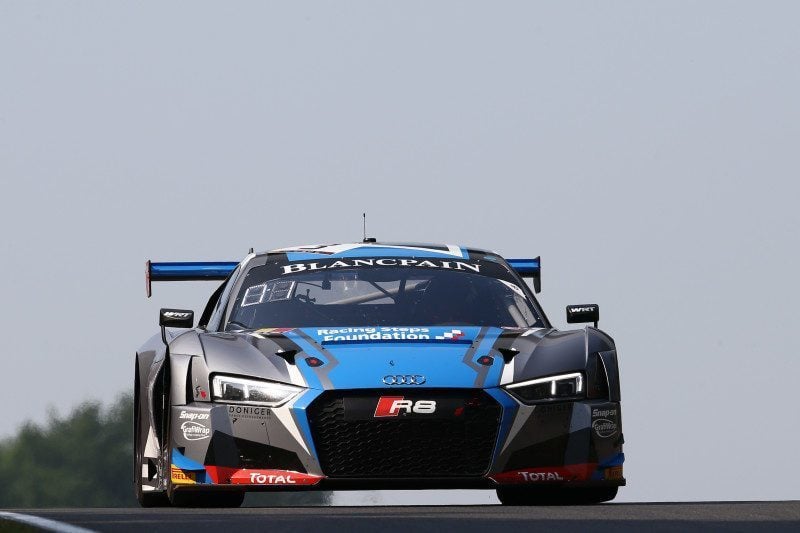 The third race of the 2017 Blancpain GT Sprint Series Cup will get underway on Sunday at the Belgian circuit of Zolder.
Friday's first practice session saw the top five teams all driving Audi machinery. Jake Dennis and Pieter Schothorst in the No. 3 Team WRT car lead the pack with a lap of 1:30.064.
The duo also set the benchmark time for second practice, although this time they were followed by different manufacturers. Amazingly, David Fumanelli and Lewis Williamson were only 0.002 behind in the No. 42 Strakka Motorsport McLaren 650S.
A second Team Strakka Racing car, the No. 59 McLaren of Rob Bell and Andrew Watson, led the first qualifying session with a lap of 1:29.707. Closely following was the No. 3 Team WRT Audi, 0.226 seconds behind. These two teams were the only ones to break the 90-second barrier.
For the second and third qualifying sessions, the battle for the podium heated up. In spite of tumbling lap times across the grid, Audi's earlier dominance returned to the fore. Stuart Leonard and Robin Frijns from team WRT (No. 17) came out on top, first with a 1:29.508 in second qualifying, before a final pole position shoot-out run of 1:29.025.
This is Audi's first pole position in the Sprint Series this season. At the end of the third qualifying session, 16 cars were within a second of the pole time.
In spite of the hot competition, the hour-long qualifying race finished in favour of Leonard and Frijns. The two drivers accumulated a total of 25 points for their performance and will lead the rest into the main event on Sunday.
Michael Meadows and Raffaele Marciello, driving the No. 90 AKKA ASP Mercedes-AMG GT3 took 2nd. Another Audi, driven by Markus Winkelhock and Will Stevens (No. 2), will start from 3rd position.
After an impressive finish in the first qualifying round, the McLaren of Fumanelli and Williamson dropped down to 11th position. Despite the drop, the duo still leads in the Silver Cup, for silver-rated drivers.
In the Pro-Am class Piti Bhirombhakdi and Carlo Van Dam claimed the highest starting position (18th) using the No. 39 Kessel Racing Ferrari 488 GT3.
You can watch the entire qualifying race below. The main event gets underway on Sunday at 13:30 UTC/GMT.