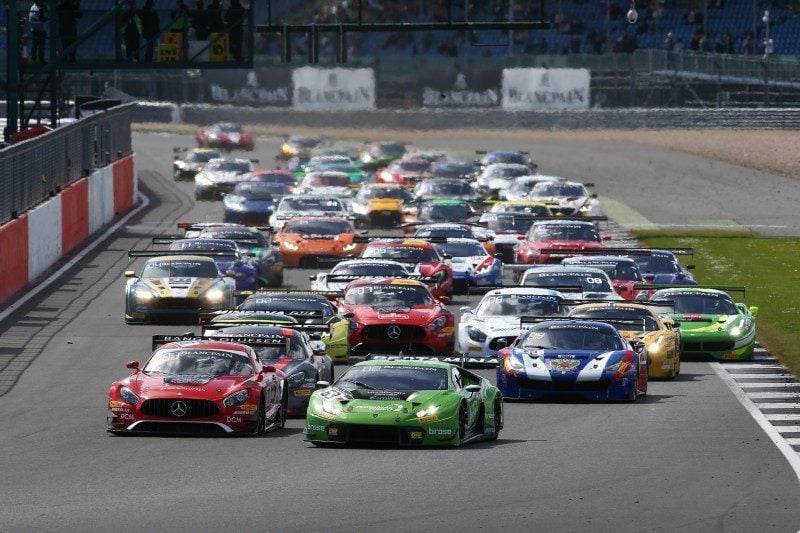 In racing, things often come down to fine margins, and there's few finer than at Silverstone this weekend.
It didn't all get off to the best of starts however. Race director Alain Adam ordered an extra formation lap following widespread disregard of the rolling start procedure. The drivers were better behaved at the second time of asking, although the pole-sitting Mercedes of Felix Serralles was later judged to be guilty of a false start.
After just 40 minutes the race was neutralised following a nasty collision at the high-speed Maggots corner. Jonny Kane's McLaren 650S ended up side-by-side with the Mercedes of Kriton Lendoudis, sending the former spearing off into the barriers. This caused a full-course yellow and eventually a safety car for barrier repairs.
With the order shaken up due to the 20 minute safety car period and strategic pit stops, the racing began again. The GRT Grasser Racing Huracan that had been leading from the green light was back in second, with Andrea Caldarelli chasing down Michael Meadows in the #90 AKKA ASP Mercedes. The battle allowed Jimmy Eriksson to close in with the #84 Team HTP Mercedes and the three entered their final pit stops practically nose-to-tail.
It was the GRT team that was quickest, getting Christian Engelhart out ahead of Raffaele Marciello in the AKKA car and Maxi Buhk in the HTP machine. Engelhart and Buhk slowly pulled out a three second lead but were almost inseparable throughout the final phase. The cars crossed the finish line for the 82nd — and what they thought was the final — time only to find out there was three seconds of the race left and another lap was needed.
Buhk stayed on Englehart's tail throughout and almost had the chance to take the lead with a backmarker interfering with the Lamborghini's exit from Aintree, but it was not to be. Englehart took the checkered flag with just a 0.344s advantage after a nail-biting three hours.
Things were less close in the Pro-Am class, though only just. Another Huracan, this time the Barwell Motorsport car of Adrian Amstutz, Martin Kodric, and Patrick Kujala, sealed victory by a little under 1.1 seconds from the Oman Racing Aston Martin of Ahmad Al-Harthy and Jonny Adam.
Pierre Ehret and Rino Mastronardi made it an all-Italian affair for class victories, taking the AM category in their Ferrari 488.
GRT Grasser Racing now leads both the Blancpain GT Series Endurance Cup with two wins from two and the overall Blancpain GT Series, by 15 points from Team HTP Motorsport.
You can watch a replay of the race below:
See more articles on Blancpain Endurance Series 2017 Season and Silverstone.