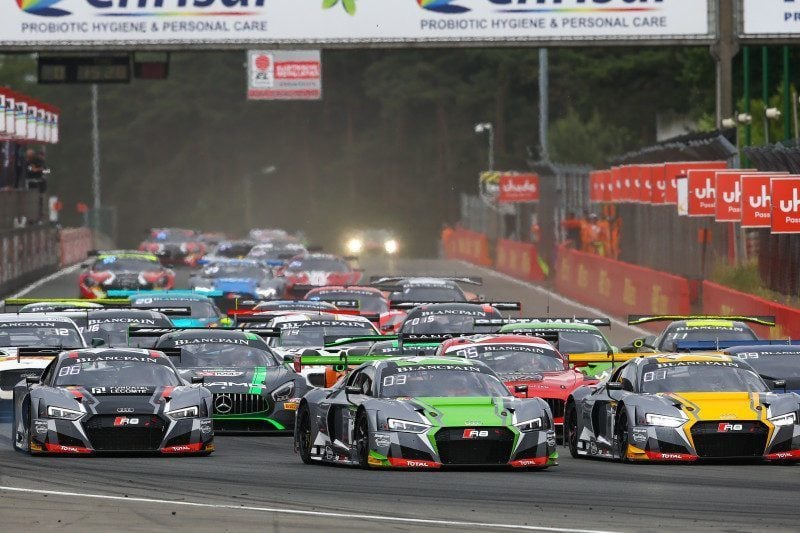 The exciting sprint race at Zolder took place this weekend, leaving the top podium spot to Markus Winkelhock and Will Stevens from Audi team WRT (No. 2). This is Audi's first victory in the Blancpain GT series this year.
In spite of taking the pole position for the race a day earlier, the No. 17 Audi R8 from team WRT could not remain in the lead. Prior to entering the very first corner Stuart Leonard had dropped down to 4th position, leaving the top positions to Audi sister cars No. 2 and No. 75. In addition, Michael Meadows from team AKKA ASP (No. 90) received a drive-through penalty for going ahead of the grid just before the green flag was raised. As a result, the qualifying runner-up finished 24th, 13.374 seconds down on the leader.
The No. 75 ISR R8 would confidently lead the first half of the race, despite being heavily pressured by its in-house rival No. 2 car. However, the opening of the pit window at the race's half-way point brought immediate changes in positions. As a result of taking a shorter pit stop, the No. 2 R8 of Winkelhock and Stevens gained the leading position in the pit zone.
Approximately 12 minutes prior to the waving of the chequered flag, two Mercedes-AMG GT3 cars (No. 86 and 88) collided on the very last chicane. The accident invoked a full-course yellow and soon after a safety car. Though this situation gave the audience an opportunity to witness last-minute changes on the grid, the outcome of the race didn't change.
The race concluded with four Audi teams taking the first four spots on the grid.
You can check the full results at the official website. The next race of the Sprint Cup will take place at Hungaroring on August 27. Meanwhile, you'll be able to follow the 1000 km Circuit Paul Ricard endurance event as a part of the Blancpain Endurance Cup. The race kicks off on June 24.