Much like last year, qualifying for today's Canadian GP saw lap records smashed. With ideal conditions and this year's quicker machines, it was bound to happen.
Sebastian Vettel secured his 54th pole position with a lap time of 1:10.764. The Ferrari driver had already set an incredible pace with his previous Q3 time. He shaved off 0.012s off that lap time using the hypersofts to make things stick.
A fitting theme then as Vettel's time shatters last year's record of 1:11.459 set by rival Lewis Hamilton. Moreover, this is Ferrari's first pole at Circuit Gilles-Villeneuve since 2001. Valtteri Bottas takes second spot for Mercedes in a more promising position than his teammate. While Bottas may have been 0.093s down, today's race can very well turn to his favor.
Max Verstappen takes the final podium position for Red Bull. Max looked impressive all weekend, leading all three practice sessions. The Belgian driver appears revitalized after Monaco and will no doubt want to make up for it. Putting the Red Bull on the podium ahead of his struggling teammate in sixth will no doubt put things in motion.
Lewis Hamilton settled for fourth in the second Mercedes, 0.232s off the pace. The Brit sat in third place for a brief moment before Verstappen knocked him down. Yesterday's session was anything but kind to Hamilton, as he struggled with pace. Today's start will be an interesting one for the current champion.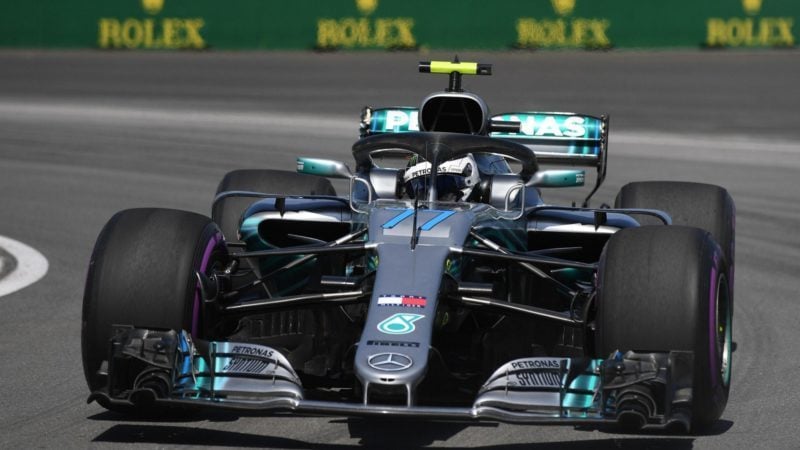 Starting from fifth is Kimi Raikkonen in the second Ferrari. The Finn looked to have promising pace in the opening stages of Q3 as he sat in third. After running wide whilst exiting Turn 2 and aborting the lap, his place was set. This is the second time in 2018 Raikkonen hasn't qualified in the top three.
Daniel Ricciardo starts from sixth in the sister Red Bull. Canada isn't one of Ricciardo's hallmark tracks as he's struggled more often than not. Today's race could be a turning point, and he'll no doubt want to carry on the momentum from his race win in Monaco.
Nico Hulkenberg will start today's race from seventh for Renault. Esteban Ocon starts from eighth for Force India 0.111s behind Hulkenberg. The sister cars of teammates Carlos Sainz and Sergio Perez round out the top 10 for both teams, respectively.
For the fifth time in 2018, neither Williams driver advanced beyond Q1. Williams have been on a steady decline as of late and this doesn't help matters. With Martini pulling its sponsorship next year, Williams needs a bright spot and fast. Best case scenario is the car looks to be in better form during the race, though it seems unlikely.
The only other driver on the grid with worse luck is Haas driver Romain Grosjean. The French driver has been on a downward spiral for much of the season. Grosjean was unable to take part in any qualifying session. Why? His car appears to have suffered an engine failure on the way out of pitlane at the start of Q1.
What began as a promising season in Australia — even stirring controversy — has turned into one worth forgetting. For added perspective, Grosjean has an equal number of race finishes and retirements at three apiece.
Today's race should be an entertaining one. Can Ricciardo recover from sixth place and finish on the podium? Doing so will inch him closer into being a consistent threat for the title. We've seen what he's capable of in China when things play into his hands.
Likewise, Vettel will be on a mission to take as many points away from Hamilton as possible. All eyes will be on the top three tomorrow, especially Verstappen as he's had impressive pace this weekend.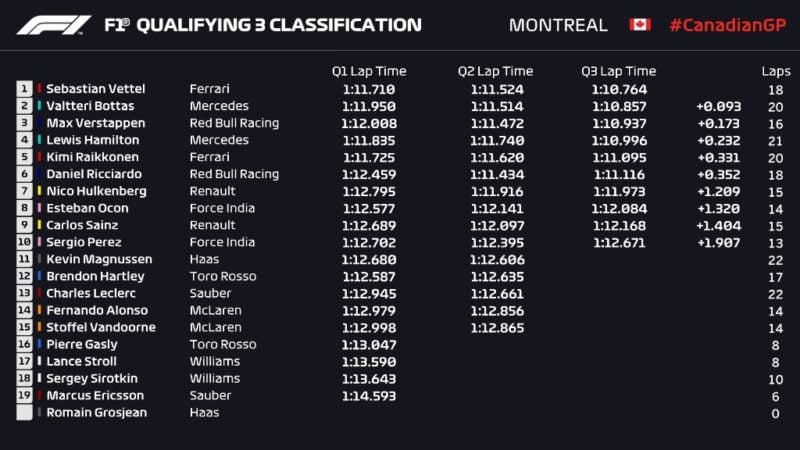 More Posts On...