Alfa Romeo has revealed its plans for the next five years, and there's some pretty exciting metal coming up.
First on the list was a new 8C model. It'll be a little different from the last 8C model though. That car, the Competizione, was a front-engined performance car, with a Ferrari-derived V8. The new car will pack turbochargers, but attached to a mid-mounted petrol engine instead — likely related to the 488's V8.
Another deviation will see the use of battery power. The new 8C will use an electrified front axle, making it all-wheel drive, and giving at least 700hp in total. Rather than packing this into a Maserati chassis like last time, Alfa Romeo will use a carbon-fibre monocoque. This model is due in 2022.
Coming slightly sooner should be the new Alfa Romeo GTV. This too is a nameplate revival, with the vehicle itself being, in essence, a coupe version of the Alfa Romeo Giulia. It's likely that this will be available in a number of powertrains and trim levels, but it's the Quadrifoglio version that will attract the most attention. This too is mooted for hybrid tech, with more than 600hp available — 100hp more than the already madcap Giulia.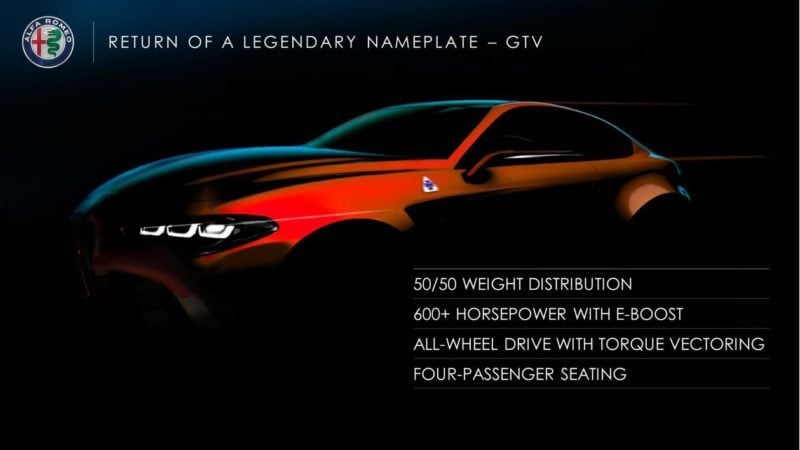 Timoty Kuniskis, head of Alfa Romeo and Maserati, said:
"Alfa will deliver the sports car of each segment it enters. We know our future depends on staying true to our sports car roots, cars designed to represent the brand's position and inspire the next generation of customers.

"The 8C is a true supercar with a mid-engined, carbonfibre monocoque chassis and electrified AWD system. It's a car that will be born for the track here at Bolocco. We also want a sports car as attainable as it is aspirational, so we're bringing back one of the most fabled names in Alfa history, the GTV. The Quadrofoglio model will deliver more than 600hp."
Other announcements from the event, part of FIAT Chrysler Automobiles' (FCA) "Capital Markets Day" presentation, were more earnest. Naturally the brand is seeking to expand its SUV offerings after the success of the Stelvio. This will take the form of two models, one below and one above the Stelvio. Alfa is also working on long-wheelbase versions of the Giulia and Stelvio, aimed at the Chinese market's demand for chauffeur-driven vehicles.
When it comes to small models, the Giulietta is safe, with a second generation car announced. However Alfa Romeo won't renew the 4C thanks to poor sales, and it seems like the Mito will become a casualty of FIAT's decision to move small car production to Poland.
Like so many other brands, Alfa Romeo also set out a roadmap for electrification. By 2022 it will offer every model with electrification, including hybrids and electric turbocharging. However there's no room for diesel at all.
More Posts On...