Quirky rally title art of rally is now available as a physical, boxed title for PlayStation 4, PlayStation 5, and Nintendo Switch owners, with some cool bonuses for buyers of either the base version or Collector's Edition.
It comes courtesy of Serenity Forge, a small, independent publisher based in Colorado and previously known for its other physical releases of indie titles like Doki Doki Literature Club Plus! and Cyanide & Happiness: Freakpocalypse.
Distributed to some stores in the USA, and also available direct from Serenity Forge, art of rally will be available as a $34.99 standard edition or a $74.99 Collector's Edition, and both pack in plenty of additional reasons to buy it over the $24.99 digital download.
Naturally that includes a physical copy of the game, and both editions come with a download card for the game's official soundtrack — a four-hour, 50-track anthology by Ukrainian DJ Tatreal, aka Vyacheslav Korystov.
There's also a special sticker sheet featuring some of the in-game brands, and a papercraft model rally car — matching the unique art direction of the title.
Splash out for the Collector's Edition and you'll also get a bumper sticker, an enamel pin and embroidery patch set featuring game locations, a "Cars of art of rally" poster, and a special lenticular art of rally card. It all comes in a large, art of rally collector's box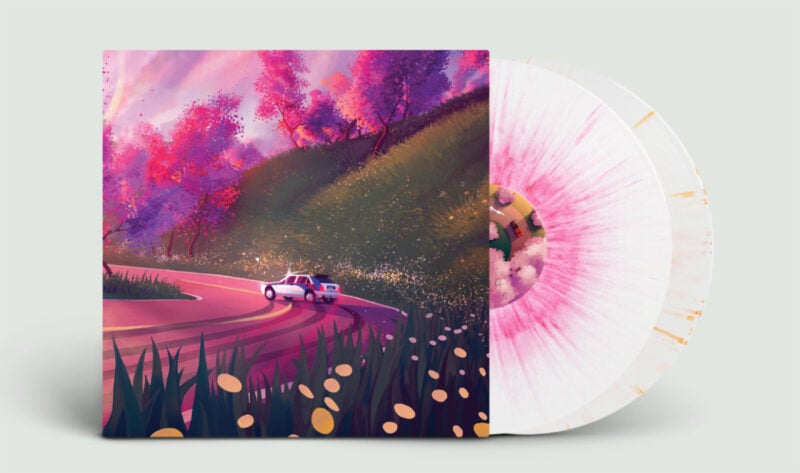 One additional item is also available, and it's pretty unusual: a vinyl record. Or two vinyl records, to be precise.
This double-LP gatefold set contains the game's soundtrack, produced by Tatreal and mastered by Ohad Nissim, and is available in either a Serenity Forge-exclusive "sunset galaxy" or a "sunrise splatter" design created by Bridget Olson and Yu Ying Ong.
You can of course use the included code to download the soundtrack, to keep the vinyl pristine (or, more likely, if you don't own a record player) if you wish. This is available separately for $36.99 from Serenity Forge and select retailers.
See more articles on art of rally.