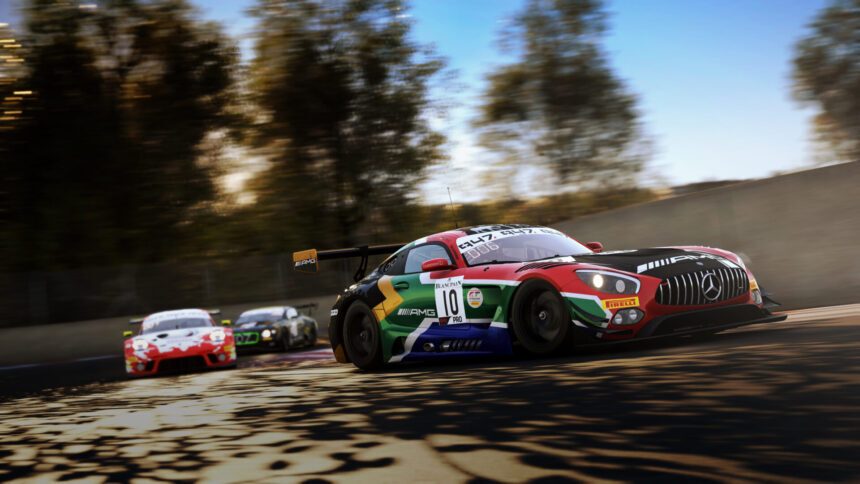 One of the most exciting pieces of sim racing news this year is that Assetto Corsa Competizione is coming to console. Announced in March, the GT3-focused sim will finally arrive on Xbox and PS4 in June, just over a year after its first release.
In case you're unfamiliar, ACC is the official game of the GT World Challenge. It includes more than 30 GT3 category race cars, in all the official team liveries, and 11 circuits that make up the 2018 and 2019 seasons of the Blancpain GT World Challenge, including Zandvoort and Spa. With a physics model evolved from that of Assetto Corsa, and Unreal Engine 4 powering the graphics, ACC is intended as an immersive virtual dive into the world of top-tier GT3 racing.
Of course there's also an esports angle to ACC. This has been neatly illustrated recently, with the SRO E-Sports GT Series filling in while real-world racing has had to take a back seat.
If you're planning on picking up ACC, you can pre-order it from today. Priced at $39.99 (£34.99), it's available for pre-order both as physical disc editions on both consoles, and as a digital download for Xbox One. PS4 players will also be able to buy the digital version from its launch date — June 23 — through the PlayStation Store.
As an extra little incentive, pre-ordered copies will gain the Intercontinental GT Pack DLC for free. That includes four additional circuits — Kyalami, Laguna Seca, Mount Panorama, and Suzuka — along with new car liveries, teams and drivers. That offer also applies to PS4 digital purchases between June 23 and July 7.
Kunos Simulazioni is also planning further DLC packs for both PC and console. A GT4 Pack will add some cars from this lower category, and is due to arrive on PC over the summer, with a console launch in fall. Winter will see a British Pack, adding three circuits from the UK — probably Snetterton, Donington Park, and Oulton Park, to complete the British GT Championship calendar — though it'll be early 2021 before console players get this additional pack.
In case you're a little on the fence, Kunos has released a new trailer of the console version of the game to tempt you a little more: