As anticipated, Aston Martin has unveiled its latest hypercar at the 2019 Geneva Motor Show. Less expected is the fact it's been joined by another sibling — which will become the brand's first mid-engined production car.
Until now we've not known much about the mysterious Project 003. Aston Martin would only confirm it was part of the Valkyrie family, following on from projects 001 and 002: the Valkyrie and Valkyrie AMR Pro.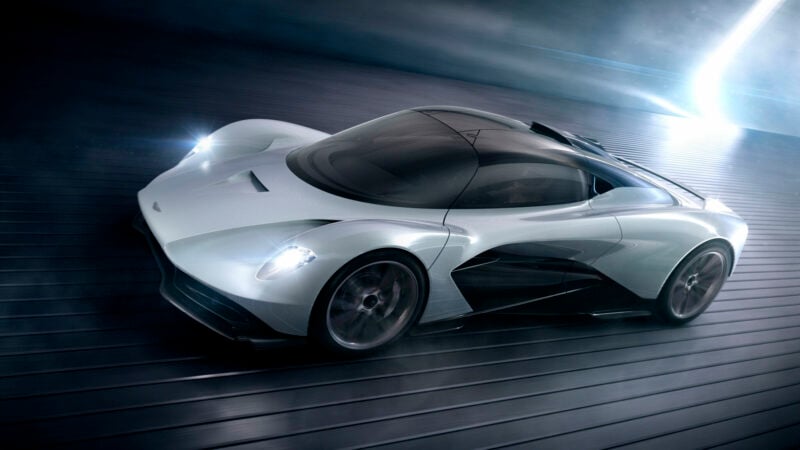 Project 003 has now become "AM-RB 003". This isn't quite the official name announcement expected, but does confirm the Red Bull F1 team's continued involvement, via Red Bull Advanced Technologies.
As is clear from the images, 003 shares a significant amount in common with the Valkyrie. The styling is broadly similar, and 003 uses the same carbon fiber construction and aerodynamic tricks as the flagship. Aston Martin notes that the AM-RB 003 will have a mild edge over the Valkyrie though, incorporating body morphing technology from aircraft to vary the shape of the rear wing.
Where the Valkyrie and 003 differ more notably is in the cabin. Valkyrie, while a road car, is at the limits of what you might consider in a daily driver. Aston Martin intends 003 to be more of a usable road vehicle, and this needs more of a focus on space and comfort. That means a slightly larger interior space, and — at least for this concept — doors that include a section of the car's roof.
Rather than the Valkyrie's incredible V12, 003 will use a brand new V6. Aston Martin isn't quite ready to reveal most of the technical aspects, but has confirmed it will also be a hybrid model.
It will also become the first road car to use a sealed oil system first used on the Vulcan. This system allows for a full oil change in only 90 seconds, and has passed the test of several endurance races.
Like the Valkyrie, the 003 will become a strictly limited production vehicle. Aston Martin plans no more than 500 cars worldwide, and has yet to publish a price. However, if you want a mid-engined Aston Martin and don't secure a build slot, the company has some good news for you: it's also planning a full production vehicle.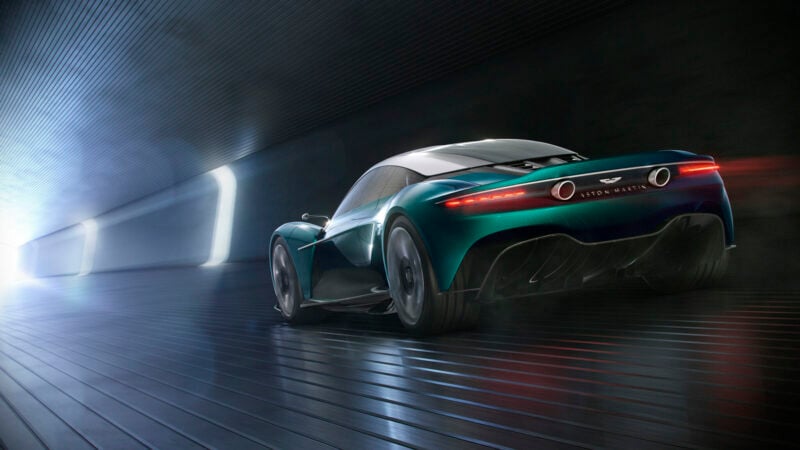 Meet the Aston Martin Vanquish Vision Concept. Although merely a preview at this point, the concept represents the design direction of what will become the brand's first full series production rear-mid-engined car.
The car, still in development phases, is a shot straight at the McLaren 720S and new Ferrari F8 Tributo. It will also use the new V6, although Aston Martin suggests it will be in a slightly different form from the 003.
Although it looks like a member of the Valkyrie family, the new Vanquish is quite different underneath. Instead of a carbon-fiber chassis, it uses a bonded aluminum structure developed specifically for this vehicle. That aside, it will use knowledge and technology filtered down from the Valkyrie program.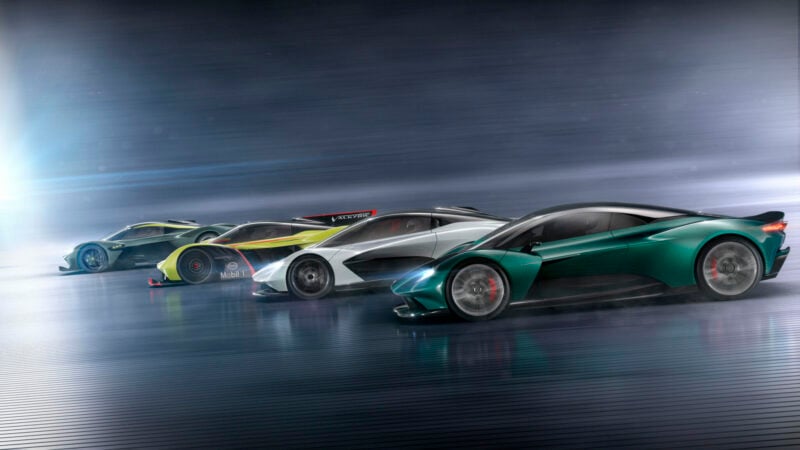 Aston Martin hasn't confirmed any other details on the car, other than that it's due to start production in 2022.
Andy Palmer, Aston Martin Lagonda president and group CEO, said:
"Firstly, what a pleasure to revive the Vanquish name. Synonymous with our series production flagships, it felt entirely appropriate to attach it to such a significant car. The Vanquish Vision Concept marks another pivotal moment in Aston Martin's history, and another critical step in delivering the Second Century Plan. Our first series production rear mid-engined supercar will be a transformational moment for the brand, for it is the car that will propel Aston Martin into a sector of the market traditionally seen as the heartland of luxury sports cars."
You'll be able to see both cars on Aston Martin's stand at the Geneva Motor Show until March 17.
See more articles on Aston Martin and Geneva Motor Show 2019.