Aston Martin has been talking about its Valkyrie hypercar for some time now. It first arrived in prototype AM-RB 001 form three years ago, but we're only finding out today just how hyper it is.
The majority of the Valkyrie's power comes from a monster of an internal combustion engine. It's a 6.5-liter V12 Cosworth unit which we've already heard in action.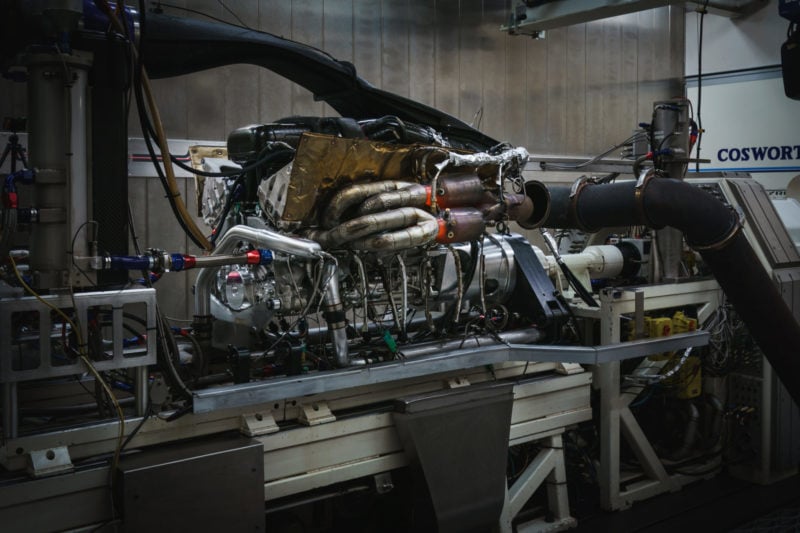 That naturally aspirated power plant is good for a very round 1,000hp, which it delivers at an incredible 10,500rpm. The 545lbft peak torque comes a good chunk sooner, at 7,000rpm — although that's still well beyond the sort of numbers a regular road engine will spin up to.
Aston Martin claims the 11,100rpm limit is a record for a production, naturally aspirated and emissions-compliant road car. We certainly can't think of anything outside the Ariel Atom V8 that even comes close to a five-figure red-line.
Along with the gearbox, the Valkyrie's engine sits in the rear of the car and acts as a stressed member of the car structure. The rear suspension actually bolts straight onto the gearbox itself.
But fossil fuels are only part of the Valkyrie's power equation. The other part comes from its hybrid system. That consists of a bespoke motor from Integral Powertrain in the UK, and a battery system from Croatian EV supercar specialist Rimac. It uses a kinetic energy recovery system (KERS) similar to those found in project partner Red Bull's F1 cars.
The electrical system delivers an additional 160hp, with a further 206lbft of torque available. That combines to give a peak system output of 1,160hp at 10,500rpm, and 663lbft at a rather lower 6,000rpm.
David King, vice-president and special vehicle operations officer, comments:
"Aston Martin Valkyrie is set to be the ultimate hypercar in the automotive world and these performance figures underline that statement. Red Bull Advanced Technologies, Cosworth, Rimac and Integral Powertrain Ltd. have been fantastic partners in the development of this powertrain, ensuring that we have already created a hybrid system that is emissions-compliant and ready to begin fitting to our first physical prototypes. I am, as I'm sure the rest of the world is, incredibly excited to see and hear the first of these cars on track."
Aston Martin had already penciled in the even-faster Valkyrie AMR Pro at 1,100hp, but this seems likely to rise given today's figures. It's also working on a less potent car in the Valkyrie family, currently called "Project 003".
More Posts On...