Autumn has returned once again in Forza Horizon 4. The new season brings more new events and content for players to get their hands on.
This week will see players getting dirty, as off road racing takes center stage.
Details of what is available this week are down below:
New Events
Racing events this week have rallying and off-road buggies as the main theme. Cash prizes are on offer to players looking to go one step further against "Average", "Highly Skilled" and "Expert" Drivatars.
From tearing across Moorhead in Rally Monsters, to reliving the glory days of Retro Rally in Glen Rannoch, players will be excited about getting down and dirty.
Full details on this week's races are below:
Moorhead Monster Rally Championship
Series: Dirt Racing Series
Cars: Rally Monsters
Restrictions: A Class, 800 PI
Prizes: 20,000 CR, 30,000 CR, 50,000 CR
Glen Rannoch Retro Rally Championship
Series: Dirt Racing Series
Cars: Retro Rally
Restrictions: B Class, 700 PI
Prizes: 20,000 CR, 30,000 CR, 50,000 CR
Cotswolds Offroad Buggy Championship
Series: Cross Country Series
Cars: Offroad Buggies
Restrictions: A Class, 800 PI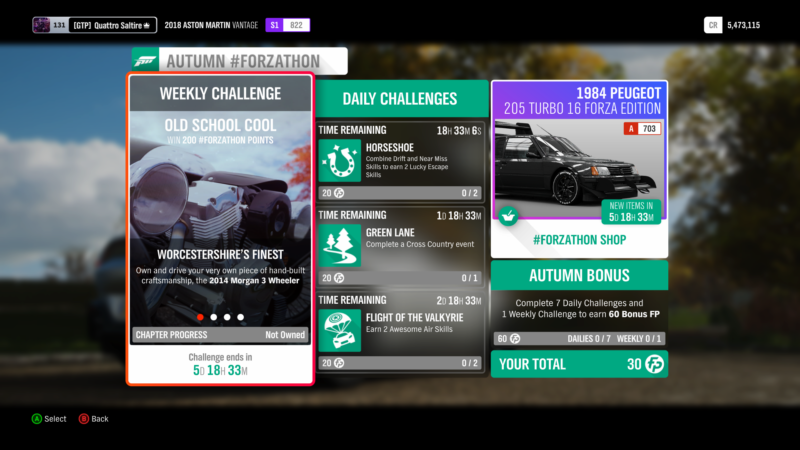 Forzathon Events
Challenges for Forzathon this week center around one of the most Britsh cars ever made. The first objective for players is to simply own and drive the 2014 Morgan 3-Wheeler.
The next objectives will need some skill involved, as you'll have to earn a total of 6 stars in Drift Zones. You'll need to earn a Showoff skill when passing an opponent for the third objective.
Finally, take some brave pills and earn 5 Threading the Needle skills in your Morgan.
Forzathon Shop
The lineup this week sees the addition of the 2018 KTM X-bow GT4. This pure-bred racer should be right at home on the tight countryside road of the UK alongside other extreme track toys. Costing 200 Forzathon Points, it will require a rather healthy balance.
This week's Forza Edition car sees the return of the 1984 Peugeot 205 Turbo 16. This rally monster comes with a Skills Boost for those looking to bank extra skill points. At a hefty 300 FP, the 205 can be had by completing 10 Forzathon Live events. For those that already own this car, we suggest spending those points on wheelspins instead.
Finally, players after new clothes can purchase the Modern Rally t-shirt for 35 FP and a pair of duck wellington boots for 95 FP.
Barn Find
No new rumors this week, but newcomers can now obtain Autumn's exclusive barn find. We won't spoil it here, but this barn find is one of the most beautiful.
More Posts On...