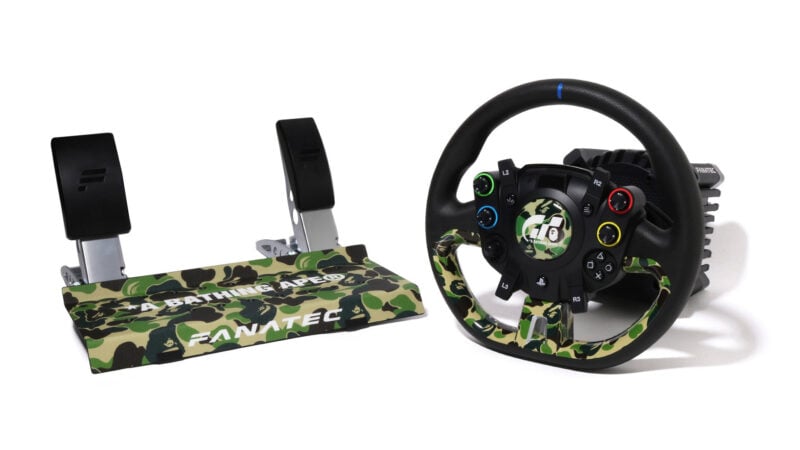 To celebrate the launch of the Gran Turismo movie today, PlayStation has teamed up with peripheral manufacturer Fanatec and Japanese fashion brand A Bathing Ape (BAPE) for a rather unusual sweepstakes competition.
On offer is one of just 20 special edition BAPE x Fanatec Gran Turismo DD Pro wheel sets, consisting of the wheel base, wheel rim, and CSL pedal set customized in BAPE's signature camo pattern design.
Although the wheel base itself seems to have been left well alone, the gloss inserts on the wheel rim — the silver portion of the lower part of the wheel and the center boss — as well as the base of the pedals have been redecorated in the pattern.
It's in the original green colorway, looking a little like military forest camouflage, with the company's Planet of the Apes-esque icon hidden within as a repeating image.
Otherwise the wheel is a regular Fanatec Gran Turismo DD Pro, which ordinarily commands a price of $699.95. However the limited edition fashion collaboration item comes in at an eye-watering $999 according to the BAPE newsletter.
It's just one of several items available in the latest BAPE Gran Turismo collection, which also includes three different $119 t-shirt designs in both black and white and bearing the brand, game, movie, and GT Academy logos, as well as a black hoodie for $329, and a $145 black cap.
You'll be able to win one of the special Fanatec GT DD Pro wheels by simply heading to the official site, logging in, and clicking "enter".
The sweeps are open to any legal resident of any of the 50 States of the USA (and DC) aged 18 or over, and close on September 25.
See more articles on Fanatec and Fanatec GT DD Pro.