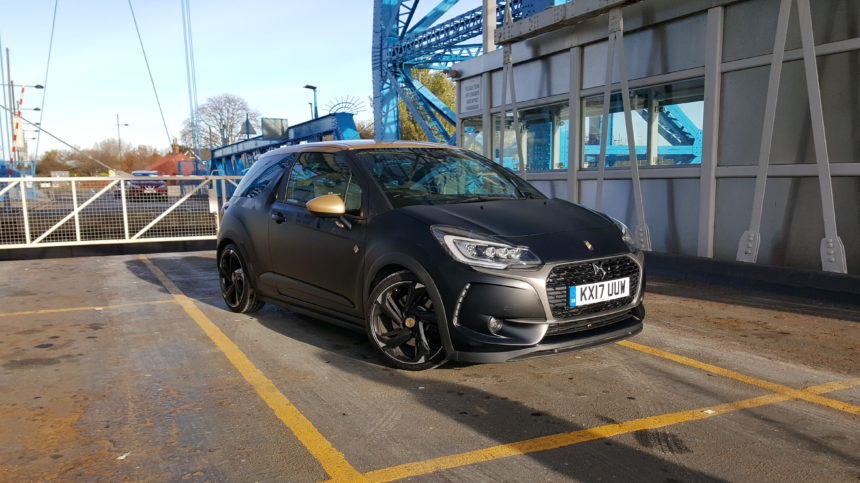 Hot hatchbacks are just the best. They solve literally every problem a car buyer could possibly need.
Small enough to fit everywhere? Check. Boot you can use? Check. Economical engine for long runs? Check. Enough power to get into — or out of — trouble? That's a big check. Totally usable performance? Check. Low running costs and purchase price? Err… well, usually.
It's little surprise then that we love our hot hatches over here in crowded Europe. We love hatchbacks anyway — they fit in our medieval cities — and what's not to love about a boatload of extra power?
Few do the hot hatch quite like the French, and we've been out in one of the Frenchest of them all: the DS3 Performance.
Isn't that a Citroen?
No. Well, yes. Well, sort of. Look, it's complicated.
"DS" is one of those new, experimental brands that got so popular after Toyota/Lexus plowed the furrow. You can think of it as sort of the same company as Citroen under the Peugeot-Citroen (PSA) alliance — and the nice chap who booked this car for us also manages the Citroen and Peugeot press fleets — but with a different mission statement. DS is kind of like a premium version of Citroen. In fact the Toyota/Lexus comparison isn't far off the mark, in that the cars mainly share technology and platforms with the parent brand, but they're different to look at and the interior materials are better.
That sort-of falls apart with the DS3, which was DS's first car. That's because Citroen originally sold this as the Citroen DS3 in 2010. At that point DS was just a catchy sub-brand, harking back to the glorious Citroen DS (pronounced "Déesse", or "goddess" in English). When DS became a standalone in 2014, PSA simply started calling it a DS instead of a Citroen.
Keeping up so far?
Okay, so what's new with the DS3 Performance?
PSA finally got around to facelifting the DS3 in 2016, although that largely consisted of replacing the double-chevron Citroen grille with a gaping mesh hole, onto which it placed the DS badge, and some alterations to the headlights, tail lights and bumpers.
DS rejigged the trims, and updated all of the electronic bits, including the latest version of the PSA "Infotainment Platform" (that's the touchscreen). As the brand majors on personalization, there's around three million different ways to specify the interior and exterior trim, styling, color and materials.
However, the DS3 Performance Black we have here is limited to just one. That's the matt black body, gold roof and mirrors, gloss black graphics and gold interior. There's also something rather special underneath. DS fits a turbocharged 1.6-liter engine straight from the Peugeot 208 GTI and the old RCZ THP, good for 206hp. Chuck in a short-ratio, six-speed manual gearbox, limited slip differential, lowered suspension, wider track and bigger brakes and you've got the right recipe for a proper, old-school hot hatch.
Sporty then?
Just a bit. The DS3 Performance is essentially a hot hatch the way that hot hatches used to be, in that everything is all going on at once in a perpetual state of near heart failure. If atrial fibrillation was a car, it would be the DS3 Performance on a spirited drive.
That said, there's not a lot of immediate fuss when you're getting off the line. On paper the 0-60mph time seems a little pessimistic, but the first stage of a launch is a little muted. Get out of first gear and the DS picks up the pace. You can get really rather frighteningly quick, very rapidly as you bang through those short gears. That's not always easy, as the pedal box is quite narrow and you'll commonly find the outside of your foot hitting the carpet either side of the clutch and accelerator.
The DS3, like its Peugeot 208 sibling, has a rather small steering wheel. This lends itself to something of a go-kart feeling, or perhaps even a bit of racing game action. You don't need much input for quite a dramatic response, and as a result the car is rather jittery at times. It's remarkably keen to turn in though and even if your fun driving route is just a bunch of roundabouts strung together, it's quite bright to drive. Again, this harks back to the sort of hot hatchbacks we got in the 1980s, only with twice the power.
Another throwback is the ride. It's firm. Very firm. Driving the DS3 down roads I know at pace, I discovered bumps I never knew existed, even though I've driven £200,000 supercars down them. The DS3 hops from one to the next like you're skipping a stone more than driving a car. It's actually rather good fun, if you like that sort of thing, but probably wearing on a longer journey.
Still, if you can keep everything calm, the DS3 does the hatch part of the hot hatch quite well too. That quick steering becomes a bonus in tight car parks (although it's a little less easy with these large alloy wheels) and while not exactly a supple ride, the seats are sufficiently comfortable to limit how severe the bumps are.
As for fuel economy… You can figure on almost 40mpg combined with a decent mix of driving duties, and up to 45mpg on a longer run, if you can resist the right pedal.
What about the "Premium" angle?
We're not hugely sold on this aspect of the DS3 in this specification, and it sort of puts the dampener on the car.
The Performance is self-evidently a hot hatchback. Generally, hot hatchbacks don't have a lot of equipment, because equipment means weight and weight is the enemy of performance — particularly on a B-segment car.
DS has tried to give the exterior a dash of premium style and, our opinion that it looks like something off a Christmas tree or a rapper's right sneaker aside, it's largely successful. The inside too is superficially upmarket. We like the sporty 'Dinamica' seats, the dash of piano black and, other than being a tad gaudy, the gold dash fascia across the car is a nice item.
However, it leads to a confusion of character. Those seats have huge side bolsters, as you'd expect from sporty items, yet they're as substantial as bubble-bath foam. There's little support and, although we'll happily concede that they make the car easier to get in and out of and the seats are comfortable, it's part of this clash of images.
Other examples include the fake carbon-fiber trim (okay, DS isn't the only brand that does this), and the fact that the fascia has racing stripes on one side and a perfume diffuser in the middle. In general, the premium aspect of DS works very well on regular DS3 models — an ordinary DS3 Prestige model is very impressive — but it seems more jarring on a car so otherwise focused on its sporty character.
Overall though, the kit levels are good, but then this is a £26,000 B-segment hot hatch, so they need to be.
This model includes, as standard, a seven-inch color touchscreen, with navigation, DAB radio and Bluetooth phone connectivity, and Mirror Link and Apple Car Play. Automatic air conditioning, cruise control, speed limiter and an emergency assist system are also standard. For the Performance model, DS fits "LED Vision" headlights, with LED units and a xenon module, and these continue to the Black version.
One area that does rankle though is storage. The DS3 is typically French in that the fusebox is on the left and in the conversion to right-hand drive nobody thought to move it. These means you get a glovebox that you could just about fit a mitten in. Other than that there's a narrow shelf near the HVAC controls that is too shallow to hold a particularly thick pen and several small cubbies that only serve to let your keys slide about. There's nowhere readily accessible to put a mobile phone (maybe that's a good thing) and the cupholders aren't suitable for actual cups.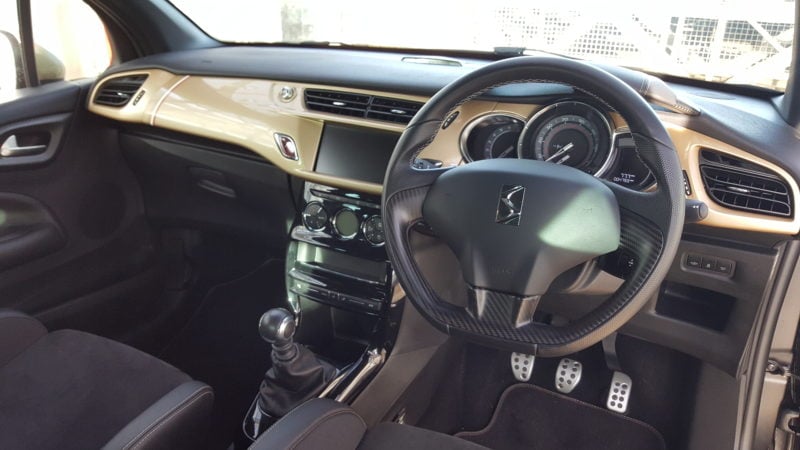 Who's going to buy it?
Everyone loves a hot hatch and the DS3 is among the better examples, so it should have fairly broad appeal.
Without the stickers, it's quite a good-looking car and should appeal to typical sporty B-segment buyers. That's younger drivers, or those with smaller families who want one car to do absolutely everything apart from go off road. However, they're going to need rather a lot of disposable income, and it's not a cheap car to insure, so it's probably going to end up in the hands of the mid-twenties buyers.
The stickers limit the appeal a little bit more, but since my teenage daughter suggested that it would be okay if we got her one as her first car, what would I know?
What are the rivals like?
Pick a B-segment hatchback. They usually have a 200hp option these days.
One that doesn't at the moment is the Ford Fiesta. That's been replaced recently, and the hot ST model hasn't arrived yet, but will be the number one seller when it does. Vauxhall/Opel's Corsa VXR/OPC will be next, and is a decent car these days. One of the biggest names in the sector is the Renaultsport Clio which we tested earlier in the year but which didn't quite press our buttons.
Otherwise the DS3 has two key rivals. The first is its own sibling, the Peugeot 208 GTI, which we reckon is the best car in the sector in Peugeot Sport specification. The other is the newly revitalized Volkswagen Polo GTI, which should have the premium angle covered off, despite DS's best efforts.
What's the conclusion?
There is so much to like here. The DS3 Performance looks, feels, goes and sounds like a true hot hatchback. Driving it is so much fun, even if you do need to keep an eye out for potholes, high kerbs (the alloys are magnets for kerbing) and bridge expansion joints. It's great to chuck about in a manner that many other hot hatches, particularly in the next class up, seem to have forgotten in the pursuit of power and off-the-line pace.
It almost seems churlish to bring up the premium aspect as a downside. Adding toys and shiny bits is rarely a bad thing, but it seems to confuse the car's purpose. DS says it's more of a GT than a GTI, but the ride quality (and ride height) just doesn't bear that out. It also kicks the price up so that it's one of the most expensive cars in the segment.
Instead it's best to think of this as a proper hot hatch, and look at the presence it has on the road. If you can afford it, the DS3 Performance Black acquits itself very well indeed.
Verdict:
DS3 Performance Black
A little pricey and we're not sold on the brand's 'premium' angle here, but otherwise a great attempt at capturing the proper hot hatch spirit of old.
Learn more about
how our rating system works
.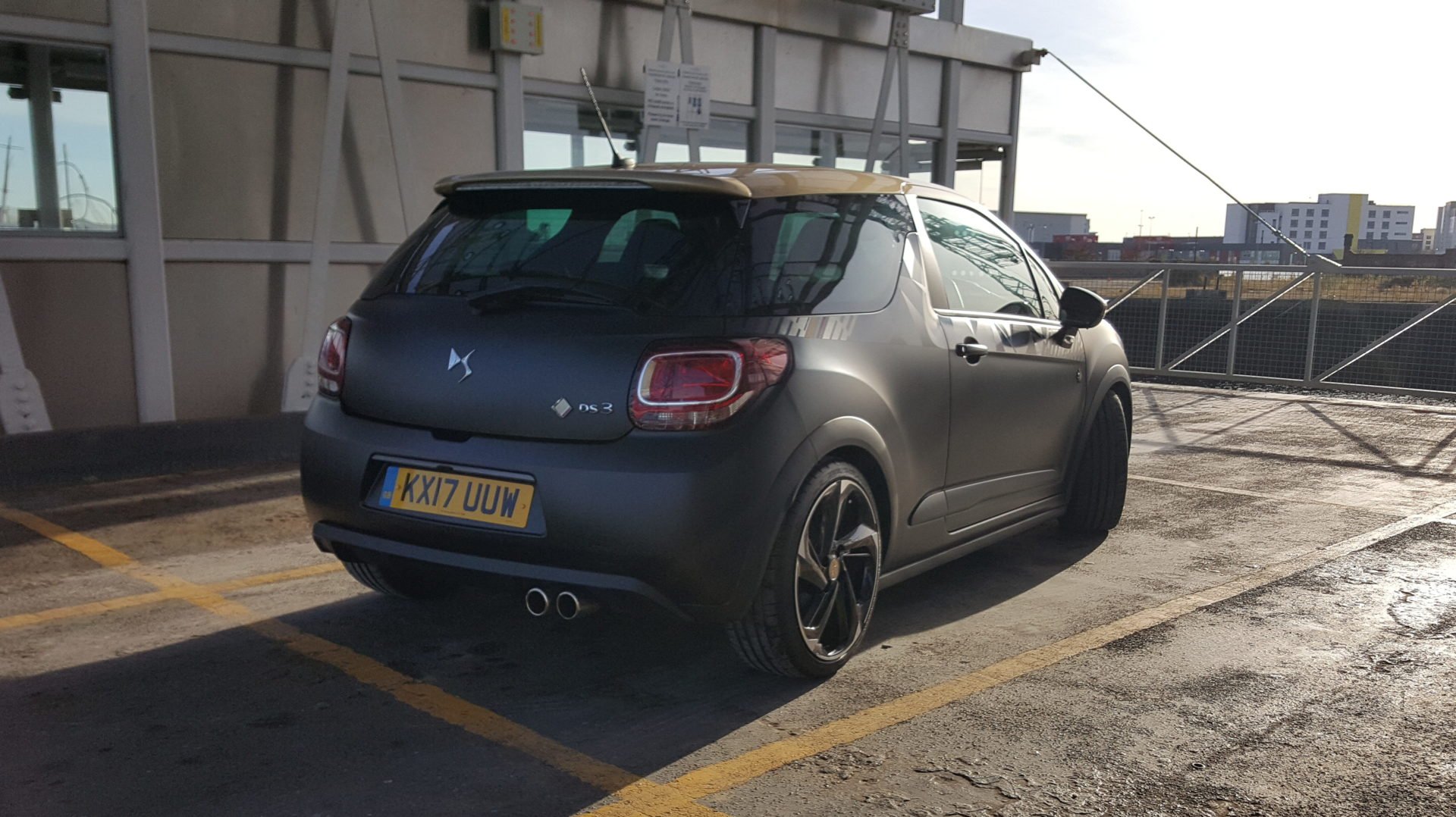 Quick Facts
Power
206hp (210PS, 154kW), 221lbft (300Nm)
Layout
Front-engine, front-wheel drive
Top Speed
143mph (230km/h)
More Posts On...