Fanatec has at last revealed the pricing for its new Podium Steering Wheel BMW M4 GT3, with the full carbon-fiber wheel rim set to come in at a pretty steep $1,399.95/€1,399.95.
The wheel is a far cry from a simple gaming peripheral or licensing gimmick though. It is in fact a full collaboration with the motorsports arm of BMW to create not only a piece of sim racing equipment but a real racing car wheel too. That means that you could, in theory, take the wheel off your sim rig, plug it into a real BMW M4 GT3, and head out on track
Fanatec revealed the wheel last December, and we have seen the piece in action during this summer's Fanatec GT World Challenge Esports Pro Series — albeit used by BMW's drivers in the virtual M6 GT3, as the M4 doesn't race until 2022.
Fully homologated for GT3 racing, the 12-inch (310mm) wheel features an eight-layer carbon fiber body and weighs a sturdy 3lb (1.4kg). A one-inch (25mm) OLED display sits top-center of the wheel, with 20 buttons and dials for various settings, magnetic, dual-action shifter paddles, and two Hall effect clutch paddles.
When mounted to your sim-racing rig, the wheel uses regular Fanatec communications protocols, switching to CANbus for the real racing car.
Originally planned for launch in Q2 2021, Fanatec is a little bit behind schedule thanks to, among other things, the ongoing silicon shortage, according to Fanatec CEO Thomas Jackermeier. However, the team is in the "final stretch" and has begun delivering the wheels to BMW Motorsport.
That means it's nearly time for consumers to get their hands on this rather unusual piece of kit, and global pre-orders will start on December 20.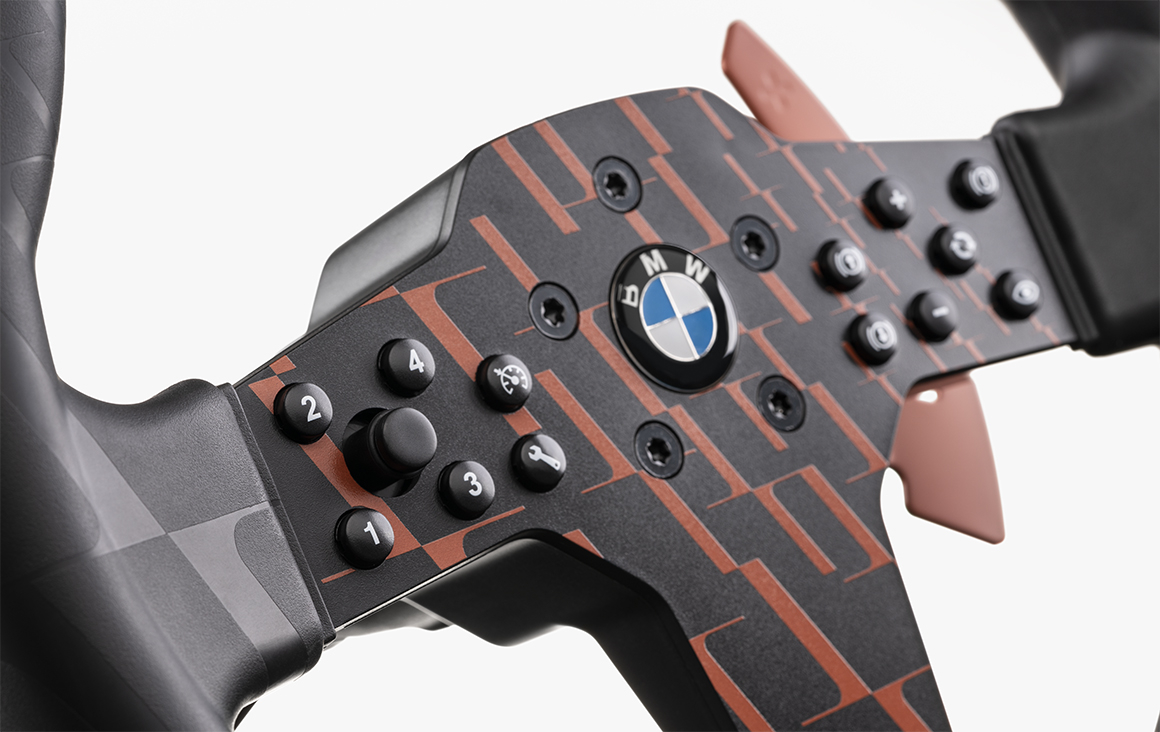 If $1,400 is a little rich for your blood, Fanatec has also revealed a BMW-related product that might be a little lighter on your wallet.
The CSL Steering Wheel BMW is a BMW-branded and licensed version of the popular CSL Steering wheel. It has all of the features of the regular wheel, but comes with a unique, BMW-designed graphic across not just the wheel face plate but onto the textured material on the rim itself.
You'll only need to pay a tenth of the price of the Podium Steering Wheel BMW M4 GT3, with the CSL item coming in at $139.95/€139.95, and it's available to pre-order right now with first deliveries starting in February 2022.
You can support GTPlanet ordering via any of the affiliate links in this post.