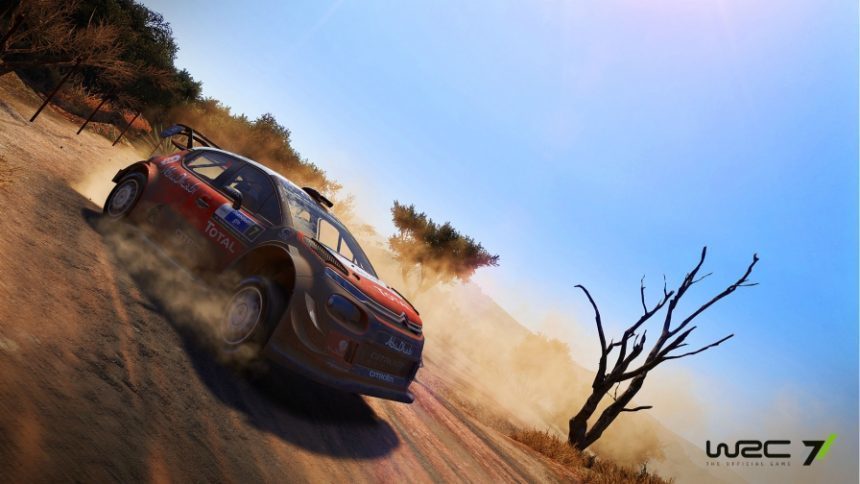 Big Ben Interactive and Kylotonn Racing have released the next trailer for the WRC 7. This newest video gives players the first glimpse at the Citroën C3 WRC car, but more importantly, the franchise's new "Epic Stages".
Epic Stages will be the rally game's equivalent of endurance races. Each of the game's 13 locations will feature one, stretching out over more than 12 miles. At that length, players can expect to invest around 15 minutes in each stage. Kylotonn states these new, longer stages are a direct response to customer feedback, moving the game closer to the real-world rallying experience. Game director Alain Jarniou explains:
"These special stages, which are longer than 20 km and last for more than 15 minutes of gameplay, are certain to test the players' endurance. It's also interesting to find all these different conditions in one single, solitary special stage."
The Citroën C3 makes its in-game debut here. Faster than the previous cars thanks to the WRC rule changes this year, the chunky C3 is piloted by a cadre of drivers including Kris Meeke and Andreas Mikkelsen. During development, Kylotonn has received feedback from many of the professional drivers with the aim of making WRC 7 the most realistic installment yet.
We got the chance to go hands-on with WRC 7 last month at E3 and came back impressed. With so many known quantities at the show, the game was a pleasant surprise. Stages featured plenty of diversity, and Monte Carlo felt impressively claustrophobic. This undoubtedly helped the sense of speed: 60 mph may feel like walking pace in most racing games, but not here.
Controller implementation was a little bit twitchy, but the wheel — Thrustmaster's new Sparco item — was a lot of fun. A motion rig never hurts, either.
We'll be keeping on eye on WRC 7's continued development: stay tuned for more news soon. WRC 7 launches this autumn on PlayStation 4, Xbox One, and PC.
More Posts On...