With just under two weeks to go until the official launch, KT Racing and Nacon have revealed the new livery editor for WRC 10.
It's the first time a game in the WRC series has featured a livery editor of any kind, and given the various approaches to vehicle customization across racing games there's naturally been some speculation over how it will function.
The good news is that it appears to be just about as versatile a tool as any, with what looks like complete user freedom over vehicle colors and decals. Almost all of the cars in the game can have user-generated liveries, with two exceptions: the Subaru Impreza WRC 97, and the Audi Sport Quattro.
A short video released today shows some very brief highlights of what's possible with the WRC 10 livery tool, and it's pretty comprehensive.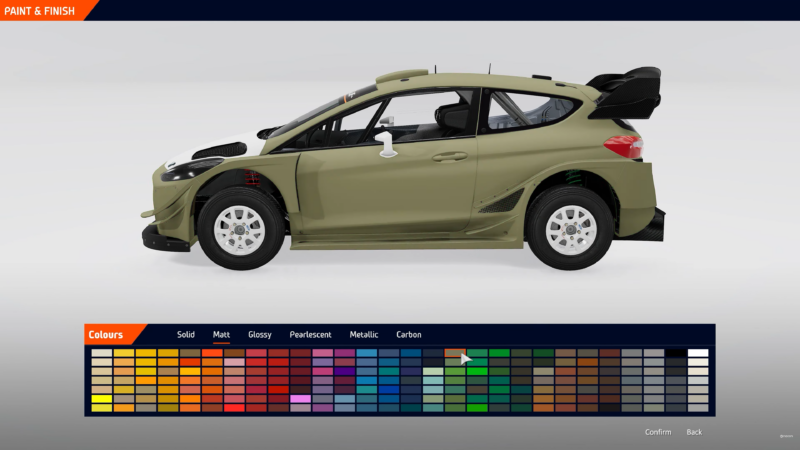 The video shows a player choosing colors for their car. It looks like the exact shades are preset — we don't know if an RGB color wheel or numerical values are available — with 196 tiles shown in six different finishes, including carbon. Colors can be applied independently to the vehicle body, hood, and mirrors; other areas like the rear wing might be available but are not shown here.
After that the clip shows a player applying decals, or stickers. There's a variety of types shown, with text, flags, logos, and "blazons". This category, named after a French term for a coat of arms, likely refers to official event banners, though we'll have to wait and see. There's also a "misc" category.
Players will be able to place up to 500 stickers on their cars, and can also create their own by modifying and grouping other stickers. There isn't a facility for uploading your own creations from outside of the game however.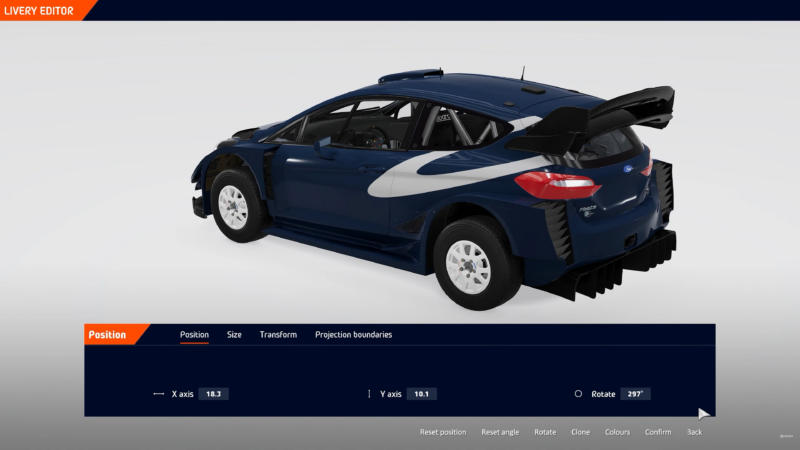 As you position each sticker you can transform it and move it behind of or in front of other stickers, and the editor gives precise X/Y coordinates and rotation in degrees, which will allow you to place items with precision. You can also color the decals, though there doesn't seem to be an option to change the finish, and clone them for easy duplication.
Not all of the livery editor content will be available from the start, with some colors and stickers locked behind game progress. One shown in the video requires a player to complete five daily challenges, while KT Racing gives an example of completing a season in Junior WRC.
While you can't upload and share your livery designs, you can share your photos. You'll also be able to bring your chosen livery into career mode as your own team, though you'll need to progress far enough into the game to do so.
There's also two major post-launch updates planned, which will bring new stickers as well as new cars and stages. You can pre-order WRC 10 now, with a launch on PlayStation 4/5, Xbox One/Series, and PC scheduled for September 2:
See more articles on WRC 10.