The latest game in the WRC series, WRC 10, will launch later this week but already KT Racing is detailing its plan for post-launch content — and free post-launch content at that.
As posted on social media, the studio has revealed a road map for content running through from launch to January 2022, and there's quite a fair bit to unpack.
Of course leading the way is an additional four cars, with three coming along in October 2021 and one more the following month. For now the identities of these vehicles are under wraps, and quite how they'll fit into the game is a mystery. As we've seen from the existing car list, the 2021 season stable is already pretty replete with official vehicles from WRC itself down to JWRC.
That could suggest further Legends vehicles to fit into the game's Historic mode. The list already contains 21 rally cars from across the 49 seasons of WRC so far, so there's plenty of scope for additional vehicles to appear.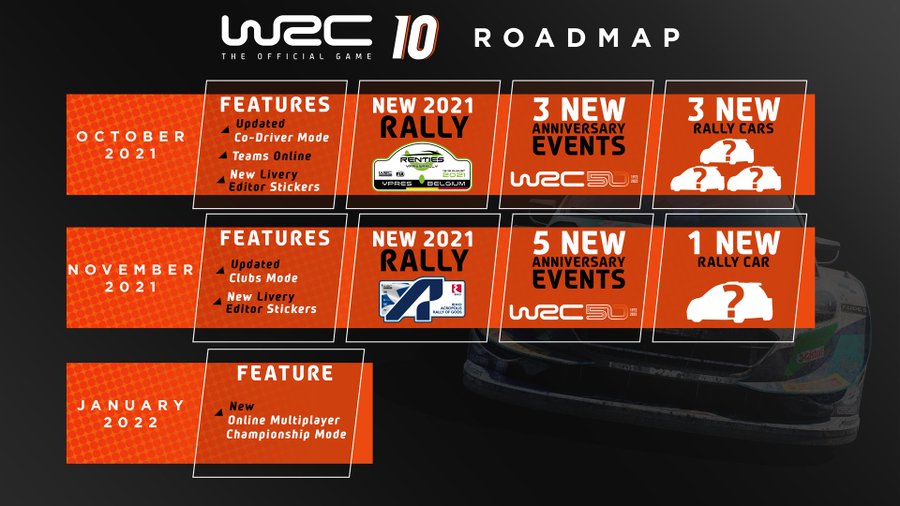 As well as the cars, there's a total of 10 new events coming too. Two fill in the blanks for the 2021 calendar, with the Ypres Rally in Belgium and the Rally Acropolis in Greece joining the 2021 calendar; Greece is already part of the Historic game mode, but won't be part of the launch line-up of 2021 season rallies. They'll arrive in October and November respectively.
Alongside those will be eight of the Anniversary events, with three in October and five in November, increasing the number of events to almost 30. These challenges replicate iconic moments and stages from famous cars and drivers across the almost 50-year history of WRC, separated into various eras.
The game's feature list will also see expansion over the coming months too. October will see an update to the co-driver mode — where two players can be part of the same car, one acting as the driver and the other as co-driver — while a "Teams Online" mode will come along in November. Both updates will also add new items to the game's livery editor, the first livery editor in WRC title history.
January 2022 will see the addition of a new online multiplayer championship mode, which KT Racing hasn't yet revealed much about so we'll have to wait and see. Of course that might not be the end to the free post-launch content, but that's all we've seen revealed so far.
WRC 10 will launch on September 2 for PlayStation 4/5, Xbox One/Series, and PC on Epic and Steam. A Nintendo Switch version will follow later.
See more articles on WRC 10.