Last month French developer Kylotonn teased the newest virtual iteration of the famed World Rally Championship. While we were at E3, we managed to gather more details on WRC 7, and even do an early test drive.
Currently we know the game will feature rally cars from both the 2016 and 2017 WRC season. This will allow players to draw a comparison between the two and see how far the recent ones have evolved. For those unaware, the 2017 cars enjoy significant changes in regulations. The cars have become both more powerful and lighter, nearly matching the abilities of the legendary '80s Group B monsters.
The development team has spent lots of time to make the cars feel as realistic as possible. With real WRC drivers and engineers on its side, Kylotonn promises an authentic driving experience.
GTPlanet was among the first guests to try the game out and we were genuinely impressed by what Kylotonn had put together. The dev team told us a big focus for WRC 7 tracks was the addition of more bumps and camber changes. These changes were readily evident from the force feedback, and keeping speeds up while keeping the car on track was difficult and a real challenge. At the same time, we felt familiar with the controls and car reactions almost immediately on the pad and wheel alike. That's a good sign.
Players seeking good steering peripherals will be happy to know all major products on the market are being considered. Kylotonn is closely working with Thrustmaster and Fanatec to improve the experience when using one of their many wheels.
As previously mentioned, We played the game using both a game pad and the new Sparco/Thrustmaster wheel on a D-Box motion rig. Jordan provides his thoughts on both:
"The game pad controls felt highly responsive, if not a bit twitchy, but were still very playable. They were easy to learn relatively quickly, but still challenging and fun. The Sparco/Thrustmaster wheel was very impressive to play with, with smooth feedback and a great feel in your hands thanks to the alcantara wrap and larger diameter."

The graphics and textures deserve a high grade. Though WRC 7 can't quite match the visual splendor of DiRT 4, it certainly looks good, especially at Monte Carlo. On the other hand, destructible environmental objects were quite impressive. Sturdier objects demanded more force to be knocked over, and it was even possible to drive relatively far off-track and interact with nature when you wouldn't expect it.
Accordingly the most challenging aspect of the game development was the track creation. Kylotonn graphic artists have spent lots of time watching rally footage to properly bring the environments to life. As a result, each location has a special atmosphere that sets it apart from others. In addition, special effects such as wind blowing bushes and leaves breathe more life into each stage.
Players can look forward to "Epic Stages," too. These specially designed courses that can last from 15 to 17 minutes. This was a common request from the community, and each country/location will have one of these.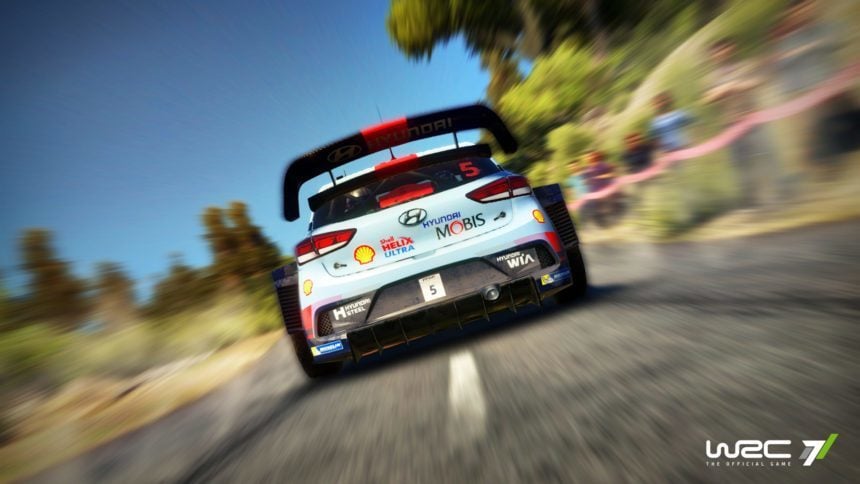 Naturally, with this being a rally title, WRC 7 supports mechanical damage. It has been designed with great care and an eye for details. For instance, you'll be able to damage your electronic system, making it impossible to hear you co-driver speaking.
The esports program will continue to expand. The last eSports season was a success, giving away a brand new Hyundai i20. We should expect to hear more on this topic quickly after the game's release.
WRC 7 is expected to hit the market this autumn. Although a specific release date hasn't been mentioned yet, we know the game will arrive on PlayStation 4, Xbox One and PC.
Read up on more of impressions from E3 2017 below:
Gran Turismo Sport E3 2017 Hands-On Impressions
Project CARS 2 E3 2017 Hands-On Impressions
Forza Motorsport 7 E3 2017 Hands-On Impressions