The title says it all: after it was suggested yesterday that Pikes Peak had become a Polyphony Digital exclusive, confirmation has arrived, although not from PD itself.
The news once again comes by way of Codemasters and its recently-unveiled DiRT 4. Rightly curious about the Eurogamer article that first made mention of the GT exclusivity, Codemasters forum user zoliRX asked Chief Game Designer Paul Coleman about the veracity of the claim. Coleman confirms, saying "yes, we signed it for DiRT Rally before it went exclusive but we can't use it anymore."
As we covered yesterday, the 12.42-mile course has a long history with the Gran Turismo franchise. It first arrived in a shortened, modified form in GT2, and was long-rumoured for inclusion in GT5 (though it never came to pass).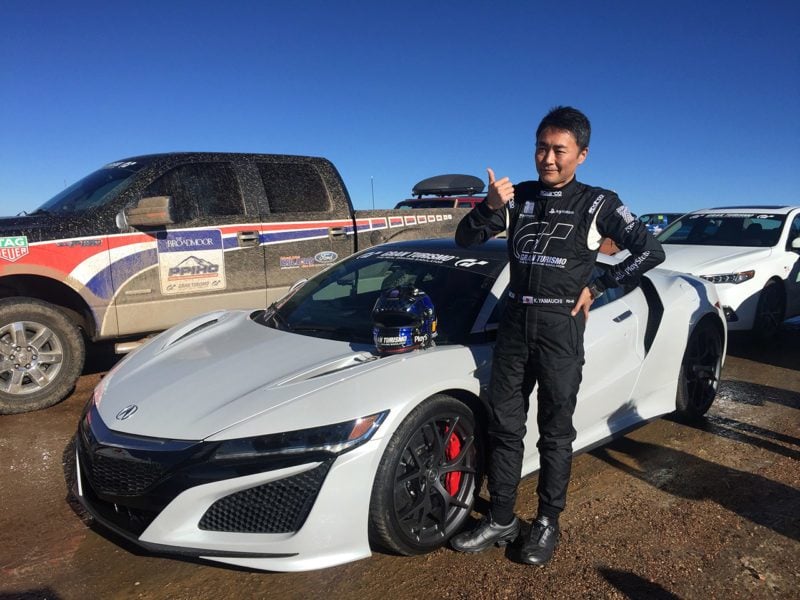 In the real world, Kazunori Yamauchi was part of the proceedings at the 2016 event, even driving the new Acura NSX up the hill to signal the start of the race weekend. Gran Turismo became a primary sponsor the year before.
This leaves us asking the same question we did last summer, however: when will we see the track in the game? GTPlanet asked about Pikes Peak's inclusion then, and Kazunori remained unsure of a timeline.
Naturally, GT Sport seems the prime candidate. The game is set to release this year, and given the typical lead-time between titles in the franchise, nabbing an exclusive license for whatever is meant to follow Sport—if indeed that's the plan—comes off as a little pre-emptive.
As a point-to-point track, its inclusion in GT Sport would seemingly be at odds with the eSports-focused approach of the game. Yes, players could race one another's ghosts, but it'd be a very different experience to the rally options we've seen thus far (which were fun, we should note).
This year's Race To The Clouds takes place June 25. Hopefully, we hear more from Polyphony on this development before then…
Gran Turismo Sport is set to release on the PlayStation 4 later this year.
See more articles on Codemasters, Pikes Peak, and Polyphony Digital.