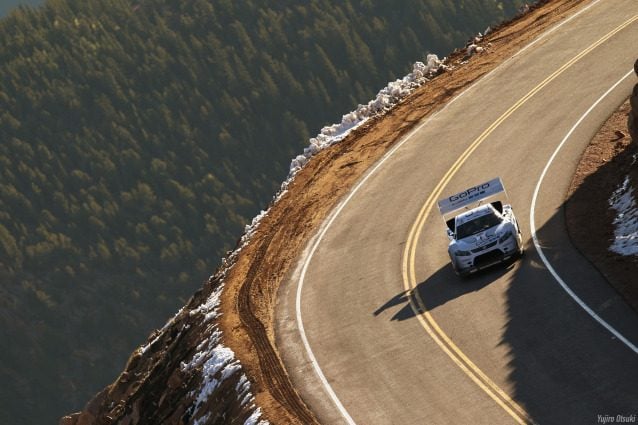 Pikes Peak has had a bit of a checkered history with the Gran Turismo franchise. The 12-mile hill climb made its first (and only) appearance—in a condensed form—in Gran Turismo 2 and since then has remained absent from the series. In what seems to becoming a common occurrence though, Pikes Peak International Hill Climb continues to threaten a return to the franchise thanks to an article by media outlet Eurogamer and a peculiar choice of words within.
The main focus of the piece is actually a preview of the recently announced DiRT 4 and details the direction the game will take when it releases June this year. GT's name pops up during a section talking about the troubles being faced by Codemasters in terms of picking up licenses and using them within its titles.
Unsurprisingly, BigBen Interactive's WRC series is pinpointed as a reason why no official rally stages are included within the game but we also get confirmation that Pikes Peak International Hill Climb will not be returning.
The track appeared in 2015's critically-acclaimed DiRT Rally so there must have been a legitimate reason for it's exclusion and according to the article, it's a biggie: "Gran Turismo now has sole rights to Pikes Peak," says Eurogamer's Martin Robinson.
It's certainly a shock to see this written in plain sight. We've not yet had any confirmation of the track appearing in this year's Gran Turismo Sport, and the track hasn't appeared in the series for nearly two decades. In a very similar circumstance, Red Bull claimed Pikes Peak would appear in Gran Turismo 5 way back in 2010. This was unfounded and the track did not appear in the finished title, nor in its 2013 successor.
In May last year however, Kazunori Yamauchi provided a statement of intent that he wished to include the track within the series at some point. The GT founder didn't mention any sort of time-frame for the track to be included but perhaps the delay announced last year was partly influenced by the acquisition of the Pikes Peak license?
We'll not know for sure until Pikes Peak is formally addressed by Polyphony Digital—given the situation, we'd advise taking the above quote with a pinch of salt.
Exclusivity deals aren't universally agreed to be a positive aspect of the racing genre. Whilst the argument can be made that holding the rights ensures an accurate representation of the acquisition in question, Gran Turismo fans can vouch that this isn't always the case with GT5's lackluster WRC and NASCAR showings being a prime example.
EA held the rights for Porsche and as such limited the German manufacturer's game appearances greatly. When the licensing deal expired, fans of the genre rejoiced and look to a more Porsche-inclusive future.
With no definitive confirmation of Eurogamer and Codemasters' claim, it seems we'll have to wait in order to see the full extent of Gran Turismo's partnership with Pikes Peak outside of sponsoring the real-life event. We'll cover any further developments as they come in.
Thanks to GTPlanet user GranTurismo guy for bringing this to our attention in the forums!
See more articles on Codemasters, Pikes Peak, and Polyphony Digital.