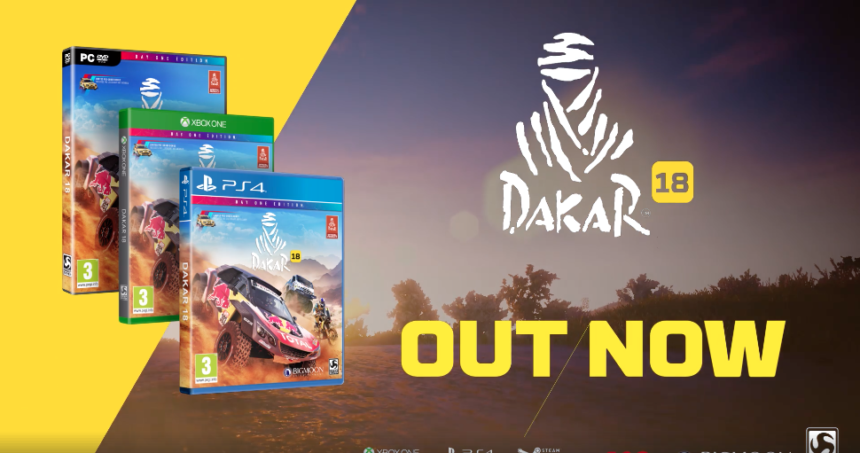 It's been a long time since we saw a game featuring the world's most grueling race, but Bigmoon Entertainment has finally brought the challenge back into our living rooms. After a brief delay, Dakar '18 is finally available on PlayStation 4, Xbox One, and Steam.
There's time-of-day and weather changes, cars, trucks, bikes, quads, and SxS/UTVs, which you can drive across Peru, Bolivia, and Argentina in 14 different stages. For a closer look, check out nearly 15 minutes of gameplay footage released from an event in July.
Dakar '18 boasts one of the largest virtual worlds ever seen in a video game, with over 5,791 square miles to explore — or get lost in.
Although we don't have an official review for you yet, several users in our forums have started posting their first impressions about the game. GTPlanet member "doblocruiser" has already spent over 8 hours with it and has had a positive experience overall.
He says it's difficult, and focuses on navigation and caring for your car instead of outright speed. It includes very long stages, impressive vistas, realistic physics, and runs at a stable 30 frames-per-second. Check out his full impressions here.
The game's first "Day 1" patch should also be available soon and will include the following updates:
Gameplay Features:
Game now supports Steering Wheels

Added excavation feature on fesh-fesh, soft-sand and mud

Added Recovery Boards feature
Vehicle Improvements:
Important improvements on Bikes

Important improvements on Quads

Important improvements on Rear Wheel Drive vehicles

Overall improvements on driving physics

Added new Exhaust particles

Improved cockpit detail

Added support for vehicle cameras adjustment

Improved vehicle collisions
Gameplay Balancing:
Damage system improvements

AI ranking times tuned

Time penalties adjusted

Repair times adjusted

Fuel consumption adjusted

Tires resistance adjusted
General Improvements:
Mud and sand materials and particles improved

Added heat waves

Road books and navigation improvements

Multiplayer HUD improvements

Spectator HUD improved

Day/Night cycle improved

Sun height simulation issues fixed

Added Night constelations simulation

Sky and weather improvements

Water effects improved

General Bugs fixed

Splash screen updated

Characters Animations improvements

Teams info updated

Improved subtitles

Mud particles improvements

General terrain improvements

Sand/Mud Surfaces improvements

Environment Effects improvements

Gameplay Balancing improves
For more discussion about the game, and to chat with others who have already bought it, head on over to our forums!
More Posts On...