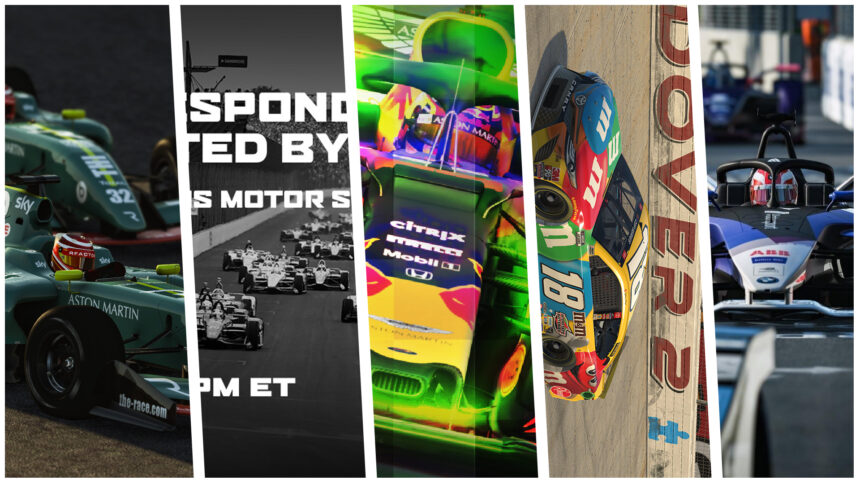 There's another thrilling weekend of racing action in the virtual world this Saturday and Sunday, as reality continues to disappoint. Incredibly, this is now the eighth weekend where the motorsports has been digital, and it's proving an able substitute.
Real world drivers are increasingly turning to their screens, and investing in driving rigs previously only the realm of their children. Many are discovering that, though the risks are somewhat limited and there's no seat-of-the-pants sensations, the thrill of close-quarters racing is no less real — and the fun factor is off the charts.
There's a growing number of series to feast your eyes on, and here's this weekend's lineup — and all the live streams to keep up with the action!
ABB Formula E Race At Home Challenge
Formula E returns for its second week, and remarkably features a full grid of real world drivers. Britain's Sam Bird, who missed out last week, joins the field to make it 24 from 24 drivers.
The race takes place on a fictional track this week, known as "Electric Docks", so there'll be no chance for the real-world drivers to rely on familiarity. Those who've practiced will likely have the advantage — but everyone is chasing Maximilian Guenther, who won both the pre-season test and round one. There's also a "Challenge" grid of sim-racers.
The first race starts Saturday May 2 at 1425 UTC, and you can watch it on Youtube below:
The Race Legends Trophy & All-Star Esports Battle
The Race's esports events are also back this Saturday, but with some new twists. Both events start brand-new championships this weekend, with the All-Star event now cleaved into Pro and Sim categories – for three separate five-round championships.
Probably the biggest draw is Legends, which features names from the past (and recent history) competing in classic F1 cars. Jenson Button is likely the man to beat with multiple race wins in the previous events. The All-Star Pro tier now has manufacturer backing, with pro driver squads from Aston Martin and Bentley, among others. Meanwhile Erhan Jajovski will return to defend his All-Star Sim title — and perfect record.
The action starts at 1600 UTC on Saturday, and you can watch it all below:
IndyCar iRacing Challenge
It's the final weekend of the IndyCar iRacing Challenge, and it heads to its most famous venue: Indianapolis. It won't quite be the Indy 500, but nonetheless the 70-minute race will be the curtain drop for the season.
There's the usual high-caliber grid, with the pro drivers including eight Indy 500 winners and seven IndyCar champions. That includes Simon Pagenaud, who is so far undefeated on ovals in this series. Lando Norris, fresh from his debut IndyCar win in last week's event at COTA, will also race, hoping to better fellow McLaren driver Fernando Alonso's record at the track.
As with all previous events, NBCSN will broadcast the race and pre-race activities, starting at 1830 UTC on Saturday. You'll also be able to watch the action live below:
World Rallycross Esports Invitational
If you're more into rally action, the World Rallycross Esports Invitational has you covered. Using DiRT Rally 2.0, the event also sees a slew of real-world racing drivers — across many disciplines — taking part in Rallycross events. This week the action goes to Portugal's Montalegre, replacing the Portugal round of World RX.
Leading the driver roster is 2019 World RX champion Timmy Hansen, along with his brother Kevin Hansen. The event will also feature other real-world rallycross drivers like Reinis Nitiss and Rokas Baciuska. Drivers from other real-world championships include Formula E's Antonio Felix da Costa, Australian Supercars driver Shane Van Gisbergen, and ex-Ferrari F1 racer Mika Salo.
It all gets underway at 1300 UTC on Sunday May 3, and it's sure to be entirely legitimate mayhem and carnage!
Formula 1 Virtual Grand Prix
As this weekend would have been an F1 weekend, F1's official Virtual Grand Prix is back. Had all gone to plan, the drivers would be heading to the newest track on the calendar, Circuit Zandvoort. Unfortunately, though Codemasters has shown off the track in F1 2020, it's not available in F1 2019. That means the drivers will head to a substitute circuit: Autodromo Jose Carlos Pace, or Interlagos.
Including Norris, who's again pulling a double-duty, there's still six full-time F1 drivers on the grid. That includes the full Williams line-up of George Russell and Nicholas Latifi, and undefeated Ferrari man Charles Leclerc. WRC champion Petter Solberg, after a couple of attempts (and one win) in The Race's Legends Trophy, will make his F1VGP debut too.
The broadcast starts at 1700 UTC on Sunday May 3, but in the meantime you can watch the highlights of the last VGP, from China, below:
NASCAR Pro Invitational
The NASCAR series is also back, for its penultimate weekend at Dover International Speedway — the "Monster Mile" — in Delaware. As NASCAR plans to resume real-world racing on May 17, the next two virtual races, here and at Martinsville Virginia, will likely be the last we see of the pro drivers.
This 150-lap race will again feature some legendary names like Kyle Busch and Dale Earnhardt Jr, while drivers like William Byron — the only driver to have won more than once in the series so far — have been pushed to prominence by their exploits.
Sunday's main event gets underway at 1700 UTC, but you'll only be able to catch it on Fox. There'll be a "Saturday Night Thunder" event beforehand, for drivers not competing in Sunday's race, using the Xfinity Series cars at the same venue. You'll be able to catch that at 0000 UTC on Sunday May 3 (that's 2000 EST on Saturday), below: