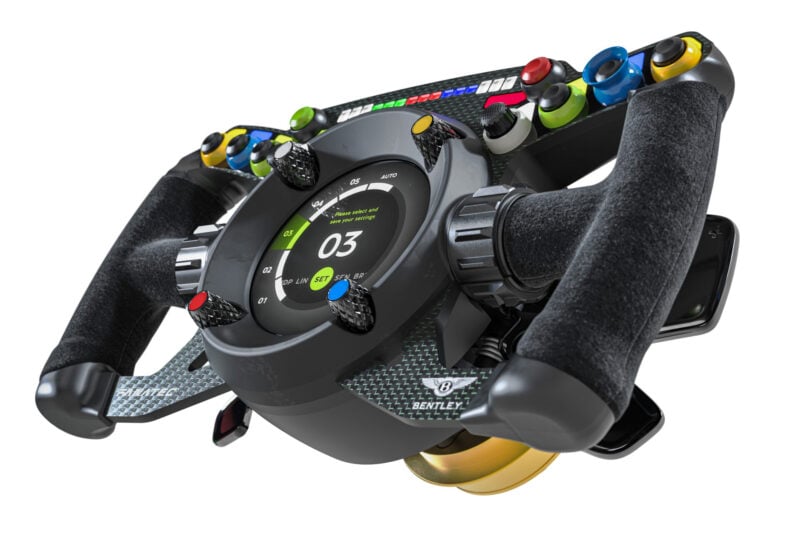 Sim racing kit manufacturer Fanatec has revealed yet another new wheel for 2021, but this one comes with a bit of a twist.
Officially known as the Bentley GT3 Steering Wheel, Fanatec has developed the wheel in partnership with Bentley not just to be like the real thing, but to actually be the real thing. This is the actual steering wheel that Rhys Millen will use to pilot the Bentley Continental GT3 Pikes Peak up the famous Colorado hill climb next week.
The wheel is a considerable departure from the usual Continental GT3 wheel, dominated by a circular LED information screen right in the center. This 3.4-inch display can show vehicle information and telemetry.
That's set into a forged carbon bezel, and mounted on a 12.2-inch (310mm) piece of magnesium alloy, with a 5mm thick carbon fiber faceplate. There's four aluminum rotary encoders featuring the signature Bentley knurling around the bezel, along with 12 other buttons — including two seven-way FunkySwitch buttons.
When not in use on the Continental Pikes Peak car, the Bentley GT3 Steering Wheel will mount to any compatible Fanatec wheel base through the QR2 quick release. This will then allow sim racers to get a glimpse into driving the real thing.
Fanatec also supplies a hard case for transporting the four-pound wheel, and there's a stand included that will allow you to display the wheel as a collector's item on a shelf, desk, or wall. You can even plug it into a USB power supply and the LCD display will turn into a Bentley clock — or replay race telemetry from famous laps.
We don't yet know how Fanatec will price the Bentley GT3 Steering Wheel, or how many units it will produce, but given that Bentley is aiming for the production world record at Pikes Peak we can only imagine it won't be many — and you'll need to start saving up.
See more articles on Bentley, Fanatec, and Pikes Peak.