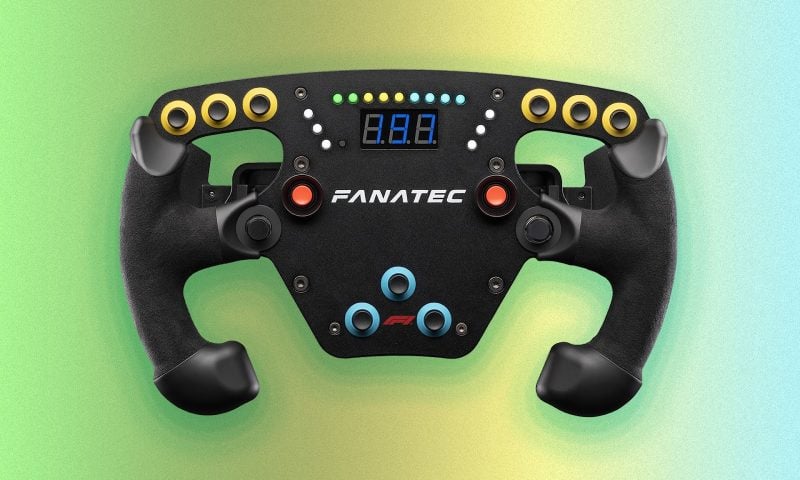 Fanatec has opened the pre-order books for the ClubSport Steering Wheel F1 Esports V2 wheel rim, the official steering wheel of the $750,000 F1 Esports Series Pro Championship.
The V2 replaces the earlier ClubSport Steering Wheel F1 Esports, and despite looking relatively similar there's a number of upgrades over the original item.
There's a subtle change to the faceplate, which is still a CNC-machined, anodized aluminum piece coming in at 10.6 inches (270mm) across. That's to allow for a new LED cluster either side of the three-digit LCD display.
These new LEDs incorporate flag signals, to match the more complicated ClubSport Formula v2.5 wheels, and both the flag and rev LEDs are now customizable RGB items — so you can set the colors using the FanaLab software.
In addition, the V2 gains an upgrade to magnetic shifters. These feature neodymium magnets and black, anodized aluminum paddle plates within a composite module, and players can upgrade to the separate ClubSport Magnetic Paddle Module or Podium Advanced Paddle Module if required.
The V2 ships with wheel-side QR1 ClubSport Quick Release Adapter, which can also be upgraded to the new QR2 when it becomes available.
Other than that, the rest of the wheel remains the same. There's 11 customizable buttons, along with an analog joystick
and that seven-way "FunkySwitch", all of which should allow you to map as many functions as you could possibly need.
If you fancy getting yourself prepared for the 2022 F1 Esport season, you can pre-order the wheel now for $269.95/€269.95, and it's set to become available on March 28.
You can support GTPlanet by ordering via any of the affiliate links in this post.
See more articles on Fanatec.