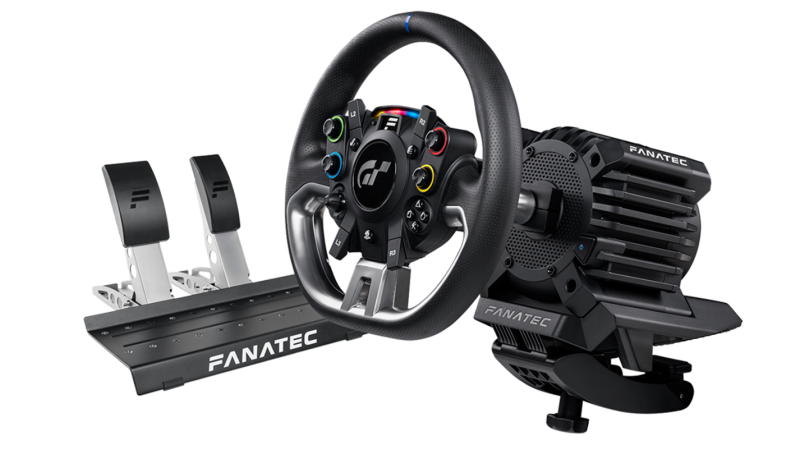 If you've been waiting to get your hands on the official wheel of Gran Turismo 7, the Fanatec Gran Turismo DD Pro, now might be your chance as Fanatec is once again carrying stock — but you'll need to be quick.
The wheel is the first ever official GT wheel with direct drive technology, with the wheel's shaft running directly into the motor for precise and almost instant feedback and response. It also features a wheel rim designed by Polyphony Digital itself, to make the most of the functions in GT7.
Exactly what's in stock right now varies depending on your region, with Australian gamers limited to just the wheelbase itself with the 8Nm "Boost Kit 180 — although curiously the 5Nm base without the boost kit isn't available.
EU players meanwhile can't get their hands on the standalone base in any form, but the Pro Bundle (which obviously includes the wheelbase) is available. €849.90 will get you the 8Nm base and rim, plus the two-pedal version of the CSL Pedals, without the clutch or load-cell pedals upgrade.
Oddly the Premium Bundle with the three-pedal version and load cell brake isn't available — although you can still buy these add-ons separately — seemingly because the 5Nm base isn't in stock even though the bundle includes the 8Nm boost kit…
Players in the USA have the widest choice, with the 8Nm wheelbase and the basic bundle both available, in stock, and ready to ship, although again the Premium Bundle isn't available despite being the same thing with the clutch and LC upgrades that are available.
It's been a while since any of the bundles have been in stock, so chances are these will all sell out pretty quickly but all remain in stock as of 1145 UTC today. You can also support GTPlanet by buying through any of the affiliate links above!
See more articles on Fanatec GT DD Pro.